Get ready to enjoy a vibrant arts scene. great restaurants and youthful energy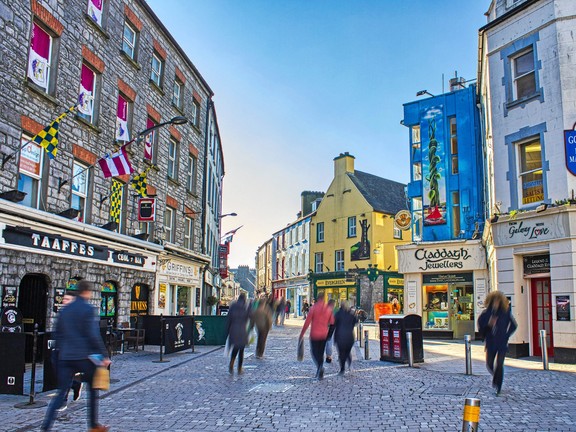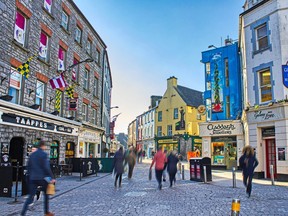 Article content
Galway is an old city full of youthful energy. As we wandered through the bustling, pedestrian-only Latin Quarter, the medieval streets were packed with fresh-faced people who barely looked old enough to drink legally in the many pubs.
Article content
It is a reflection of demographics. Around a fifth of the 80,000 residents are students, most of whom attend the University of Galway. Education is what brought us to this historic city on the west coast of Ireland, our daughter enrolled in the respected medical school, which attracts many students from Canada and the US.
Article content
My wife and I had the urgent task of orienting ourselves and our daughter to the city where she would be starting her post-secondary studies, while making sure that she would be okay, knowing that the Atlantic Ocean would soon separate us.
Galway delivered. It has a well-deserved reputation for its vibrant arts scene and excellent restaurants. More to the point for anxious parents, the Galwegians opened their arms to us, evenly expressing their joy when we told them about our daughter's enrollment.
Article content
It started with an excellent welcome with our stay for the first few days at the Park House Hotel, just off Eyre Square in the city centre, a grand old four-star property where I appreciated the bartender's impromptu tutorial on Irish whiskeys ( Red Mama 12 years old was his good recommendation.)
There was an entertaining orientation through the walking tour offered by Tribes Tours of Galway. Started at Eyre Square, which our guide Michael explained is named after a former mayor.
"He gave it to us, although it was already ours. But still he was very nice of him," said Michael, who missed his calling as a comedian.
He led us through a wry summary of Galway's history, adding an elemental lesson from Irish history: "If things go well, you can be sure of some kind of disaster."
Article content
Starting out as a fishing village in medieval times, it boomed as a port city during the Renaissance, only to be suppressed during the Oliver Cromwell era. Among the landmarks Michael pointed out was Lynch's Castle (now a bank), where a former mayor is said to have meted out impartial justice by hanging his dissolute son for murdering a Spanish visitor in the 15th century, a story with many versions, though it is not clear if either is true.
Canadians don't consider Ireland's west coast a beach destination, but Galway has a beautiful one in the suburb of Salthill, just west of the city center. We stayed a couple of days at the Salthill Hotel, where we watched the Irish plunge into Galway Bay. My daughter and I decided to give it a try and found the sand soft on our feet and the water cool on our skin, reminiscent of Lake Ontario in June.
Article content
While you can always be sure of a good pint in almost any pub, Irish cuisine has also come a long way from the beans-on-toast stereotype.
Kai Restaurant, owned by the husband and wife team of David and Jess Murphy, emphasizes local fare in its cozy spot where stone floors and wood beams evoke the feel of a rustic cabin. The menu changes regularly, but on our visit Chef Jess prepared a memorable meal of Roscommon lamb chops for me, scallops for my wife and a steak our daughter loved (high praise, given that she had only left vegetarianism a few months before). )
Galway also acts as a great base for exploring the Wild Atlantic Way, Ireland's spectacular west coast. A short ferry ride away are the stunning Aran Islands, three rocky points in the Atlantic.
Article content
The recently released movie The Banshees of Inisherin was partially filmed there.
Pictures never do justice to the austere and evocative landscapes my daughter and I witness on the largest of the islands, Inishmore. There are almost no trees, the rolling hills are divided by low limestone walls, and the west coast is marked by towering cliffs that mark the western border of Europe.
I asked our guide Cyril Ó Flaihearta to summarize the essence of the Aran Islands.
"The landscapes and the people," he said. "And the landscapes were shaped by the people."
In times past, the people of Aran had to make their own farmland. Literally. They hauled loads of clay, sand, and seaweed from the shorelines and layered them on the bedrock until there was enough land to grow crops. That was when they weren't fishing in small boats on the open sea, a resourceful fighting lifestyle made famous by the 1934 film The Man from Aran.
Article content
"They are resilient people. It always has been," Cyril said.
An enduring symbol of this place is the Aran sweater. Traditionally, each family would have their own patron, to better identify the bodies of the poor souls whose bodies washed up on shore after dying during dangerous fishing expeditions.
Factory-produced sweaters can be found everywhere in Galway, but Cyril took us to the An Túirne store in Inishmore, where there was a room dedicated to hand-knitted varieties, with a picture of four generations of Aran knitters on display. . They are more expensive than the mass-produced ones, but I happily bought one to support the local artisans who keep the tradition alive.
Along with a lunch of Guinness Irish stew, followed by a Guinness-infused cake at the Nan Paddy Café next door, the new University of Galway student and I couldn't have a more Irish experience. Or make yourself more at home.
Article content
IF YOU GO:
If you hire a car, Galway is 2.5 hours from Dublin Airport. There are also regular express buses that run directly from the airport.
The Park House Hotel is a great place to stay in the city center – parkhousehotel.ie
The Salthill Hotel is right on the bay front with many good pubs and restaurants close by – salthillhotel.com.
Kai Restaurant: kairestaurant.ie
Aran Island Ferries: aranislandferries.com
Inishmore in An Túirne: aranislandssweaters.com
Sean Mallen is a Toronto-based writer and communications consultant. He was a guest of Tourism Ireland, which did not read or review this story prior to publication.