"It's not so much about this guitar now, it's a symbol that people can hold in their hands and play or talk about. It's their time to say what they want to say or get involved."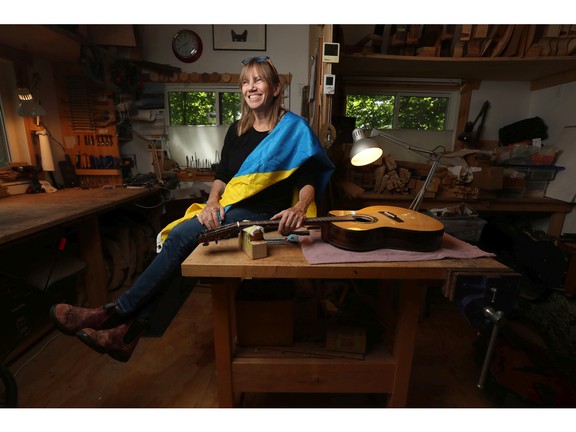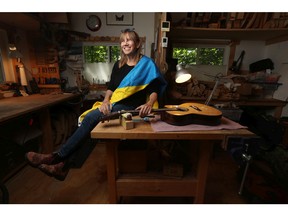 .
When donating to charity didn't seem like enough to help war refugees in Ukraine, Linda Manzer decided she could do more by doing what she does best.
.
World-renowned Almonte luthier built a custom sunflower-themed guitar that is traveling the continent, passing from hand to hand by musicians, raising awareness – and money – for the people of Ukraine.
"Like many people, when the war started, I was horrified and deeply moved by what I saw," Manzer said. "It was horrible to see what was happening.
"I was wondering if there was anything else I could do. And there it was. I could make a guitar and donate it to charity for humanitarian aid."
Manzer, whose guitars sell for $20,000 or more and are played by artists including Pat Metheny, Bruce Cockburn and Carlos Santana, built the Sunflower Guitar in a record 29 days.
"When I started making this guitar, I had no idea this was going to happen. I thought it would go to one person. I built it as fast as I could. It normally takes me two years or more to build a guitar, and for this one, I dropped everything. I felt like there was this urgency to do it and raise funds quickly."
.
The Sunflower Guitar, nicknamed "Sunny" of course, has a German spruce top, Indian rosewood back and sides, a mahogany neck, and an ebony fingerboard. The headstock features a beautiful inlaid sunflower design and a graphic of a field of sunflowers under a blue sky that Manzer drew with lightfast watercolor pencils.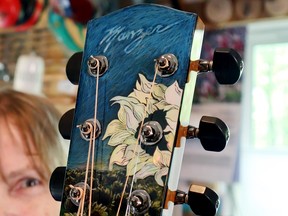 "The headstock sunflower is like a puzzle," he said. "It uses 23 pieces of mother of pearl that I have been saving throughout my career to use for something special."
Originally, Manzer planned to auction the guitar or offer it as a raffle prize, but legal problems derailed that idea. Then one of his clients, who asked to remain anonymous, offered to donate $50,000 to the charity. 1Kproject.orgwhich provides $1,000 in seed money to families fleeing war to start a new life outside Ukraine.
.
"Then he said, 'I'm not going to donate $50,000. I'm going to double that. So all of a sudden the guitar had raised more money than I ever dreamed of," she said.
"Then he said something interesting that changed everything. He said: 'I'd love to have the guitar for a couple of weeks, just to pet it. But ultimately I would like to give it to (Ukrainian President Volodymyr) Zelenskyy as a gift and continue fundraising with it until that actually happens.
"I thought, 'What a great idea, to give it as a gift to the people of Ukraine and in the meantime try to fundraise with it,'" Manzer said.
This is how the guitar began its journey. Cockburn played it before a show in Belleville. Manzer took him to the Mariposa Folk Festival, where he was played by guitarist Stephen Fearing and members of Blackie and the Rodeo Kings. A team of "wranglers" have brought Sunny to New York, where she was played by jazz great Bill Frisell, who made a special trip to the city to play her, and Canadian actor Noah Adams of the TV show Schitt's Creek.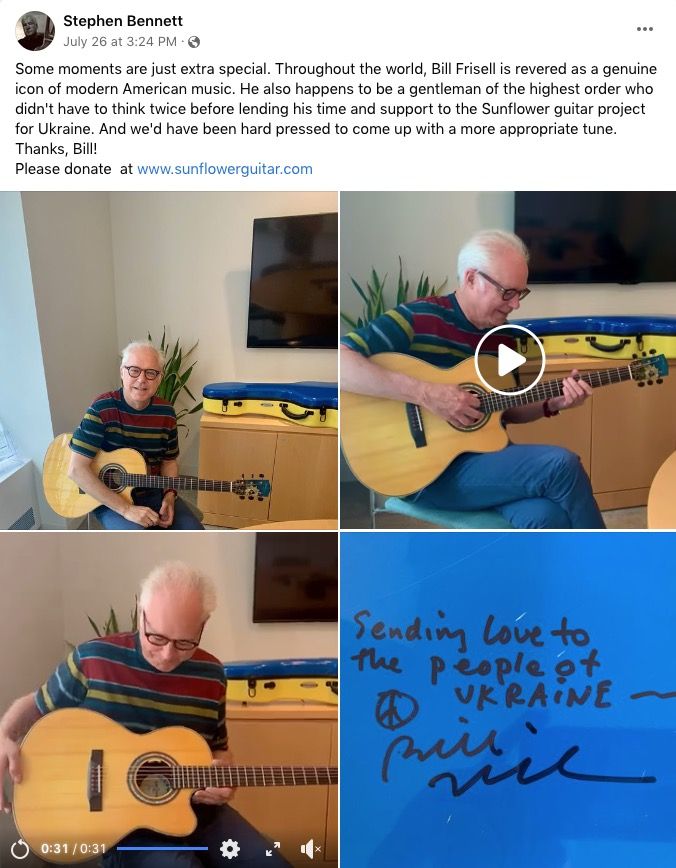 Last week it was in Nashville, where country star Brad Paisley played it and signed "We Stand With Ukraine" on its blue and white carbon fiber case, custom made by Jeff Hoffee of Minneapolis.
.
Manzer plans to take him to a guitar show in Chicago in late August, before traveling to the West Coast and back to Canada, then to Europe and his final destination, Kyiv.
The guitar has its thing. website, Facebook pageY Youtube Channel, where musicians can post their video clips, be it music or just their thoughts on Ukraine.
"Music is a kind of universal language that is a link between everyone, from all political stripes," Manzer said. "It's not so much about this guitar now, it's a symbol that people can hold in their hands and they can play it or talk about it. It is their time to say what they want to say or to get involved."
She hopes the guitar will raise $250,000 for Ukrainian refugees.
"It's like it's not my guitar anymore," he said. "He belongs to the music community."