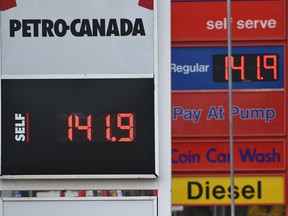 Article content
On October 6, the cost of a liter of gasoline at Edmonton pumps jumped from $ 1.23.9 to $ 1.43.9. The media called in oil "experts" to tell us that this was due to a sharp rise in crude prices. Newscasters continued to tell us that high gas prices are simply "something we have to get used to," and Edmontons interviewed either mildly complained or ignored the huge increases.
Commercial
This ad has not been uploaded yet, but your article continues below.
Article content
We don't have to go back that far to see that they are fooling us. The cost of a barrel of crude oil rose to just under $ 78 a barrel on October 6. Compare this to 2008, when the annual average price was US $ 99.06. However, in 2008, the average price of gasoline at the Edmonton pumps was $ 1.09; in Calgary, it was $ 1.11. This same disconnect dates back decades.
So why are Albertans taking this outrageous increase so passively? Where are all the people who were so angry about the gas price hikes when the Notley government introduced a carbon tax that raised the price by just 7.6 cents, including Jason Kenney, who called him a "killer?" of jobs "? We don't even have to mention all the rebates and benefits to Albertans included in the Climate Leadership Program that the tax was going to fund.
Commercial
This ad has not been uploaded yet, but your article continues below.
Article content
Winston Gereluk, Edmonton
Paying kindness at the dog park
Yesterday afternoon my husband and I took our dog to the Callingwood Dog Park in the West End for exercise and play. We walked through the park, enjoyed watching the dogs run and play, and finally headed home.
About an hour later, the front door bell rang and a young woman was standing there with my wallet in her hands. She knew it belonged to me because the wallet contained everything, including my driver's license with photo and address identification, credit cards, and some cash.
I had no idea I'd lost it, but presumably it must have fallen out of my jacket pocket in the parking lot when I looked for my car keys. I was dumbfounded, thanking him repeatedly and asked what I could do to return his kindness and consideration. She just smiled and asked me to pay her.
Commercial
This ad has not been uploaded yet, but your article continues below.
Article content
So thank you Dorsa. I promise that I will show you your kindness and when that moment comes, I will say that it comes from you.
Barbara Trayner, Edmonton
Hoping the new council will value city workers
Re. "High praise for waste management," Letters, October 6
Coincidentally, I too had a remarkable experience at a South Edmonton eco station yesterday. The crew was well organized, efficient and pleasant to deal with. Congratulations to the City of Edmonton and CUPE Local 30 for negotiating a collective bargaining agreement that provides a living wage, adequate training, and opportunities for advancement.
Hopefully our new city council recognizes the value of managing these jobs and others internally.
Ray Mageau, Edmonton
Welcome letters
We invite you to write letters to the editor. A maximum of 150 words is preferred. The letters must have a first and last name, or two initials and a last name, and include an address and a telephone number during the day. All letters are subject to editing. We do not publish letters addressed to third parties or sent to other publications. Email: [email protected]
Reference-edmontonjournal.com