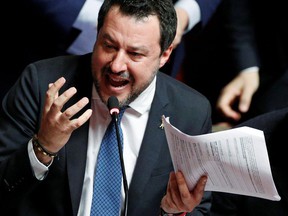 Article content
Matteo Salvini, a former interior minister and leader of the right-wing Italian League party, is on trial on kidnapping charges related to his denial of entry to a humanitarian ship carrying migrants and asylum seekers left at sea in 2019.
Commercial
This ad has not been uploaded yet, but your article continues below.
Article content
And he's angry that Hollywood actor Richard Gere is coming forward as a witness against him.
Salvini appeared in court on Saturday in the Sicilian capital Palermo for a hearing to approve the list of witnesses for his trial.
Among those who will testify against him are leading Italian politicians, including former Prime Minister Giuseppe Conte, and volunteers from the Spanish organization Proactiva Open Arms, which managed the search and rescue ship in question.
Gere was in Italy as a volunteer with Open Arms during the 2019 incident. He is expected to testify about the unsafe conditions aboard the ship.
Salvini, a populist known for his nationalist and anti-immigration policies, could face up to 15 years in prison if convicted and barred from holding a government post. The trial is expected to drag on for months.
Commercial
This ad has not been uploaded yet, but your article continues below.
Article content
Refugee and immigration activists hope that a ruling against Salvini will set a legal precedent that will deter governments from disrupting such search and rescue missions.
"Violating a fundamental right such as the protection of human beings at sea for the sake of political propaganda is shameful," Open Arms founder Òscar Camps previously told Reuters. He called the trial "an opportunity to judge a period in European history."
Salvini is charged with abuse of power, breach of duty and kidnapping 147 migrants and asylum seekers for their refusal to allow the rescue ship to dock in Italy. The ship remained at sea off the Italian island of Lampedusa for 18 days in sweltering heat as conditions on board rapidly deteriorated.
Commercial
This ad has not been uploaded yet, but your article continues below.
Article content
Desperate, some 15 passengers threw themselves overboard in an attempt to reach Italy when the ship's captain issued urgent pleas for a safe place to land, France 24 reported.
As the days progressed, minors and people requiring medical attention were allowed to disembark.
An Italian judge eventually overruled Salvini, who was interior minister at the time, and allowed the remaining 83 passengers to disembark at Lampedusa.
Salvini had banned the docking of ships run by non-governmental organizations like Open Arms in an effort to cut off migration from Africa and the Middle East.
But refugees and asylum seekers continued to make the dangerous journey from Libya to Europe in crowded and gloomy boats, and humanitarian ships continued to rescue those stranded at sea.
Commercial
This ad has not been uploaded yet, but your article continues below.
Article content
Salvini has dismissed the charges against him as an attack by his political opponents.
"Defending the borders, security, honor and dignity of a country is not just a duty of a minister, but the duty of all," he said, according to Reuters. "Being judged for doing my duty is surreal."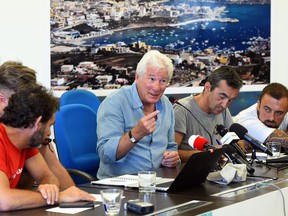 Among his complaints is that Gere has been approved to testify against him.
"Now tell me how serious a trial is where Richard Gere comes from Hollywood to testify about how bad I am," Salvini said, according to Reuters.
It is unclear if Gere will testify in person.
More than 1 million refugees tried to enter Europe in 2015 during the height of the migration crisis. The flow of people has dropped significantly since Turkey and the European Union signed a 2016 pact to limit migration, among other measures to restrict entry.
However, countless migrants have continued to die in shipwrecks while crossing the Mediterranean Sea.
Reference-torontosun.com