Opinion: Eight other provinces and all three territories cover the cost of the PSA test without requiring signs or symptoms. When prostate cancer is found and treated early, the chances of successful treatment are higher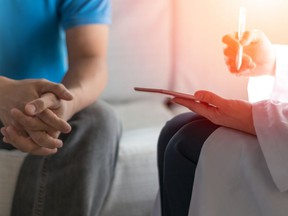 Article content
September is Prostate Cancer Awareness Month. Each year the month is an opportunity to discuss what else can be done to reduce prostate cancer rates and support those living with the disease. This year, the British Columbia government can make a difference by doing something almost every other province and territory has: cover the cost of a simple PSA test that can detect prostate cancer earlier.
Commercial
This ad has not been uploaded yet, but your article continues below.
Article content
Over the past year, the British Columbia government has shown that it wants to position itself as a leader in cancer care and research, as evidenced by the announcement of a new lung cancer screening program for the province (the first of its kind in Canada), as well as the announcement of a 10-year provincial cancer action plan. The plan seeks to reach patients throughout the cancer care process by investing in cutting-edge services in prevention, detection, diagnosis, and treatment.
Still, when it comes to early detection of prostate cancer, BC still lags behind the rest of the country.
According to Canadian Cancer Statistics estimates, 3,100 men were diagnosed with prostate cancer in British Columbia last year. Across Canada, prostate cancer is the most commonly diagnosed cancer among men, with one in nine men expected to be diagnosed with the disease in his lifetime. Prostate cancer is also one of the least preventable cancers based on currently known risk factors.
Commercial
This ad has not been uploaded yet, but your article continues below.
Article content
This means that early detection, even before signs and symptoms appear, is essential to mitigate the impact of this disease.
The prostate specific antigen (PSA) test is a commonly used blood test that looks for high levels of PSA, a protein produced by prostate cells. A small amount of PSA in the blood is normal, but if PSA levels are elevated, a person will usually be sent for further tests to find out if they have prostate cancer or a health problem affecting their prostate. When prostate cancer is found and treated early, the chances of successful treatment are higher.
While the test is currently covered by the BC Medical Services Plan for people showing symptoms of prostate cancer, British Columbia residents who are asymptomatic but are concerned about their health and may be at risk for prostate cancer they are not covered, even when referred for testing by your healthcare provider. This means that tests are only done once signs of the disease are already present. In contrast, eight other provinces and all three territories cover the cost of the PSA test without requiring signs or symptoms.
Commercial
This ad has not been uploaded yet, but your article continues below.
Article content
While people without symptoms can still get tested in BC, they do it out of pocket. This financial hurdle can be a barrier to getting tested, which can result in delayed diagnoses and poorer overall health outcomes. This, in turn, could affect major health trends in the province, such as contributing to greater health inequity: Black men are twice as likely to be diagnosed with prostate cancer than white men.
The economic benefits of expanding PSA testing also extend to the province. Better early detection strategies allow us to treat people earlier when their cancer is less advanced and fewer interventions are needed. This not only means better health outcomes for the individual, but also potential cost savings for the health system.
The PSA test is a key step in the early detection of prostate cancer. If BC really wants to position itself as a leader in cancer, it needs to expand PSA testing coverage to all British Columbia residents.
Dr. Stuart Edmonds is the executive vice president for mission, research and advocacy for the Canadian Cancer Society.
Reference-theprovince.com