Donald Trump said the desire of conservative judges on the Supreme Court to appear impartial means it's "almost impossible" for Republicans to get a fair decision.
In a post on Truth Social, the former president said that right-wing judges on the majority-conservative SCOTUS bench "go out their way" to ensure they don't seem biased when handing out rulings, a trait he says isn't shared by judges appointed by Democrats.
The remarks were made days after the Supreme Court cleared the release of the former president's tax returns to be handed over to the Democrat-controlled House Ways and Means Committee, which has spent the past three years investigating Trump's compliance with Internal Revenue Service auditing.
No SCOTUS judges, including those appointed by Trump—Justices Neil Gorsuch, Brett Kavanaugh and Amy Coney Barrett—dissented from the decision to allow the House committee to receive the financial records from the IRS.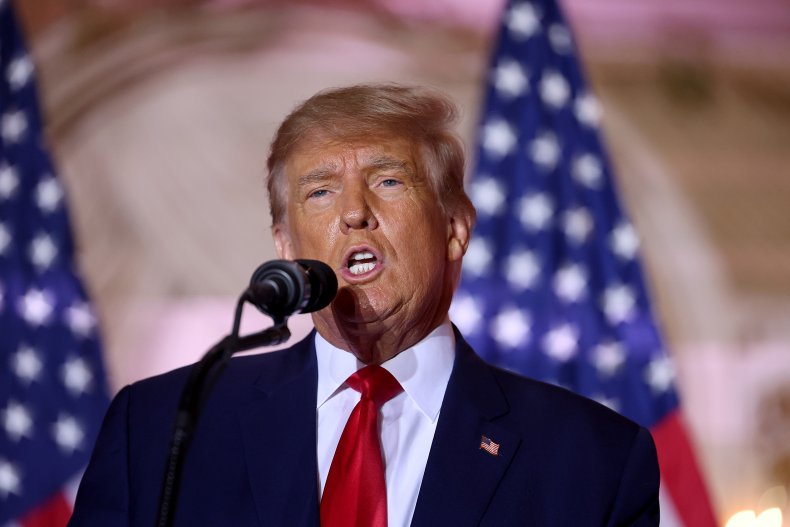 "When a Republican Judge or Justice is proudly appointed by a Republican, he or she will ALMOST always go out of their way to make a point, even in a decision, that they are in no way 'beholden' to the person or party that gave them this great honor," Trump said.
"When a Democrat Judge or Justice, especially a Radical Left one, is proudly appointed by a Democrat, he or she just doesn't care, it is ALMOST impossible to get a fair decision on a case if you are a Republican. Sorry, but that's just the way it is!"
This is the second time Trump has attacked the Supreme Court since it ruled that the Ways and Means Committee can review his tax returns after rejecting the former president's emergency bid to block a lower court's ruling on the matter.
In the early hours of November 23, Trump accused the court of being "nothing more than a political body."
"Why would anybody be surprised that the Supreme Court has ruled against me, they always do!" Trump wrote, while also referencing how the court frequently quashed efforts to overturn Joe Biden's 2020 election results in a number of states due to false claims of widespread voter fraud.
"The Supreme Court has lost its honor, prestige, and standing, & has become nothing more than a political body, with our Country paying the price. They refused to even look at the Election Hoax of 2020. Shame on them!" Trump said.
Trump was also dealt a blow by the Supreme Court in early November after it rejected a request from South Carolina Senator Lindsey Graham not to testify in front of a Georgia grand jury investigating alleged attempts to overturn the 2020 election results.
Once again, no one dissented to the ruling, which paved the way for Graham to answer questions under oath as part of Fulton County Prosecutor Fani Willis' criminal probe.
Graham appeared before the special grand jury on November 22 and answered questions for two hours. His office said in a statement that the senator was "treated with respect, professionalism, and courtesy," but declined to give details on what was discussed during his testimony.
Graham was subpoenaed to testify regarding phone calls he had with Georgia Secretary of State Brad Raffensperger which prosecutors allege amounted to the Senator inquiring about absentee ballots in order to "explore the possibility of a more favorable outcome" for Trump.
Graham denied the allegations he was attempting to have some absentee ballots thrown out in order to tip the balance in favor of Trump.
The Supreme Court has been contacted for comment.
Do you have a tip on a politics story that Newsweek should be covering? Do you have a question about Donald Trump? Let us know via [email protected]
reference: www.newsweek.com