The 48-hectare park became a popular place for citizens to visit during the pandemic.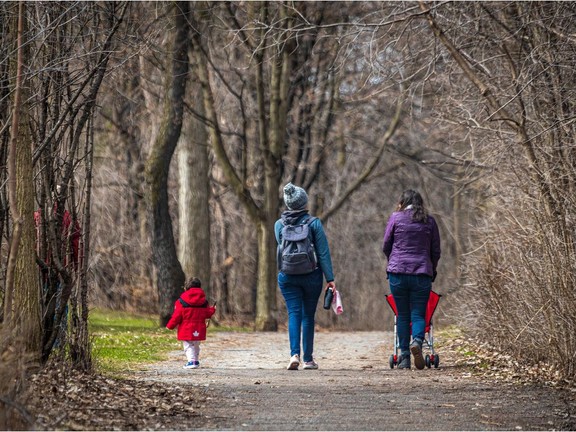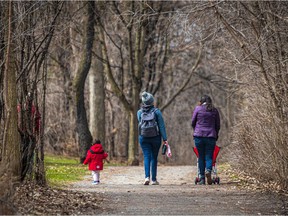 Article content
Dollard's Centennial Park will remain off limits to bicyclists while the city studies how to make its trails and pathways safe for all users.
Article content
The 48-hectare park, centered by a picturesque artificial lake, became a popular place for citizens to visit during the COVID-19 pandemic.
But the city's largest park, located at 3000 Lake Rd., was closed to cyclists during the pandemic for safety reasons, noted Mayor Alex Bottausci.
"Over the last two years, Centennial Park has seen a massive increase in walkers, joggers and general park-goers," he said.
"Cyclists and joggers do not blend (or) mix well at this park and we have had challenges in the past — I am referring to prior to COVID — with accidents and altercations between the two."
Bottausci said the pandemic made the situation even worse as Dollard residents flocked to the park to enjoy the outdoors.
"With the influx of users at the park, if we were to add cyclists, it would further jam things up and potentially cause accidents," the mayor said.
Article content
"So the status quo for now — no bikes — as it has been for the last two years. However, we are studying a way for both to cohabit together in safety."
Last year, the city announced it was adding an outdoor exercise facility at the park for people aged 13 and older. The park also features a looping walking trail around the lake.
In the winter months, the park offers cross-county ski trails and a tobogganing hill.
Bottausci said the city is looking at ways to allow for a safe use of the park premises by all residents.
"Our goal is to make all users have an enjoyable and safe experience."
Dollard announced plans to build Centennial Park in 1967 to mark the 100th anniversary of Canada's Confederation.
However, construction did not begin until the 1970s. The park opened to the public in 1976, the same year as the Dollard Civic Center.
West Island mayors don't want to hear about police station mergers

Former Dollard peewee teammates nominated for Hobey Baker Award