Alejandra Guzmán will not take legal action against her daughter
The singer only wishes Frida Sofía the best
Followers affirm that it does not suit her
"I only wish him the best." The Mexican singer, Alejandra Guzmán, surprises in social networks by presenting a statement in which she informed that she will not take any legal action against her daughter Frida Sofía, nor that she is in complicity with her father Enrique Guzmán, stating that she only wants what better.
Go that things have gotten quite complicated for the family of the leading actress, Silvia Pinal, and is that there is currently an intra-family dispute after her granddaughter, the Mexican model and singer Frida Sofía, sued her grandfather Enrique Guzmán for alleged family violence, sexual abuse and corruption of minors.
Enrique Guzmán files a counter claim against Frida Sofía; "I have Alejandra's permission"
After this, the same singer with "the purpose of clearing his name" decided to file a counterclaim against his granddaughter in the United States. According to the portal Univision, the singer reported that he had a 'green light' to proceed against her, because supposedly Frida Sofía did not have enough evidence to prove the crimes that the singer is accused of:
"I have the green light to proceed against the girl (…) Frida Sofía has no way to prove it, so we must proceed against her in the United States. I can now, with Alejandra's permission, proceed against her. The problem is that she is going to turn the matter around because I am going to do it in the United States, "Enrique Guzmán reported.
Alejandra Guzmán turns her back on Enrique Guzmán and will not sue her daughter Frida Sofía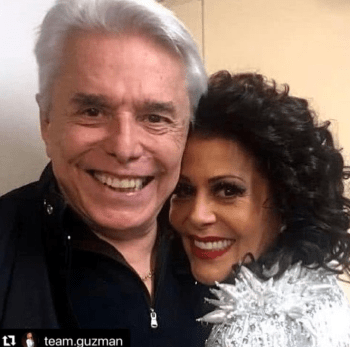 However, many have wondered what actions her mother Alejandra Guzmán will take, since she was indirectly involved with the charges that her daughter Frida Sofía imputes to her grandfather Enrique Guzmán, to which the Mexican singer reported in a statement that she will not take any legal action against your daughter.
Through a statement through social networks, the Mexican ordered to 'silence' all the speculations that were had in this regard, after her father reported that she herself had given her consent to proceed against her granddaughter, to which she The singer comments that she will not do anything against Frida.
"Will not take any legal action"; Alejandra Guzmán turns her back on Enrique Guzmán and will not sue her daughter Frida Sofía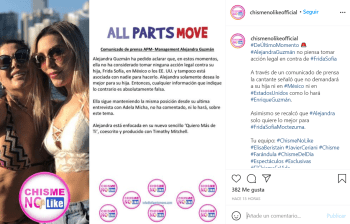 Through said document, it was reported at the beginning that Alejandra "did not take sides" with her father Enrique Guzmán: "Alejandra Guzmán has asked to clarify that, at this time, she has not considered taking any legal action against her daughter, Frida Sofía, in Mexico or the United States and it is not associated with anyone to do so ".
Later, it is commented that the singer 'only wants the best for her daughter': "Alejandra only wants the best for her daughter. So, any information that indicates otherwise is totally false ".
"He will not speak more of the subject"; Alejandra Guzmán turns her back on Enrique Guzmán and will not sue her daughter Frida Sofía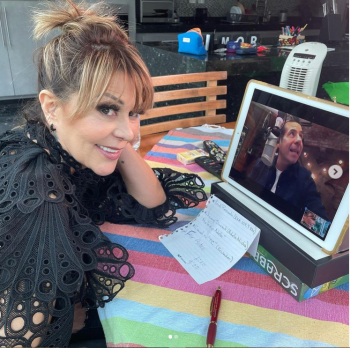 To end with her press release, the singer's team reported that Alejandra Guzmán will not speak again about it, nor will she give more statements or interviews, remaining firm in not making any kind of comments on this family issue in front of the public:
"Ell continues to maintain the same position since her last interview with Adela Micha, she has not commented, nor will she, on this subject. Alejandra will be focused on her new single 'Quiero más de ti' co-written and produced with Timothy Mitchell ", the press release concluded, silencing all rumors of a psoble lawsuit against her daughter Frida Sofía.
"It is not convenient for her"; Alejandra Guzmán turns her back on Enrique Guzmán and will not sue her daughter Frida Sofía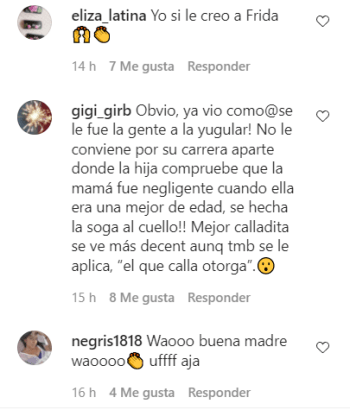 Faced with this response by Alejandra Guzmán, many Internet users and followers of the Gossip No Like account, which shared this news on social networks, came out to argue that the singer really did not benefit from taking a position of any kind, since people "They were getting on top of him" for not supporting his daughter:
"Obviously, you already saw how people got to the jugular. It does not suit her because of her career, apart from where the daughter proves that the mother was negligent when she was a minor, she throws the noose around her neck. Better quiet, she looks more decent, although 'the one who is silent grants' is also applied to her, "I think she saw the result of her actions in the sale of tickets," "She realized that due to her actions, her career is in decline" .
The most heartbreaking insult! They tell Frida Sofía that Alejandra Guzmán had to abort her (PHOTO)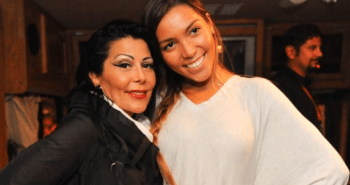 Since last year, things between Alejandra Guzmán and Frida Sofía have overflowed to the point where the young woman decided to sue her mother for the abuse she experienced during her childhood, stating that she was always in a toxic environment and that if she is thus in character it is due to the events that marked her during her childhood.
The young woman's social networks have been flooded by hateful comments from some fans of the Mexican singer, who have expressed their disgust for her, after the lawsuit she filed with the authorities of the Mexican country for the undue touching of her grandfather, Mr. Enrique Guzmán and that Alejandra supported instead of her daughter; This time, Guzmán's daughter has been told that she should have had an abortion… and the young woman exploded in front of the user.
"I should have aborted you"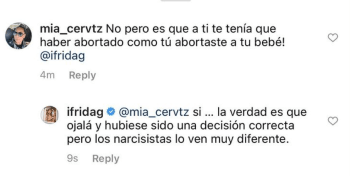 On July 7, Frida Sofía turned on the alerts on her Instagram profile after showing one of the Internet users that she took the time to leave her an overly aggressive message where she lets her know that Alejandra would probably have been happier aborting her as she had aborted the baby she was expecting with her then partner and the young woman was not silent.
"No, but you should have had an abortion like you aborted your baby!", The user wrote in the comment box, who within minutes had an answer from the influencer: "Yes … the truth is that I hope and it would have been a correct decision but narcissists see it very differently ", Frida mentioned, to later take a screenshot and post it on her Instagram profile.
"It's the most cowardly thing in the world"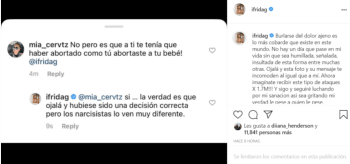 When going through this stormy situation, Frida Sofía did not stay with her hands crossed and went out before her community of followers, displaying the comment of the user who mentioned one of the most difficult circumstances she went through after making the decision to abort a couple ago years ago and that he has said on numerous occasions that it was "the most difficult thing to do".
"Making fun of the pain of others is the most cowardly thing that exists in this world. There is not a day that passes in my life without being humiliated, pointed out, insulted in this way among many others. Hopefully and this photo and its message make you uncomfortable like me ", was part of the message that the influencer left on her social networks, given the attack that the user carried out against her.
"I will continue fighting for my healing"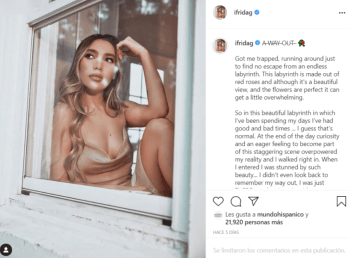 Pablo Moctezuma's daughter did not stop there with the attack, pointing out that she received that type of attention multiplied three times that of the user who decided to show in the Instagram post and that she hoped she could understand that it was not an easy process with which she lived , in addition to clarifying that she was only looking for her 'healing' and even if they attacked her, she would not shut up.
"Now imagine receiving this type of attack X 1.7M !!! And I continue and I will continue to fight for my healing, even if I cry out my truth regardless of whoever it may be, "Frida commented in the caption of the capture that was uploaded on her social networks, ending the post with the hashtag of" I'm not leaving. to shut up ", not being the first time that he does a similar action with his 'haters'.
Defend it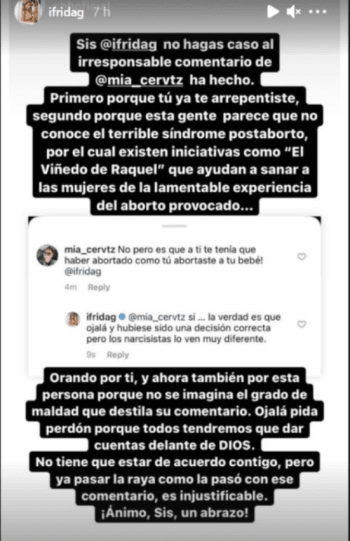 It was through Instagram Stories that a follower of Frida Sofía decided to express her opinion about the criticism she had received on social networks and that Moctezuma's first-born daughter showed, joining the people who show her the support they have for her at every opportunity. the 29-year-old girl.
The publication reads the description that says the following: "Sis, don't pay attention to the irresponsible comment Mia (the user who attacked her) has made. First because you already regretted it, secondly because these people seem not to know the terrible post-abortion syndrome, for which there are initiatives such as "Raquel's Vineyard" that help heal women from the unfortunate experience of induced abortion … ", to what the young woman shared in her stories. Some images in this note come from It is and It is videos


mundohispanico.com