"Not everyone has the desire to climb up and dive from such a height or land in such a shallow pool." — The acrobatic performer Yves Milord.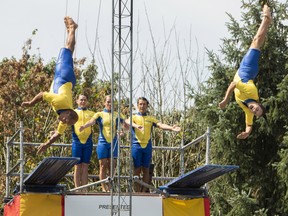 .
The highlight of the dive show is at the end, when Yves Milord climbs a skinny 80-foot ladder and onto a small perch, high above the PNE grounds. He jumps into a spin and lands in a pool of water below that is only 10 feet deep.
.
The trick to not breaking every bone in your body lies in a technique called scooping, says the 60-year-old, who has been performing in stunt shows for more than 40 years.
"It's like when you have ice cream. You insert your spoon and bend as you enter. That's the same action as when you launch from that height or from below, which means that as soon as you hit the water, you bring your legs forward or roll onto your back, so you don't hit the bottom of the pool. "
Milord is the owner of Milord Entertainment, which produces the "Flying Fools High Diving Show," which is returning to the PNE for the first time in about 15 years.
There are six performers in this summer's show, but only Milord and a colleague, Aaron Randles, are doing the final dive.
.
"Not everyone has the desire to climb up and dive from such a height or land in such a shallow pool," Milord said.
In metric terms, it is jumping from a 25-meter board into three meters of water.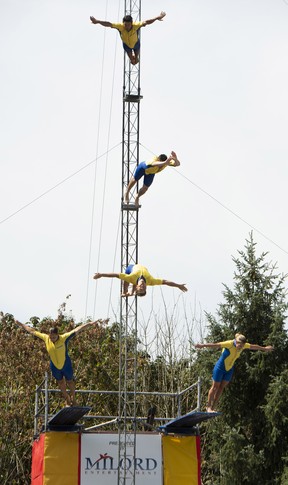 Some 20 years ago, Milord met Randles, who spent years performing high jumps and stunts in the long-running and acclaimed "The House of Dancing Water" show in Macau.
"He was 20 and I was 40, and I thought I was too old to act," Milord said.
"I was diving high all the time, but the thing is (in Macau), they had almost 18 feet of water to dive into. Here, it's only 10 feet, which makes the task that much more difficult. You need to sacrifice your body a little more. He is a young man in his 40s."
The other jumpers come from some sort of acrobatic background, be it diving, gymnastics, or trampoline. They have skills that take years to master, and training for the program is not a long process by comparison, my lord said.
.
The first 18 minutes of the 20-minute show focus on trampolines and platforms up to 30 feet high. There's comedy, slapstick, some serious dives, and some sequences choreographed to music.
It's the high dive that can take years, months, or weeks, depending on various factors, according to my lord.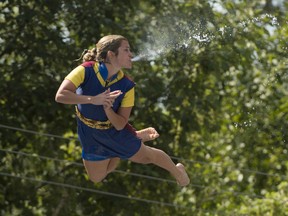 There are only a handful of artists in his company who can do it. Some of them have been performing in another unit that has been at the Indiana State Fair this summer.
The company is also known for its fire dives, in which the performer is set on fire before taking a high dive into a pool, but is not performed at the PNE due to risk.
"There are too many trees around and we don't want to risk it. The wind is coming, you never know. It's too dry and it's not the right thing to do now," said my lord.
"Not everyone at my age can still act," said the former Quebec high school teacher, who travels from June to October every year.
"It's a great way to travel, see the world, get paid for something you love to do, and in our opinion, it's better than any kind of nine-to-five job."
There are three free shows a day throughout the PNE, one each at 2 p.m., 3:30 p.m. and 7 p.m. The PNE runs through September 4, but is closed on Mondays.