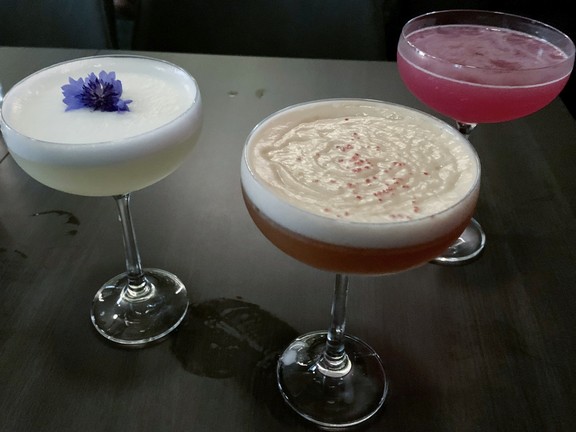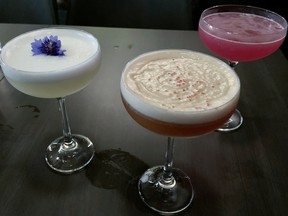 Reviews and recommendations are unbiased and products are independently selected. Postmedia may earn an affiliate commission for purchases made through links on this page.
article content
Stolen Items Cocktail Bar
Sparks Street 106, stolengoodscocktailbar.com
Open: Tuesday to Sunday 6 pm to 2 am, closed Monday
Prices: Small Plates $10-$26, Full Menu $140, Cocktails $14.50-$24; discounted oysters and drinks after 11pm
Access: There are no steps to the front door or the bathrooms.
article content
"Oh bartender, I'd like the cocktail that tastes a bit like shawarma."
As unlikely as that request sounds, you can make it at Stolen Goods Cocktail Bar, which opened a month ago on Sparks Street. And if you accept the fundamental premise of this innovative and very local libation, you might like it.
As it says on the bar's drink menu, Stolen Goods "aims to take an unconventional approach to cocktails and ingredients." Nothing says "offbeat" like the Three Brothers cocktail ($18), which involved demulsified garlic sauce oil-infused gin (purchased from Ottawa's 3 Brothers Shawarma & Poutine) plus vibrant pink juice from the pickled turnips they typically garnish. the shawarma. When we visited this week, my knowledgeable friend who opted for Three Brothers thought highly of this gimlet/shawarma combination.
article content
Wanting to be more conventional and because bourbon was its first ingredient, I ordered the Liar's Poker ($18). I wondered what this concoction would taste like which also included a smoky sweet malt Scotch whisky, Aperol, black tea, pineapple syrup and more. The menu description, "a balance of smoke and astringency, with underlying fruit tones," was pleasantly punchy.
The third cocktail to simultaneously arrive at our table was a Garden Party ($17.50), which spared its gin a garlic infusion but added rhubarb, Lillet Blanc, plum bitters and more. It was also a sophisticated winner, judged our partner.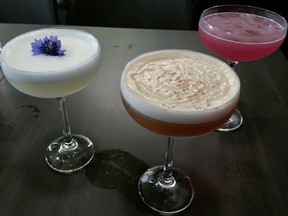 These elegant cocktails were the prelude to more elegant cocktails, but also to elegant food on the concise bar menu.
article content
While this dark little bar doesn't have a full kitchen, chef Adam Ghor, one of its three owner-operators, served up small plates that were almost as intriguing as a garlicky gimlet. Ghor, who previously cooked at Atelier, works behind the bar at a minimalist station equipped with an induction burner, assembling items from components made daily before he opens the bar.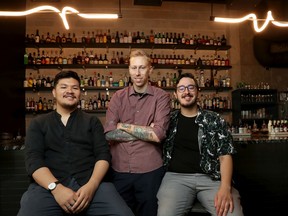 To Ghor's left, preparing drinks and serving them, were teammates Ray Tang and Mike Campbell, who previously worked at Gitanes. Campbell told me that the three twentysomethings loved going to innovative cocktail bars in Montreal and Toronto so much that they wanted one of their own.
"We decided to dump our life savings into a 20-seat cocktail bar and see how it works out," says Campbell.
article content
The bar is also meant to be an after-shift hangout for restaurant coworkers because after 11 p.m., discount oysters and cheaper drinks hit the menu. Also, Ghor keeps putting out food until 2am
We were early eaters last Tuesday but were happy with the quieter atmosphere of the bar nonetheless. Except for the towering wall of spirits behind the bar, the bar fixtures, and the team at work, there wasn't much else to look at in the dark except the two people I came with and other patrons. The music was fresh and youthful, if a bit loud for our older ears. It gets stronger later at night, I'm told.
We ordered the full menu ($140), billed as a menu for two, plus a 30-gram can of sustainable Canadian sturgeon caviar ($50 with the menu, or $70 otherwise), because we're patriotic.
article content
The warm and flavorful lemon cilantro stained olives started, which made me wonder why I eat them cold at home. Then came half a dozen Caraquet oysters, soft, small and appropriately served with a simple tarragon and horseradish mignonette.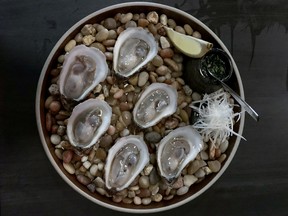 More expansively flavorful were two seafood-focused winners. The smoked roe (a mix of salmon, herring, and lumpfish roe, to be precise) came nestled in crème fraîche with sea buckthorn berries that added hints of color, tartness, and sweetness. The roe was a thin sauce on slabs of Bread By Us sourdough. The raw scallop combined its delicious stars with sliced ​​nectarines, homemade shiso vinegar, olive oil, and a variety of spices that made for a great indulgence.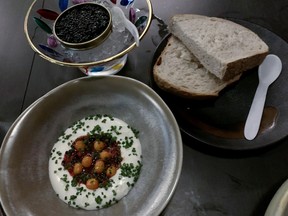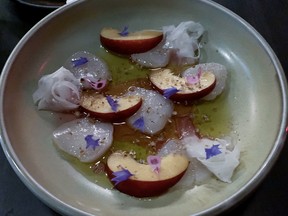 While our caviar came with roe and scallops, we weren't sure how best to appreciate the sturgeon riot. While we've steered away from the fashionable "caviar punches" of eating the eggs with the backs of our hands, we thought its salty excitement had been lost a bit as a garnish for roe and scallops. I know I'm defending convention in a place that avoids it, but French fries or something small and crunchy would be a better platform for caviar than undeniably good but overly massive sourdough in this context.
article content
Ghor's two plant-advance items hit home. Soft cooked radicchio and hakurei turnips played nicely on his plate with house-made pumpkin seed miso, pear and horseradish. Sliced ​​salt and vinegar potatoes are dressed with ricotta, truffle shavings and a white anchovy gremolata.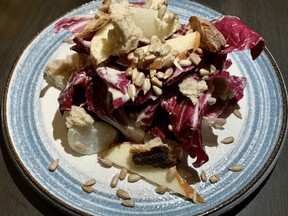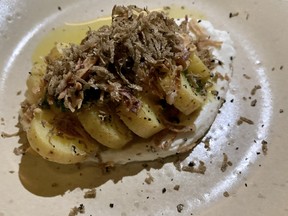 Our final savory item was a beef tartare, served with sourdough, which went its own way with a hit of strawberry gochuchang that added fruitiness, heat and funk, plus a little black garlic Worcestershire sauce. While those house-made fermented components were tasty, we would have liked the tartar better if it had packed a stronger punch.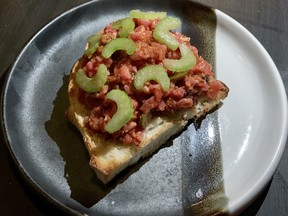 The dessert was called cheesecake, though it was actually a savory extrusion of rhubarb and black sesame, garnished with walnuts and refined balsamic vinegar.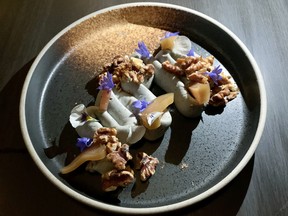 Adding significantly to our enjoyment was the expertise and warmth with which Tang and Ghor served us. They're clearly pleased and proud of what they've accomplished in such a short amount of time, and happy servers make customers happy.