Jean-Claude Chartrand died too young at 53 of COVID last year, but the venerable Chelsea restaurant continues to delight under new chef Émile Héroux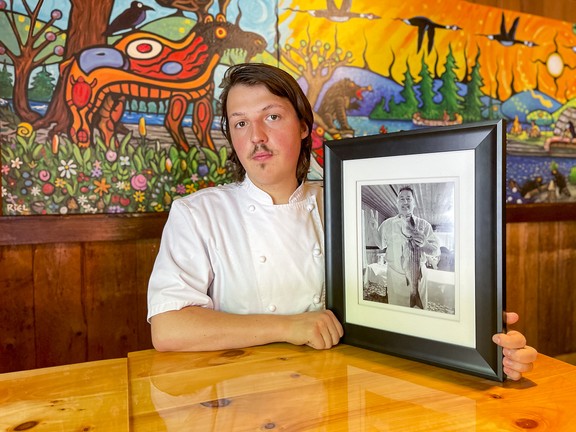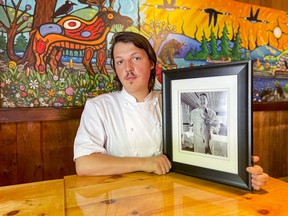 Reviews and recommendations are unbiased and products are independently selected. Postmedia may earn an affiliate commission from purchases made through links on this page.
Article content
L'Orée du Bois
15, chemin Kingsmere, Chelsea, 819-827-0332, oreeduboisrestaurant.com
Open: Wednesday to Friday and Sunday 5:30 to 9 p.m., Saturday 5 to 9 p.m.
Price: four-course table d'hôte $75 (with extra charges for certain items), à la carte mains start at $38, three-course kids table d'hôte $20
Access: no steps to front door, washrooms
Article content
A small abstract drawing of a chef sits near the entrance to L'Orée du Bois. While faceless, he's unmistakeable to many regulars at the veteran French restaurant in Chelsea. Beneath the inscription "Excuse me while I kiss the sky," it can only be Jean-Claude Chartrand.
While Chartrand no longer presides over the kitchen here, his presence has never been stronger in the corridors that customers frequent. Another wall shows photos of him posing proudly with his team and with a culinary award. Not far is a larger-than-life wood carving of Chartrand's face, made by his nephew Alexandre.
These tributes lionize a beloved life lost too soon to COVID-19. Chartrand died in late March of 2021. He was 53.
"Jean-Claude is still here," says Émile Héroux, the chef of L'Orée du Bois since May 2021. He is 24, but started here as 17-year-old dishwasher.
Article content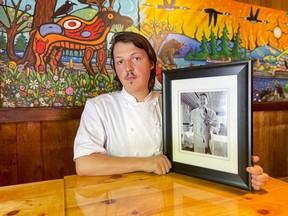 We went to L'Orée du Bois this month to see how it was faring more than a year after its devastating loss. Based on the food, hospitality and surroundings we enjoyed, the restaurant is surviving and even thriving.
Chartrand would be proud.
Located at the edge of the woods (as its name states) inside a century-old, bunker-style farmhouse, this pastoral culinary getaway has been around seemingly forever. From the late 1970s until the more recent Chartrand era, Guy Blain was its owner and chef. This newspaper's 2007 review called Blain's restaurant "a treasure in the forest… old school and first rate." Fifteen years later, despite some changes, those kudos still apply.
By 2009, Chartrand, who had been Blain's sous chef, had become chef and partner. Subsequently, Chartrand and his wife Josée bought the restaurant from Blain. If current chef Héroux soon buys a stake in the restaurant as he plans, the cycle of life for L'Orée du Bois will seemingly continue.
Article content
L'Oree du Bois's Quebec-meets-China chicken takes top prize

L'Oree du Bois chef Jean-Claude Chartrand dies days after his restaurant closes due to a COVID-19 case

Peter Hum's tasting notes from the 2015 Gold Medal Plates competition in Ottawa
Some of the fustier trappings we recalled here are gone. We didn't see the lace curtains and reproduction portraits of decades ago. While we remembered white tablecloths at our visits in the 2010s, we ate at a gorgeous new live-edge table made by Alexandre Chartrand. A vibrant Indigenous painting lines a dining room wall. Also, Héroux says, tables are now spaced further apart to make dinners feel more intimate.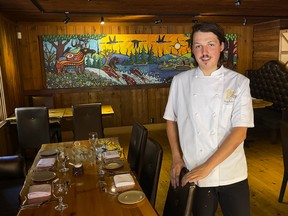 Ambience-wise, the biggest change at L'Orée du Bois is the 70-seat back patio that opened this summer, where a custom-made pizza oven and wood-burning grill reside. It looked like a charming new space, almost equal in capacity to the restaurant's four dining areas.
Article content
Dinner here is based on a $75 four-course table d'hôte (which, by the way, cost $34 in 2007). A la carte ordering is possible too, and for opulent add-ons such as seared foie gras or duchess potatoes, supplementary fees kick in.
After we ordered, a welcome touch came, seemingly from a bygone area — a basket of warm, thick sourdough slices, accompanied by whipped butter. Some regulars miss the Portuguese Bakery's dinner rolls previously served here, Héroux says. We thought the new bread made by Roberto Pizza Romana in Chelsea was a change for the better.
For three of us, dinner continued with homey yet refined potages as first courses — one of cold, puréed asparagus, another of mushroom and leek and a third of caramelized onions. All were exemplary. Arguably the onion-y one, which we were told has been served for 35 years, was our favourite.
Article content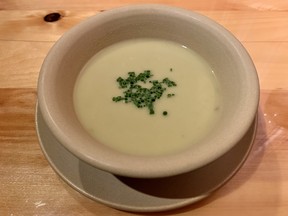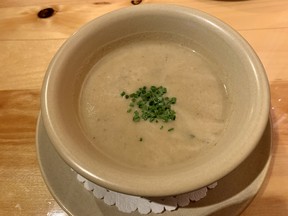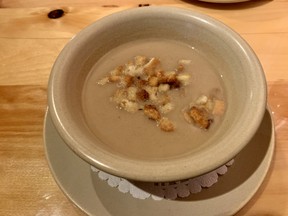 One appetizer, plump escargots in a puddle of pistou, the French take on pesto, was generous and tasty. It's another perennial on the menu, Héroux told me. Nordic shrimp were sweet and tender, bolstered by cocktail sauce and herbed whipped cream.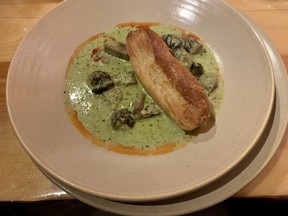 Chanterelle mushrooms, simply sautéed and fortified with Charles-Aimé Robert, a maple-based wine, rested on buttery toasted bread. Seared foie gras was similarly paired with a decadent seared brioche and then classically and seasonally offset with marmalade and gastrique made with strawberries.
For main courses, the longstanding formula at L'Orée du Bois was properly cooked proteins with superior sauces, plus identical vegetables on every plate. Héroux says that as per Chartrand's ambitions, he's stepped up and given each main its own vegetables. Again, kudos for progress.
Article content
Deer medallions from the outdoor grill were fantastic — lean, succulent and blessed with a perfected peppercorn sauce. But the carrots tinted with maple were salted a bit heavy-handedly.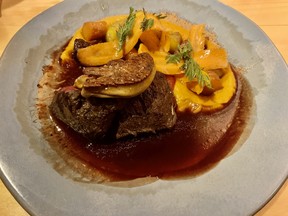 Lamb fillet had also been expertly grilled outside. That meat shared its plate with rosemary jus and some Mediterranean co-stars, including house-made hummus, confit tomatoes, grilled zucchini and eggplant.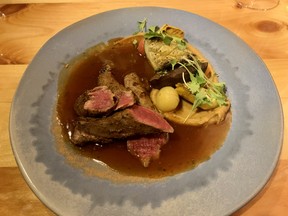 Pan-seared sea bass was crisp-skinned and pure of flavour, matched with broccolini, mushrooms and beurre blanc. Chicken breast sous-vide was appealingly moist, while its pearl couscous swam in a roasted pepper cream sauce. A quibble for that dish: the crispy chicken skin garnish promised on the menu was absent.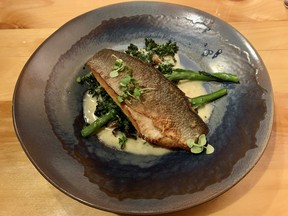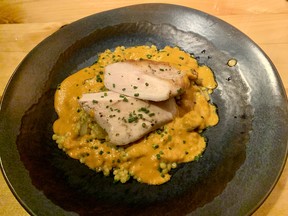 A vanilla crème brûlée, a.k.a. the dessert served everywhere, was better here than elsewhere. Ditto the pavlova, whose shell broke satisfyingly to reveal its soft, light interior. Our table's rum baba lover says he would return to L'Orée du Bois for its rendition of this meal-ender alone.
Article content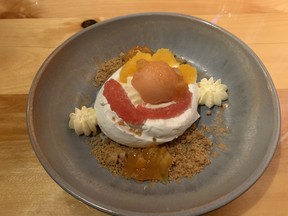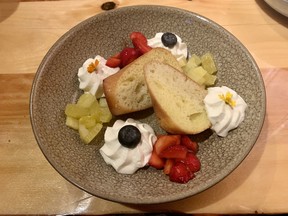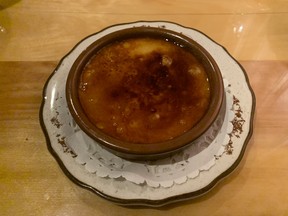 Coffee was an under-flavoured letdown, especially after all the pleasures that preceded it.
A better beverage was an opening cocktail, a good old-fashioned sweetened with L'Orée du Bois's honey. Wines by the glass suggested by our bilingual server, who was exceptionally warm and knowledgeable, were also winners.
"Jean-Claude, he enlightened us about the gastronomic side of life and how to appreciate certain moments with food and wine," says Héroux, who also did culinary studies at Montreal's Institut de tourisme et d'hôtellerie du Québec.
"He was really good at that, one of the masters," Héroux says.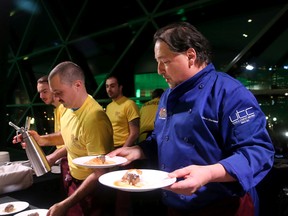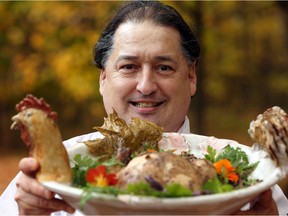 Well, Chartrand is gone. But his dream deliciously lives on.