"Downtown is the heart of Ottawa. Without a vibrant core, tourism, for example, dies, along with a host of affiliated businesses."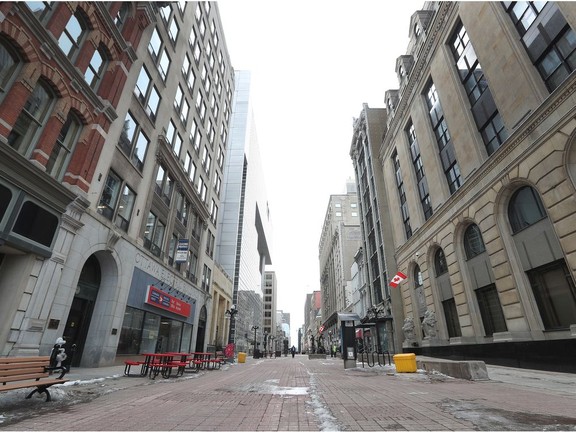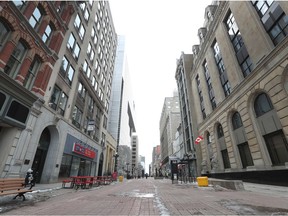 .
How will downtown Ottawa get out of the worst of the pandemic? Will there be a bustle again with white collar employees and pot shops? Will residents move to fill the void? Or will Ottawa Downtown MP Yasir Naqvi's fears of a 1990s Detroit-style dystopia come true?
.
Downtown is the heart of Ottawa. Without a vibrant core, tourism, for example, dies, along with a multitude of affiliated businesses: hotels, convention centers, tour operators, restaurants, the ByWard Market. Businesses won't want to locate here. Professional athletes, looking for safe and clean cities in which to raise their children, will play elsewhere.
.
A boarded-up world capital invites little more than trouble.
And it's one thing to encourage workers to come back. Privy Council secretary Janice Charette followed suit last month when she urged Privy Council employees to return to the office two days a week, suggesting that full-time remote work be allowed only in "exceptional circumstances." .
Similarly, Ottawa Mayor Jim Watson wrote to Treasury Board President Mona Fortier last spring, asking her to bring public servants back to the core, ostensibly to support businesses hurt by their absence.
.
But such steps, legislated or not, are like sticking a finger in a dike that is already crumbling. The way we work has changed and attempts to go back to 2019 ignore the diversification that was already underway. You could also try to recover 8-track tapes and semaphores.
The workers seem happy at home. An ongoing workforce analysis survey of nearly 14,000 public servants, conducted by Ottawa-based Agile Work Evolutions Inc. (which was acquired this year by US-based commercial real estate conglomerate Cresa, is an office.
The percentage of those who prefer remote work has increased from 23% in March 2020 to 73% today. Those who prefer office work only fell from 43% to 6% during that period, while those who want a hybrid also fell, from 34% at the start of the pandemic to 21% today.
.
The survey also mentions the savings achieved by a work-from-home or hybrid system, including reductions in travel times and office space requirements, as well as favorable environmental impacts.
But there are other considerations. Following Watson's letter, for example, Fortier suggested that downtown could be revitalized by repurposing empty office buildings into housing.
Meanwhile, Naqvi announced in July the creation of the Downtown Ottawa Revitalization Task Force to look at issues such as affordable housing and support for local businesses.
"Hybrid work is here to stay," he said. It is our job to adapt to this new reality."
How the feds respond should be of interest to whoever becomes mayor: the national capital is, after all, also a municipality, and the vibrancy of the city center is crucial.
.
Mayoral candidate Catherine McKenney (who uses the pronouns they/them) says they will work with the task force, a group that includes community and business leaders, to come up with innovative and ambitious ideas.
"We have to be realistic. All the workers are not going to come back to work all the time, so we are not going to go back to those days."
Mark Sutcliffe, who is also vying for the city's top job, points out that the pandemic simply hastened the shift to remote work, a move that was facilitated by the advent of technological advances like Zoom and Microsoft Teams, which allowed for easier collaboration. .
"There's no easy fix for that," he says, "We need to bring everyone together, the federal government, the provincial government, the community leaders, the business leaders, and work on a plan.
.
"Ideally, we should have people working downtown because it's the right place for them, and not just for economic reasons," he adds. "I see it as part of a larger strategy of what Ottawa looks like in the future and how we attract top talent to the city."
Sutcliffe on Monday released a plan to revitalize the city center and ByWard market, including converting office space to residential, adding more festivals and events and developing a plan for an "unspecified major new international attraction." in downtown Ottawa.
Both Sutcliffe and McKenney (Bob Chiarelli did not respond to requests for comment) acknowledge the value of working remotely, but agree there are times when collaboration works best when people share the same space. They both think that the work locations of city employees should be determined by department. Some workers, Sutcliffe says, prefer office work because their homes may not be ideal.
.
But it is also worrying, he adds, how remote work could become.
"If your job isn't tied to a desk in a government department in Ottawa, then you could live anywhere in the country."
This, says McKenney, could benefit the feds and other Ottawa-based employers who might hire workers who don't necessarily want to move to Ottawa. That, however, does not solve the problem of the center.
"It's an opportunity and a challenge," says McKenney. "The challenge is that we have some businesses in our business district that have the traveling population, the federal office workers.
"The opportunities are looking at our commercial sector and those buildings. Certain floors in some can be converted to housing, mixed-use retail, commercial housing, ground-floor artists. I really think it will take some serious thinking about what the center of the city will look like."
Sutcliffe adds that if people who work for Ottawa companies or departments can live anywhere, the key is to give them reasons to call Ottawa home. "Ideally, we want Ottawa to be such a great place to live that even if the federal government says you can live wherever you want in Canada, you choose to live in Ottawa because you like it here."
Deachman: Mark Sutcliffe says voters have a 'clear choice' of visions for Ottawa, and he's right

Deachman: Chris McNeil posted this photo of his birth parents on Reddit. Five days later, he was at a family gathering.