The union said there would be more days to strike if an agreement is not reached by Thursday.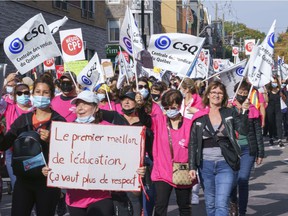 Article content
The union representing early care workers has rejected the latest offer from the Quebec government, but has lowered its wage demands.
Article content
Issuing a counterproposal on Sunday, the FIPEQ-CSQ said there would be more days to strike if no agreement is reached on Thursday.
The union president, Valérie Grenon, said that the offer made by the president of the Treasury Board, Sonia LeBel, on Friday has many shortcomings, even if the gap between the two parties "is not that great."
During a press conference at a daycare center in Quebec City, Grenon explained that the union was reducing its demands "to quickly reach an agreement."
Today, a qualified early childhood educator makes about $ 19 per hour to start, increasing to $ 25 per hour at the 10th and last level of the pay scale.
The union's new proposal would translate into an increase of 20.3 percent in three years for workers with the lowest wages and 13.6 percent for those who earn more.
Article content
The union previously demanded increases of 27 percent for the first level and 21 percent for the highest.
"This is an important step that shows the goodwill of the workers," Grenon said. "The ball is now in the government court."
The latest government proposal saw a salary increase that could reach 20.22 percent in three years for qualified educators, but only 15 percent for unskilled educators and 9.3 percent for support staff.
According to FIPEQ, Quebec does not even offer salary increases to "other" workers who support educators, such as kitchen workers or cleaners.
"If there is no significant progress between now and Thursday, there will be more strike days," Grenon promised.
Bill 2 is "the most transphobic bill ever proposed in Quebec," says activist

Protesters in Montreal want Quebec to allow dance floors to reopen
Reference-montrealgazette.com