Opinion: Some of the preliminary numbers for BC's possible bid for the 2030 Winter Olympics look really low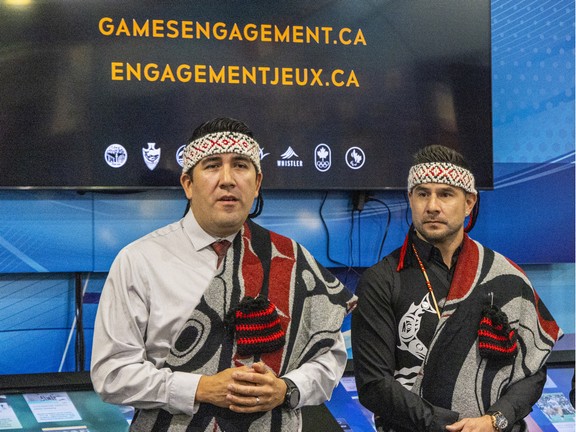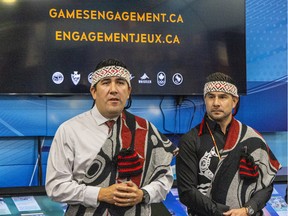 article content
"We know that there are known acquaintances; There are things we know we know. We also know that there are known unknowns; that is, we know that there are some things that we do not know". — Former US Secretary of State Donald Rumsfeld
article content
Donald Rumsfeld wasn't talking about the shady business of calculating the costs of proposals for mega-events like the Olympics, but he could have.
What we learned Friday about the indigenous-led proposal for the 2030 Winter Olympics to be held in Vancouver, Whistler and Sun Peaks is that it will cost at least $3.5 billion in 2022 dollars.
That's the only known acquaintance you can take to the bank.
If the proposal reaches the International Olympic Committee in November, those 3.5 billion dollars would, hypothetically, be shared by public and private sources. But keep in mind that, at the end of the day, someone (the Squamish, Musqueam, Tsleil-Waututh and Lil'wat First Nations leading the bid, local, provincial or federal governments) will have to endorse the bid, ensuring that all bills will be paid when the fun ends.
article content
According to Friday's account, taxpayers would only be obligated for up to $1.2 billion with the rest to come from broadcast rights, ticket sales, merchandise, sponsorships and "other income." That's the first of many known unknowns in the report.
All costs, as well as comparative figures for the 2010 Vancouver Winter Games, are in 2022 dollars. Estimates for 2030 include contingencies including a three percent annual rate for inflation based on Bank of Canada predictions. . But with inflation on the rise and warnings that a recession will follow, it's another known unknown.
It should be noted, too, that it is impossible to verify the expenses of the Vancouver 2010 Organizing Committee. Its financial statements, minutes and other documents related to its nearly $1.9 billion in expenses are sealed in the civic archives until 2025.
article content
With that in mind and before leaving the executive summary of the 12 pages "initial financial estimates and assumptions" To dive deeper into the unknown, let's take a look at something we do know.
The report says that security costs in 2010 were $1.1 billion. Magically, however, the 2030 Feasibility Team predicts/estimates/expects it to be cut in half to no more than $583 million by 2030 due to improved intelligence gathering and technological changes.
The report warns that this is an "early preliminary estimate" with "much more work to be done with local politics in a variety of jurisdictions (local, provincial and federal) and within their various jurisdictional authorities."
That's a lot of unknowns even considering that the $583 million includes a 25 percent contingency for unknowns.
article content
Moving forward in the report, the three athlete villages are estimated to cost between $165 million and $267 million with Jericho Lands, owned by MST Developments and Canada Development Corp., as the preferred Vancouver village site.
Sites for the other two are yet to be decided.
Interestingly, the report says that the villages of Whistler and Vancouver in 2010 cost just $87 million in 2022 dollars ($67 million at the time).
That's hard to square with what we know.
A 2010 report to the Vancouver City Council put the cost of the Vancouver Village at $299.8 million, which included a waterfront park, community center, heritage facility, and 252 social housing units. And that didn't include the $1 billion construction cost paid by the city when the private-sector developer defaulted. Some of that was later recouped through condo sales.
article content
Setting aside the village's construction costs, that same 2010 report put the city's total bill for the Olympics and Olympics-related projects at $554.3 million, including money spent on theater renovations and demonstration trams.
In military terms, it's called mission or scope advancement, and it's covered in one of two mystery boxes in Friday's financial estimates: "discretionary government investment," the stuff Olympic organizers always deny, though they are quick to take credit for catalyzing investment and economic spin-offs.
In 2010, the scope increase was as follows: We are eventually going to build a SkyTrain line to Richmond and YVR, so why not build it now? They did it and it cost 1.9 billion dollars.
article content
If we really want to showcase Vancouver, maybe it's time to build that new convention center? They did so at a cost that went from $565 million to $883 million.
If the International Olympic Committee is worried about the time it takes to get to Whistler, and we're finally going to expand the Sea to Sky highway, why not do it and guarantee the bid? Add another $600 million.
The second mystery box is "essential services", the practicalities of communities. They include "but are not limited to" things like traffic control, road closures, ambulance and health services, emergency planning, and "etc."
A Research Co. poll this month found support had recovered to 54 percent after falling to 43 percent in October. Does cost matter when it comes to public support? Maybe.
article content
But this is a deliberate unknown. There will be no voting.
There is no time as the 2030 Feasibility Team is aiming by August to have the support of councils from all four host nations, First Nations in the Sun Peaks region and both Vancouver and Whistler and support from the provincial and federal government at the latest. November.
The only opportunity citizens have to participate is online at www.gamesengagement.ca/learn-more
There is also a final and crucial unknown.
Critical to the credibility of an indigenous-led bid framed around reconciliation is the support of First Nations in Skwelkwek'welt, as the traditional territory near Kamloops is called. They led a boycott of the 2010 Olympics to protest the development of Sun Peaks on their unceded land, which was done without consultation and without their consent.
More on that in the coming days.
Twitter: @bramham_daphne