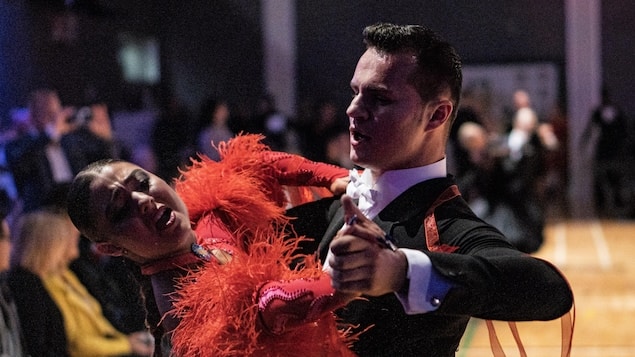 In the past, it was called ballroom dancing, but today, when you see the dancers, you can really talk about sport. Daniel Zaharia and Stéphanie Bourov have been dancing as a couple for over four years. Of Moldavian origin, Daniel learned dance in schools in Eastern Europe and, like Stephanie, he decided to devote himself to sport dancing.
It is a sports discipline of 10 dances of two different categories, Latin and standard, he explains. We find there the cha-cha-cha, the samba, the rumba, the paso doble, then the waltz, the rock until the quick step.
After having chained a samba and a paso doble, Daniel wipes his face, because the physical intensity is at the rendezvous. During competitions, each couple must perform five dances of 1 min 45 s each. This requires great physical preparation.
For example, we practice three to four hours a day. We also do business with a trainer for physical preparation, but also mental, because both are equally important.says the one who is also a professional trainer.
In sports dancing, there is also theatricality, an aspect that Stéphanie Bourov is particularly fond of.
Me, I really like Latin dancingshyly mentions the dancer who is not too sure of the quality of her French. In Latin dance, there is a lot of passion and me, who rather follows a dramatic person, it pushes me out of my comfort zone.
And Daniel adds: You have to put some artist into it and you also have to have great technical knowledge. It's really the mixture of the two that you have to know how to balance.
Daniel and Stephanie seem to fly when you see them on the floor, as shiny as their shoes. Each gesture is repeated with precision, each step is calculated, each dance is timed, because the effort must be distributed.
During the competition, there is no break between the dances and the couples must follow them with an almost surgical precision. The couples are judged and are eliminated or qualified as they go. Some international competitions can last a week.
Dancesport at the Olympics?
The Canadian Championship in which they will participate is a qualifier for the World Championship where more than a hundred couples will meet. The great nations of this sport are the countries of Eastern Europe, Italy, France, Germany, the Netherlands and Spain. But Canada has high hopes.
For Daniel and Stéphanie, who are familiar with these international competitions, this remains a real challenge. For Stéphanie, the World Cup is consecration.
You have to imagine the high level of all these couples and then there is also all the frenzy of the public. It's a great moment that you have to live at all costsshe says.
Daniel wants us to go further. It was only in 1997 that the International Olympic Committee (IOC) recognized dance sport as a federated sport. Since then, the International Dance Sport Federation (WDSF) has been fighting to have its sport represented at the Games.
I might be too old to see that. But for generations to come, it would be great.e, says Daniel from the height of his 26 years
In the meantime, for those who are not yet convinced that dance is also a sport, Daniel had this last message: It is a difficult sport. So believe us, actually come and see us, you'll see for yourself that it's not ballroom dancing or social dancing. You will be convinced!


Reference-ici.radio-canada.ca