The news comes at a time when alarms are being raised about foreign election interference at the federal level. But an expert says municipal elections could also be vulnerable.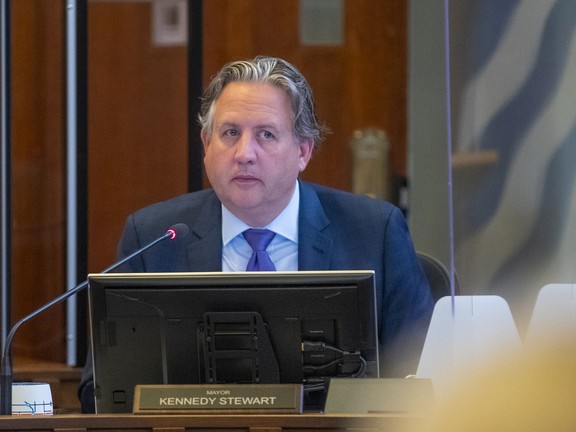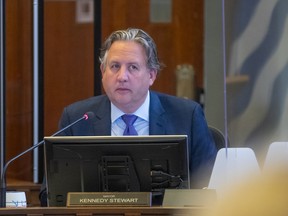 Article content
Officials from Canada's national intelligence agency requested a meeting last month with Vancouver Mayor Kennedy Stewart to brief him on the risks of foreign interference ahead of this fall's municipal election.
Article content
The Canadian Security Intelligence Service (CSIS) met with Stewart in late May, the mayor's calendar shows.
Reached Friday, Stewart confirmed that the meeting happened at CSIS' request, and said he and his co-chief of staff Neil Monckton met with "a very senior CSIS official and a subject matter expert on China."
"They briefed me for almost two hours on foreign interference in domestic politics," Stewart said. "When I queried further for specific reasons, they said they couldn't tell me, which raised concerns."
Stewart said that, as per their usual practice, the CSIS officials did not confirm or deny the existence of any specific evidence in relation to the municipal election this October.
"They did say, however, that this type of briefing is highly unusual," Stewart said, and they provided a general briefing on risks, past examples elsewhere, and what to look for.
Article content
Asked about the meeting with Stewart, CSIS spokesman Brandon Champagne said: "As you can expect, I cannot discuss the specifics of our interactions with organizations or individuals."
Champagne added that CSIS "routinely engages with a variety of stakeholders including government and public officials, the private sector, and other organizations to discuss the potential threats to the security and interests of Canada, and provide briefings regarding specific threats. This can include elected officials."
"CSIS delivers these briefings in order to promote awareness of foreign interference and the actions of other hostile Canadian actors to strengthen individual security practices and protects and their interests," Champagne said.
Article content
Elections BC, which oversees campaign financing and advertising for municipal elections, has not, to date, "observed significant instances of disinformation or foreign interference in local or provincial elections in BC," said spokesman Andrew Watson. But, he added: "As has been well-documented, the risks posed to electoral democracy by disinformation and foreign interference are real, and it is possible that they will be present to a greater degree in future BC elections, at all levels."
But while BC has restrictions on foreign funding of local election campaigns, including bans on contributions from corporations and non-residents of BC, neither the Election Act nor the Local Elections Campaign Financing Act regulate the content of election advertising, Watson said. "This means Elections BC does not regulate whether or not an election communication constitutes 'disinformation'."
Article content
Both laws do have transparency measures, requiring election advertisers to register with Elections BC, so that the public knows who is paying for advertising or conducting other paid canvassing activities designed to influence voting, Watson said.
But Elections BC has called for the province's electoral legislation to be "strengthened to better mitigate disinformation and foreign interference threats," Watson said.
In 2020, BC's chief electoral officer Anton Boegman submitted to report to the legislative assembly recommending changes to the Election Act, "to ensure British Columbia's electoral process stays fair and transparent in the era of digital campaigning."
One key recommendation asked legislators to consider restrictions on deliberate disinformation campaigns intended to interfere with the electoral process, similar to provisions at the federal level in the Canada Elections Act. The report also noted that currently, "foreign and out-of-province entities may be able to indirectly or anonymously provide funding to registered third-party advertising sponsors," and recommended prohibiting advertising platforms from accepting election advertising from foreign entities.
Article content
At the time of the May 2020 report, Boegman said he knew the government was busy grappling with the COVID pandemic, "But I encourage legislators to take proactive steps to safeguard our electoral process before the province's next provincial election" (which was scheduled for Oct 16, 2021).
But as of June 2022, the province has made no legislative changes based on the report, Watson said. "We are hopeful that legislators will adopt our recommendations before the next provincial general election in BC, scheduled for 2024."
The news about Stewart's CSIS briefing comes just as alarms are being raised about foreign election interference and disinformation at the federal level. On Wednesday, Commissioner of Canada Elections Yves Côté told CBCNews that foreign interference and disinformation pose "a particularly significant challenge" for Canada's electoral system.
Article content
Côté told CBC he has negotiated agreements with tech companies such as Twitter, Google and Facebook that make it easier for his office to investigate complaints, but he does not have agreements with other "foreign agencies" like Tencent, the company that owns the popular Chinese -language online messaging platform WeChat.
Earlier this week, The Canadian Press broke the story that a federal research unit detected what might have been a Chinese Communist Party information operation to discourage Canadians of Chinese heritage from voting for the Conservatives in the last federal election. A report, prepared just before the 2021 federal election and obtained by CP reporter Jim Bronskill through the Access to Information Act, said researchers observed Communist Party accounts on a Chinese social media platform "widely sharing a narrative that the Conservatives would all but severe diplomatic relations with Beijing."
Article content
Conservative MP Michael Chong, the party's foreign affairs critic, told CP that the analysis is "another piece of evidence that the Communist leadership in Beijing interfered in the last general election by spreading disinformation."
"It's hard to measure whether that was the reason for the loss of some Conservative MPs. But I think we can safely say that it was a contributing factor," Chong said.
There is "definitely" a risk of such interference at the municipal level, said Ahmed Al-Rawi, an assistant professor at Simon Fraser University and director of The Disinformation Project, a federally funded research project examining fake news, misinformation and disinformation.
"But we don't have in Canada the necessary infrastructures to closely monitor and promptly report to the general public on such interference," he said, adding that this is especially true when it happens in languages ​​other than English, or on alternative social media sites such as Parler, Rumble or BitChute.
Article content
Canada has a federal agency called the Communications Security Establishment, which has a mandate to defend Canada against foreign cyber threats and works with other agencies, including CSIS, Al-Rawi said. "However, they don't disclose details on their work, so we really don't know what they do and more importantly how they do it."
"I think the public needs to be better and more promptly informed if there are cyber operations trying to influence them. We don't have such mechanisms in place," Al-Rawi said. "The government should get more data from social media companies and search engines like Google, and this data needs to be shared with researchers. Again, this is unfortunately not happening."
Heidi Tworek, an associate professor in international history and public policy at the University of BC, said: "Certainly, disinformation and interference could be problems for any level of elections. One of the major issues is that we focus on federal elections and have little research on municipal and provincial elections."