Vaccines capable of tackling new variants are in the works, but won't be ready in time for a fall wave.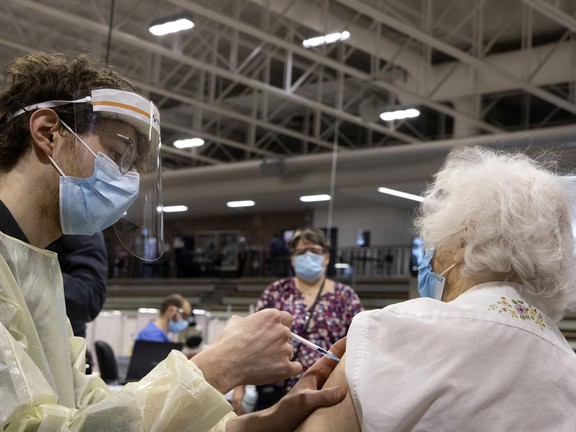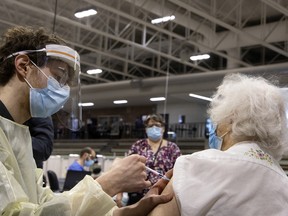 .
Quebec will launch its next booster vaccination campaign in mid-August to fend off an autumn wave of COVID-19.
.
But concerns are being raised about the efficacy of the vaccines most Canadians are likely to receive as the virus mutates and evolves, producing new strains adept at evading immunity conferred by previous infection or vaccination.
The US Food and Drug Administration advised coronavirus vaccine makers in late June to update their booster vaccine formulations to be effective against Omicron's BA.4 and BA.5 subvariants, which they account for 60 percent of new cases in the United States and are still predominant in Quebec. The main vaccine makers, Pfizer-BioNTech and Moderna, said the earliest such boosters, known as "bivalent" vaccines, effective against the original strain and new variants, could be ready by October.
.
There is also the question of whether another sub-variant of the virus will take over by the time those boosters have occurred. Since Omicron first arrived in Canada in December, the dominant sub-variant BA.2 took over in late March, BA2.12.1 soon after, and BA. 4 and BA. 5 now
Given the uncertainties, Quebec is not waiting for a bivalent vaccine, said Dr. Caroline Quach-Thanh, a member of the Quebec immunization committee and former chair of the Canadian National Advisory Committee on Immunization (NACI). Although the current booster shot is not as good at preventing general infections, it is very effective at preventing serious outcomes.
"Because the goal of the vaccination program is to prevent serious infections, primarily hospitalizations and deaths, we will start with the priority groups," he said. "With the new Omicron sub-variants, namely BA.4 and BA.5, vaccination cannot prevent infections, but it is still quite good at preventing complications."
.
Quebec's plan mirrors the NACI-recommended plan that guides the Public Health Agency of Canada. At the end of June he issued a Guidance Report for Fall COVID-19 Booster Programs.
"As with previous COVID-19 booster schedules, a fall booster dose before a possible future wave of COVID-19 will be most important for older adults and other populations at higher risk for severe illness from COVID-19. 19, regardless of the number of previously received booster doses," the report states.
Modern announced in June that preliminary tests of its latest bivalent booster vaccine containing Omicron showed it provided "longer-lasting protection against variants of concern" and that it would be the company's leading candidate for a fall booster.
.
However, Quach-Thanh pointed out that this booster was designed to combat the BA.1 strain. Because BA.4 and BA.5 have many more mutations in their spike protein, preliminary studies indicate that the vaccine containing the BA.1 Omicron variant appeared to give only 30 percent more neutralizing antibodies against the newer variants. .
"With these much lower levels of neutralizing antibodies, we don't know how effective the bivalent will be at preventing BA.4 and BA.5 infections, (although) it's likely to still be good against serious disease because it elicits a cell-mediated reaction." . answer," he said.
Canada will use the bivalent vaccine when Health Canada has given its authorization, Quach-Thanh said. But she warned that there probably won't be enough to go around because Canada mandated a finite number of doses.
.
NACI recommends that people get their booster shot six months after their last dose, or three months for those at risk, regardless of how many shots they received in total. On Wednesday, Ontario opened up eligibility for a fourth dose to anyone over 18, but said healthy adults who aren't health care workers or who are in contact with someone at risk may want to wait until the fall when bivalent vaccines may be available. The province's medical director said it may not be until November or December. Quebec was one of the first provinces to authorize the fourth dose for all adults, in early May.
"I wouldn't wait for the new thing to come out. I really wouldn't," said Dr. Catherine Hankins, a professor of public health at McGill University and co-chair of Canada's COVID-19 Immunity Task Force. "Because you will be eligible after three or six months for anything that is eligible in the fall. I don't think people should hold back."
.
Much research is still being done on creating a pan-coronavirus vaccine that could offer broad protection against the original disease and its variants, though it's probably still years away, Hankins said. A perspective is a inhaled vaccine developed at McMaster University that initial studies have been shown to provide long-lasting protection. But Zhou Xing, co-senior author of the study and a professor in the McMaster Immunology Research Center and department of medicine, noted that while the initial results are promising, the road to final approval is long.
"We are still conducting the Phase 1 study, with a plan to begin an expanded Phase 2 study in the fall of this year," Xing wrote in an email. "It may take at least a couple of years before it is possible to authorize it if everything goes well and the necessary resources are available."
.
In the meantime, the key focus should be giving the third dose to anyone who hasn't already taken it, Hankins said. With hospitalizations rising in Quebec, people should also start wearing masks again in crowded spaces, he added.
"I would wear a high-quality mask, an N95 or similar," he said. "I think people don't understand that you have to be smart, and you have to think ahead and plan to wear a mask.
"We are seeing a lot of people with COVID these days. Many people have the assumption that it is quite smooth. it is not.
Amid COVID surge, no plans to bring back mask mandates in Quebec

Experts urge heightened vigilance amid surge in new COVID variants in Quebec
All our news related to the coronavirus can be found at montrealgazette.com/tag/coronavirus.
For information on vaccinations in Quebec, Click here.
Subscribe to our e-newsletter dedicated to local coverage of COVID-19 at montrealgazette.com/coronavirusnews.
Help support our local journalism subscribe to the Montreal Gazette here.