Mexico registered 244 new Covid-19 deaths and 5,910 confirmed cases in the last 24 hours, reported the Ministry of Health.
The daily technical report on the progress of the coronavirus epidemic in the country detailed that the accumulated number of infections of this disease amounted to 5,619,780 million; while the number of deaths increased to 321,619 deaths since the arrival of the Covid-19 to the country at the end of February 2020.
Federal authorities estimate that the number of active cases nationwide amounts to 17,281 people who have presented symptoms of the disease caused by the coronavirus SARS-CoV-2 in the last 14 days.
Regarding the hospital capacity for the care of patients with Covid-19the occupancy of general beds remains at 10%, while beds with a fan have an occupancy of 7 percent.
Health analyzes that you stop using face masks outdoors
Given the reduction in cases and hospitalizations, the Ministry of Health announced this Wednesday that a group of experts is analyzing the feasibility of recommending that people stop wearing face masks outdoors.
The general director of the National Center for Preventive Programs and Disease Control, Ruy López Ridaura, commented to the media this Wednesday when leaving the National Palace, that at the request of President Andrés Manuel López Obrador, he said that the group of specialists in charge of public policy to meet the coroanvirus pandemic in the country is working on the guidelines on one of the main measures to prevent contagion.
Vaccination against Covid-19 advances
At the cut of Tuesday, March 15, the Ministry of Health reported that they applied 384,512 coronavirus vaccinesto reach a total of 187 million 180,552 doses supplied nationwide since the vaccination plan began on December 24, 2020.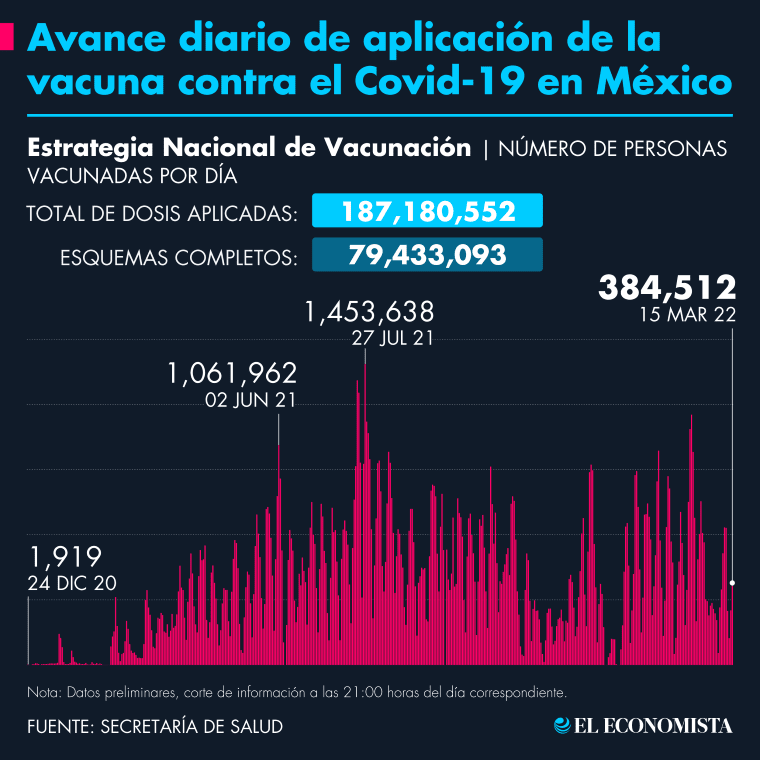 The federal government detailed that 85 million 465,067 people have been inoculated against Covid-19of which 79 million 433,093 people already have a complete scheme.
kg
The Canadian News
Canada's largets news curation site with over 20+ agency partners