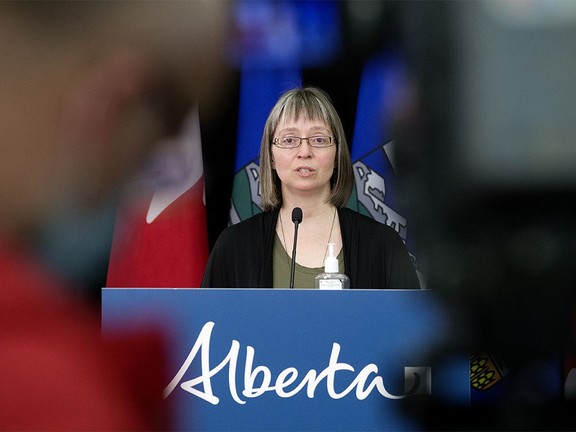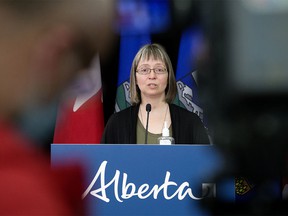 Article content
Alberta Health Minister Jason Copping says the current sixth wave of the COVID-19 pandemic is receding as the number of patients in hospital continues to decline.
Article content
Between May 17 and May 23, the province reported 2,737 new confirmed cases, with a seven-day average PCR test positivity rate of 17.5 per cent, down from 20 per cent. There are 1,040 people in hospital, a decrease of 125, and 31 in the ICU, a decrease of 11 since the previous week.
"The peak of BA.2 cases has passed," said Copping, adding that data shows COVID-19 in wastewater is also trending downwards, a key metric since the province scaled back PCR testing.
Over seven days, there were 55 deaths due to COVID-19 — an average of about eight per day — bringing the province's death toll to 4,507.
Chief medical officer of health Dr. Deena Hinshaw said the first case of the Omicron subvariant BA.4 has been confirmed in Alberta and that evidence suggests BA.4 and BA.5 appear to be more transmissible than earlier versions.
Article content
"That said, at this time, neither of these variants appears to cause an increased risk of severe illness," she said.
The health minister also said Evusheld, a medication approved by Health Canada to prevent COVID-19 in those with weakened immune systems, will be available starting Thursday for eligible Albertans.
Province tries to speed up hiring as paramedic shortage continues
As the province continues to see a 30 per cent increase in paramedic call volume, a Wednesday government news release said AHS is working to fill 40 new primary care paramedic positions, including 20 in Edmonton.
With a previously-announced $64 million — or 12.2 per cent — budget boost, the government aims to create 100 new emergency medical services positions, extend 70 temporary positions, and have 19 new ambulances and five support vehicles on the roads across the province by September .
Article content
Speaking to reporters in the legislature Wednesday, Copping said Wednesday's announcement is an acceleration of the plan.
"This is all part of building our capacity for our health-care system," he said, adding the number of extended temporary positions and new full-time positions was an AHS decision.
However, Health Sciences Association of Alberta (HSAA) president Mike Parker told Postmedia Wednesday with 40 per cent of the workforce on temporary casual contracts, the province needs to offer them full-time positions with benefits to retain and attract badly-needed workers, and the latest announcement won't change anything.
"Add all the trucks you want — ambulances don't respond to people, paramedics do, and we don't have any. They're not sticking around," Parker said before a rally outside the legislature building where workers demanded 12 paid sick days. Parker said there were 14 empty ambulances in Edmonton over the weekend unable to respond to calls for 12 hours.
Article content
He also called for better services for vulnerable people affected by the opioid crisis to help ease the workload on frontline paramedics.
The government has said the pressure on the health-care system isn't new and isn't unique to Alberta given the COVID-19 pandemic.
While Opposition NDP health critic David Shepherd called for the UCP government to be more transparent about the crisis in the health-care system earlier Wednesday, Copping announced that the province's in-person COVID-19 media availabilities will be scaled back to only one every two weeks. Data will continue to be updated weekly, but the next availability is yet to be scheduled during the week of June 6.
At a news conference earlier in the day, Shepherd demanded the government provided weekly reporting on doctor recruitment and EMS wait times, detailed numbers on canceled or diverted surgeries across the province, and for the interim CEO of Alberta Health Services, Mauro Chies, to take questions at media availabilities.
"(Copping) continues to try to present the current situation in health care as being normal. Situations like this must not be normalized," said Shepherd.