Retired Canucks stars Henrik and Daniel Sedin, and Roberto Luongo, pushed each other to go from good to great.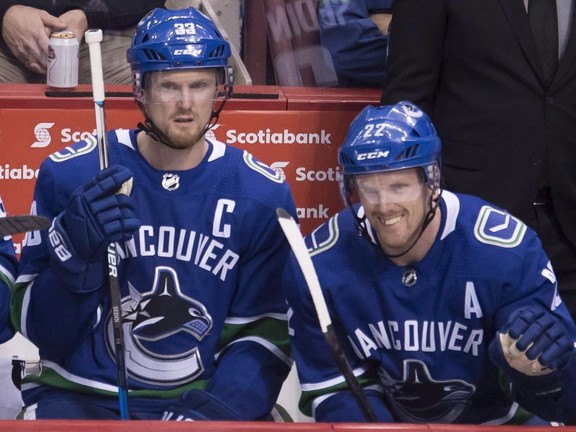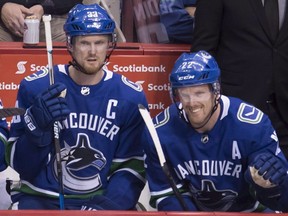 Article content
Commitment, Markus Naslund explains, is what separates the good from the great.
Article content
"The commitment to hockey that they all have, this is a big reason why they're in the (Hockey) Hall of Fame," the former Vancouver Canucks' captain said Tuesday from Ornskoldsvik, Sweden, when asked about his old teammates Roberto Luongo and Daniel and Henrik Sedin going into the Hall of Fame. "The lifestyle they choose and how serious they are about everything, that's what a true professional does. They're great, great examples of this, all three of them."
Naslund was well-established as an NHL star when the Sedins arrived in Vancouver as 19-year-old rookies in fall 2000 and still a veteran presence when Luongo arrived in a 2006 draft-day trade.
In all three cases, he was a first-hand witness to players who took themselves to a new level, big steps forward in their paths to being honored with induction into hockey's top shrine. The Hall of Fame announced Monday that the three retired players will be inducted into the hall at a ceremony in November.
Article content
Henrik said being pushed by his brother — and vice versa — every day was the key to their success and longevity.
"It's so easy to be happy with a session in the gym where you put in an hour and you walk away and you feel pretty good. But with Daniel there like you always have to go the extra mile to push yourself and there are those who will think that those extra two or three per cent don't mean much but if you do it every day, it really means a lot, " he said.
Daniel said this same mentality was evident in Luongo from the moment he arrived.
"I think the first few practices, when he stepped on the ice, we realized what kind of a goalie he was. Such a great competitor," he said. "I think I have made our team better because I have battled hard every practice. He played a lot of games for us, dealt with injuries, kept on playing and then he was on the ice a day after games, just battling and that mindset really spread throughout the team and to me that he's being a great leader. "
Article content
Luongo was always working to make himself a better goalie, Daniel added. And he made his team better in the process.
"He's a competitor. He wants to win so bad. I think losses maybe affected him early on. I think as he got older, I think he just learned how to deal with losses," he said. "I think in a Canadian market, especially if you're a goalie, you have to stay even-keel and don't worry too much about the ups-and-downs. And then I think that became his biggest strength. If you won the game, he lost the game, he just moved on and tried to get better the next day.
That spirit has carried on to this day. Current Canucks captain Bo Horvat has spoken more than once about what he saw from his first Canucks training camp the level of commitment that the Sedins brought to the table.
Article content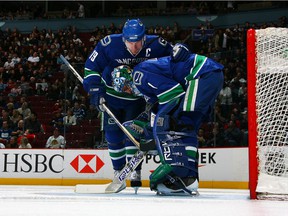 "I thought I was in great shape," he told Postmedia News in 2019, days before being introduced as the Canucks' latest captain. "And then you watch these guys, you were like, 'Hey, I'm a ways off.' "
"My first camp coming in, to see how good they were, they were first in basically everything. Their work ethic on the ice, in practice, they didn't slack off or think it was a joke or anything. They came to work every single day and I think that's what made them so special."
Luongo said Tuesday that watching the twins work on their game was always a wonder.
"I got to practice against them every day, so that's what made it even more special than the games, just watching them work with each other on the ice and literally knowing where they are without even seeing each other was something that always blew my mind to this day," he said.
Article content
Jannik Hansen's first 10 games as a Canuck were in the 2007 Stanley Cup playoffs, when Luongo carried the team into the second round against the Anaheim Ducks, who would go on to win the Cup. The Ducks dominated but won three of four games in the series by just one goal.
"It was borderline ridiculous what (Luongo) did," Hansen recalled.
Naslund regretted a little that he was Luongo's teammate for just two seasons.
"When you have a goalie like that, you would have a chance to win a Cup every year really. You know that it's a different level when you face him in practice and also get the feeling that you can win every game even though you're being outplayed. And that's what Roberto gave us," he said. "I have carried a big load for the franchise, for a long time. And being under the scrutiny you are in a Canadian market, it's not an easy thing to do."
Article content
The goalie's commitment to his craft carried him forward, Hansen said: "He kept that level of play for so many years. And it wasn't a one or two-, five- or 10-year thing, he did this for a very, very long time."
And that's what has carried the Sedins and Luongo on to Hall of Fame careers, Naslund said.
"I was there when Daniel and Henrik were coming in as rookies. I saw a lot of potential, but going from having a lot of potential and a lot of hype to being Hall-of-Famers, it's still a big, big jump," he said. "The talent was there. But as we've all said many times it's not just talent. They're a great example of (needing more), so I'm not surprised, just getting to know them and their characters over the years, that they wouldn't end up in the Hall of Fame. They've had to work hard to get there."