Bistro du Carrefour des Plaines was affected by this flood caused by a broken water main. The cost of the damage is not yet known, but it is a blow for the Association canadienne-française de Regina, which renovated the facilities recently. Some work will therefore have to be redone.
The consultant ofACFRFrench Canadian Association of ReginaClaire Bélanger Parker, however, is grateful for the help of volunteers in cleaning up the space.
For his part, the president of the Association canadienne-française de Regina, André Lapointe, is sorry for the consequences of this flood. In particular, the Bistro was being renovated with a view to reopening soon.
" It's really disastrous for us. »
He expects Bistro du Carrefour des Plaines to remain closed for the next few weeks, if not months. The Bistro will probably not be open during the summer, he said during his appearance on the show Point of day with Rose Nantel on Thursday morning.
Lots of work at École Monseigneur de Laval
Between 10 and 15 centimeters of water have accumulated in the Elementary Pavilion of École Monseigneur de Laval, according to Mr. Lapointe. The school was closed on Thursday and will also be on Friday. In the meantime, students are receiving distance education.
The Conseil des écoles fransaskoises (CEF) hopes that students will return to class next Monday or Tuesday.
A return applauded by the president of the parents' committee of the elementary pavilion of the École Monseigneur de Laval, Natacha Louise.
As for David Parker, father of a student, he is ready to continue, if necessary, school at home. He simply hopes that the school will return to its initial state. He has also launched a fundraiser to help staff members replace school supplies.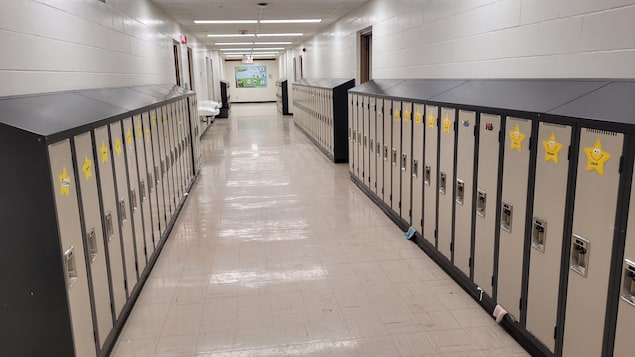 For his part, the Director General of THIS FCouncil of Fransaskois Schools, Ronald Ajavon, is reassured of the rapid work to limit the damage. He specifies that an assessment will be carried out to prevent such an event from happening again.
Moreover, the Gard'Amis daycare center is also closed for the next few days because the water supply has been cut throughout the building. No damage was found in the daycare itself.
Also read and listen:
Call for solidarity
The president of theACFRFrench Canadian Association of Regina, André Lapointe, affirms that it is still too early to assess the financial losses. Currently, insurers inspect the damage.
However, he admits that this flood could not have come at a worse time. He explains that construction materials are scarce, which will slow down the work and the deadlines.
In an interview on the program Point du Jour, André Lapointe appealed for solidarity from the Fransaskois community, since the organization has only four employees.
He asks Fransaskois to offer their services or a financial contribution to help the organization.
People who want to help theACFRFrench Canadian Association of Regina can contact the organization at 306 566-6020 or by email at [email protected]
With information from Rose Nantel


Reference-ici.radio-canada.ca