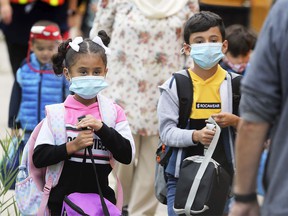 Article content
The local COVID-19 infection rate has nearly halved in recent weeks and Windsor Regional Hospital Chief of Staff Dr Wassim Saad believes the imminent arrival of vaccines for children under 12 years of age it will be the blow that will break the clutches of the pandemic.
Commercial
This ad has not been uploaded yet, but your article continues below.
Article content
"In my opinion, that could be the last nail in the coffin of the pandemic and this virus," Saad said after Thursday's board of directors meeting.
"Unfortunately, that's the population right now. That is the patient population in which the virus has a chance to continue replicating itself and potentially continue to create a new variant that could infect the rest of us.
"If we close that path for the virus to replicate, I really think it will be the beginning of the end."
The local infection rate per 100,000 people dropped to 50 as of October 6. Of those new infections, 31 percent fall in the zero to 19 age group.
Windsor Regional Hospital CEO David Musyj said the declining numbers are proof that vaccines and vaccination mandates work.
Commercial
This ad has not been uploaded yet, but your article continues below.
Article content
There was a significant increase in vaccinations when Ontario's vaccine passport system went into effect (Sept. 22) and the local and provincial infection rate began to decline shortly thereafter.
"You can see the change around that date," Musyj said. "We are heading in the right direction, but going deeper means we can't let our guard down."
The light at the end of the tunnel brightened a bit this week as Pfizer began submitting data to Health Canada for its trials in children ages five to 12.
The company found that young people only need a third of the adult dose for the vaccine to be effective.
"What we are hearing is that Thanksgiving will be the time that it will be available."
Musyj said Health Canada will study speeding up the process by taking smaller doses from existing adult vials rather than waiting for child-specific vials.
Commercial
This ad has not been uploaded yet, but your article continues below.
Article content
"There is a lot of hope that it will be the fastest process," Musyj said. "It could be before Thanksgiving if they approve of the use of adult vials."
WRH's chief operating officer, executive director of nursing, and vice president of intensive care and cardiology, Karen Riddell, said visits by school-age children to the Pediatric Urgent Medical Evaluation Clinic and the Ouellette campus have stabilized in recent years. days after a rapid escalation in schools. opening.
Ontario Prepares to Accelerate COVID-19 Vaccines for Children, Once Approved

Jarvis: Children and COVID-19: 'an innocent pandemic'

Windsor-Essex Public Schools Board Refuses to Discuss Mandatory Masking for Young Elementary Students
On Wednesday there were 136 visits between the two sites. 2,067 children have been screened at PUMA since the end of August.
"It's gotten pretty consistent with 120-130 kids a day," Riddell said.
"From a COVID perspective, we are not seeing a lot of pediatric hospitalizations. Our concern for the fall is RSV (respiratory syncytial virus).
"That could cause as many or more problems than COVID."
The respiratory syncytial virus has symptoms similar to COVID, which could lead to some confusion among families. RSV cases are showing up in significant numbers in Quebec, and treatment plans differ for the two viruses.
twitter.com/winstarwaddell


Reference-windsorstar.com