"I'm happy to be back on the pitch and do what I love to do," midfielder says after recovering from ankle injury sustained in Cup qualifying.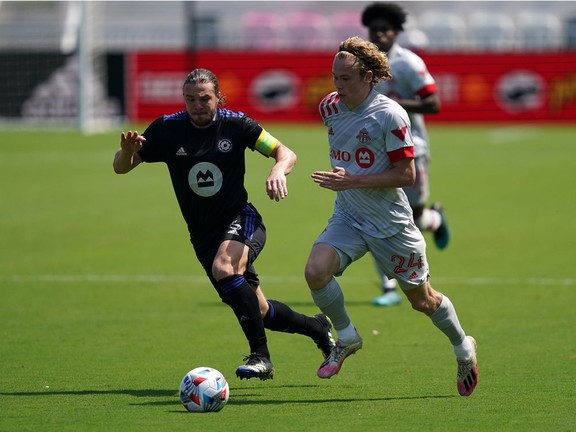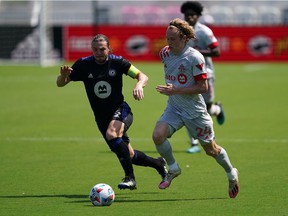 Postmedia may earn an affiliate commission from purchases made through our links on this page.
Article content
Nearly three months after suffering a freak lower-body injury, Repentigny midfielder Samuel Piette is finally healthy enough to make his regular-season debut for CF Montréal.
Article content
And CFM will require all hands on deck if it hopes to upset the Philadelphia Union Saturday (3 p.m., TSN1, CTV, TVA Sports, TSN Radio 690, 91.9 Sports) at Subaru Park. The Union leads the Eastern Conference with a 5-1-1 record, having allowed only four goals in seven matches. Before last weekend's 2-1 setback at Toronto, Philadelphia goalkeeper Andre Blake recorded four consecutive clean sheets.
"This will be a really big test for us, especially going to their stadium," defender Joel Waterman said following Friday's training at Center Nutrilait. "For us to get a win on the road, in Philly, there would be a massive win for us."
Piette suffered a high ankle sprain and bone bruise in late January, when he was tackled from behind while representing Canada against Honduras in World Cup qualifying.
Article content
"I didn't know what happened at the time," Piette said. "I remember walking off the pitch, going on the sideline and trying to get the injury out of my system right away (but) I couldn't walk and had to come off."
Piette, who has shared the captain's armband in the past, trained every week with his teammates and is available — probably off the bench — against the Union.
"I'm happy to be back on the pitch and do what I love to do," said Piette, having recovered from the first serious injury of his career. "The first month, it was new to me, getting treatment and different types of training. I kind of liked it; I'm not going to lie. But then I got tired of being inside the gym.
"The last month or six weeks was frustrating. You have to find your fitness form back and run, which we don't like as football players. You just like to touch the ball and play."
Article content
Following a three-game losing streak to launch its MLS season, CFM's on a three-game winning run and unbeaten in four, leveling its record at 3-3-1. While Montreal lost 2-1 to the Union on March 5 at Olympic Stadium, the home team was in control until a goal by Djordje Mihailovic, which would have made the score 2-0, was disallowed due to a foul before the play.
CFM subsequently surrendered a pair of goals in fewer than five minutes. That match, nonetheless, should provide the side with confidence, believing it can play with Philadelphia. CFM, however, must still learn to finish opponents off when it has the lead, its late-game breakdowns becoming habitual.
"We have to buckle down in moments like that for sure," Waterman said. "We don't want that to be our type of story and be that type of team. Make sure we're good in the last 10 minutes and manage the game well when we're up to a goal. We want to attack and not just sit back.
Article content
"We've talked about it and will definitely learn. We have to do better in those moments."
While Piette returns, Mathieu Choinière (foot) still hasn't fully recovered. Joaquin Torres is training after suffering a concussion, while US striker Mason Toye (adductor), yet to play this season, has resumed running.
"People are returning from injuries," Piette said. "There's a lot of options and possibilities for the coaches."
twitter.com/HerbZurkowsky1
CF Montréal MVP Djordje Mihailovic driven to be the best

CF Montréal keeps fans on edge of their seats, but continues to win

Back home at Saputo Stadium, CF Montréal aims to take advantage