Week 2 of the UN global climate conference is underway, and negotiators around the world have a lot of work ahead of them. There are five days left to finalize some key agreements in COP26, including climate finance measures and more efforts to adapt to the crisis already on our doorstep.
Last week it came with a series of far-reaching commitments, both from individual countries and from groups of nations. India, for example, pledged to achieve net zero greenhouse gas emissions by 2070 – no small feat for a developing country that is among the world's leading polluters.
Meanwhile, Canada signed several non-binding commitments last week to reverse deforestation, end funding for oil and gas projects abroad, and reduce emissions of methane (an especially potent greenhouse gas), among other things. . However, critics note that these pledges will require more detail on how countries plan to deliver on their commitments and specific measures designed to hold them accountable.
Also among last week's announcements was a private sector initiative to shift the world's financial institutions toward a more sustainable future. But the Glasgow Financial Alliance for Net Zero (GFANZ) also has its caveats: while GFANZ members promise to decarbonize their investments and put more money into green projects, the alliance does not require financial institutions to cut back on oil and gas investments. . Canadian GFANZ signatories include the Big Five (RBC, BMO, TD, CIBC and Scotiabank) who have invested $ 125 billion in fossil fuel companies and made nearly $ 700 billion in loans since the Paris Agreement was signed. in 2015, according to a report by the research firm Profundo. .
Negotiations will continue into next week, specifically on the details of Article 6, a yet to be finalized part of the Paris Agreement that aims to create a global carbon market. If successful, you could help finance the projects that countries need to tackle climate change. But no deal is better than a bad deal: If negotiated poorly, some experts worry that Article 6 worsen emissions. Indigenous communities have also weighed in on Article 6, with some saying that the proposed system amounts to a new form of colonialismwhile environmental groups argue that carbon market offsets are an "accounting trick" that will allow countries and corporations to continue polluting.
"We have a choice: the 1.5 degree goal or carbon offsets," ActionAid International's Teresa Anderson said at a panel discussion on carbon market offsets on Monday. "We can't have both."
What people are reading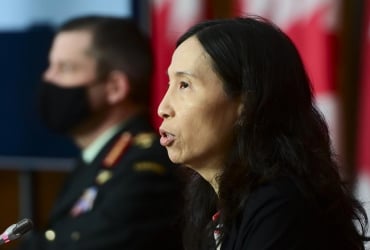 Today's sessions are all about adaptation, everything we have to do to protect ourselves against higher temperatures, rising sea levels, droughts, etc., and loss and damage. Developing countries and communities that are bearing the brunt of the climate crisis right now see their homes and neighborhoods overturned by hurricanes, floods, and other extreme weather conditions. The drive to compensate these communities for the disasters they experience, and help them find ways to rebuild with more climate-resilient infrastructure, remains a key concern among developing countries as Week 2 begins.
Stay tuned for more updates on COP26 and Canada's role in the conference throughout the day.


Reference-www.nationalobserver.com