Céline Haytayan defends Bill 96 and says it must be demystified.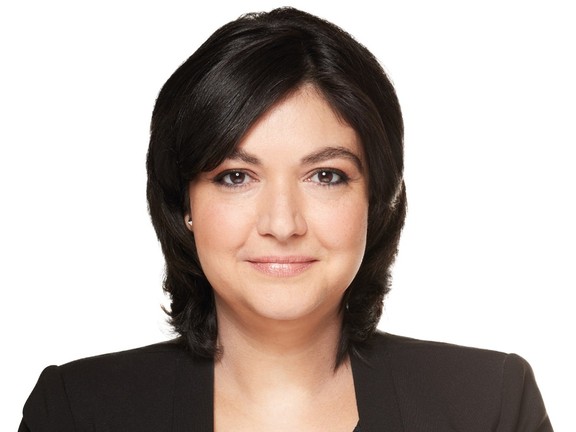 .
The Avenir Québec Coalition is banking on a trilingual economic development expert to help it capture Laval-des-Rapides for the first time.
.
CAQ leader and acting prime minister François Legault on Tuesday morning introduced Céline Haytayan as the party's candidate on the equestrian, which lines the 15, 19, 440 highways and the Prairies River. Haytayan was director of international corporate affairs at Ubisoft, the French video game maker that runs a major studio in Montreal.
After studying law and business administration at university, Haytayan spent seven years working for the City of Montreal and 14 for Montreal International, the region's investment promotion agency. She speaks French, English and Armenian.
"Céline is an important addition to our economic team," Legault told a news conference in Laval. "She has spent almost her entire life in economic development. I am happy to have someone who knows economic development well, because everyone who knows me knows that it is my obsession."
.
In a short speech, Haytayan highlighted homelessness, inflation and public transportation as key issues on the trip. If elected, she has pledged to work with the Mayor of Laval, Stéphane Boyer, to attract startups in sectors such as life sciences, cleantech and the digital economy.
On a personal note, Haytayan said she decided to run after battling breast cancer last year.
"When you go through something like that, you question a lot of things, including the meaning you give to your life," he said. "When you go through a test like this, there is a 'before' and an 'after.' I wanted to serve the community."
Haytayan defended Bill 96, the CAQ's recent renewal of the Charter of the French Language, while acknowledging that the government needs to do a better job of explaining the legislation to business and other stakeholders.
.
"The French language is very important," he said. "I think it's crucial to defend it, protect it, promote it. I think it is an advantage for everyone to know French, to speak French, to use French for Anglophones and Allophones."
With several business groups warning this spring that House Bill 96 would lead to higher costs and possible government overreach, "we need to demystify it, see the exceptions, reassure people, reassure businesses," Haytayan said.
Incumbent Saul Polo of the Liberal Party is seeking a third term in Laval-des-Rapides. In the last 12 elections, the Liberals have won the constituency seven times and the Parti Québécois five times.
Tuesday was a busy day for candidate announcements in the province. The Quebec Canadian Party fielded three candidates for races in the Montreal area: CEGEP instructor Chaya Anne Goldberg Harrison in Mont-Royal; information technology manager and computer specialist Marc Perez at D'Arcy-McGee; and high school teacher Jonathan Gray at Robert-Baldwin.
Had an election been held last month, the CAQ would have won 44 percent of the vote, according to an online publication. Leger survey Made for Le Journal de Montréal. That compares with 18 percent support for the Liberals, 15 percent for Québec solidaire, 13 percent for the Conservative Party of Quebec and 10 percent for the Parti Québécois.
CWC poised for majority as Liberals languish in second place: poll

"I think I can do both," Legault says of handling the pandemic and preparing for the election