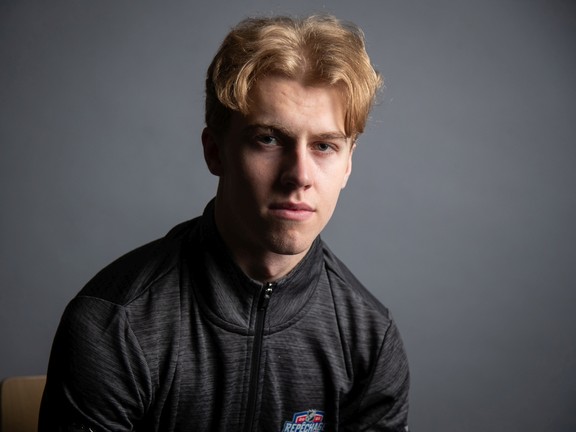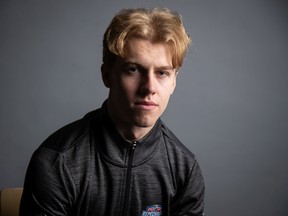 Article content
It's the latest edition of the weekly tracker, where we tally up the efforts of the Vancouver Canucks' highest-profile prospects:
Article content
Jonathan Lekkerimaki
When the Canucks drafted Jonathan Lekkerimaki 15th overall this past summer, the consensus was the team snagged a blue-chip prospect projected to go in the top ten.
Lekkerimaki had just shredded the Swedish junior league, then excelled in the top-flight Swedish Hockey League, netting seven goals in 27 games as a 17-year-old.
His combination of speed, hands and a bomb of a shot appeared to be can't-miss intangibles.
"Lekkerimaki could be a (Nicolaj) Ehlers type of player," NHL prospects scout Shane Malloy told Postmedia's Ben Kuzma in early July. "He has the potential to be a first- or second-line sniper, who is a dual threat. His playmaking has really improved."
"I think you're going to see him score a lot in the NHL," an Eastern Conference executive told Elite Prospects in May.
Article content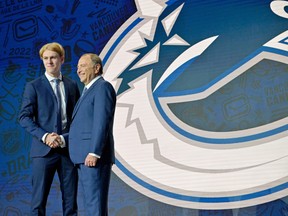 So why has Lekkerimaki struggled so much this season?
Some insight into the Canucks top prospect's tough start was provided this past week by Djurgardens IF general manager K-J Stoppel, who told CHEK TV's Rick Dhaliwal that the young sniper has been "up and down," but is putting in the work to snap out of his funk.
"We talk with him, sometimes he thinks too much, lots of pressure to deliver goals as a first-round pick," Stoppel said on Wednesday.
Article content
A cursory look at the 5-foot-11, 172-pound right-shot winger's stat line tells much of the story. One goal and four assists in 17 games, playing in the second-tier HockeyAllsvenskan.
It didn't help that the Canucks' top prospect contracted mononucleosis this past summer — weakening an already slim frame — when he should have been putting on muscle to play full-time in a men's league. It also didn't help that Lekkerimaki had a busy off-season, first at the NHL combine, then playing in the World Junior tournament when not at 100 per cent.
But that was then and this is now. The Huddinge product is at full health, yet the goals still haven't materialized.
There have been some signs lately, however, than the 18-year-old could be piecing his dynamic game back together.
Article content
Playing for the Swedish national team at the Four Nations tournament a couple weeks ago, the teenager looked more like his old self, taking a pass in the high slot from fellow 2022 first-rounder Liam Ohgren — also his linemate at Djurgardens — cocking his stick back and popping the Czech goalie's water bottle into the air with a vicious half-slapper.
Article content
His muted celebration said a lot. This is a kid who knows he should be scoring goals a lot more often.
Lekkerimaki nearly netted another one in the same game, firing a hot shot on the power play that the goalie fought off over the crossbar with his glove.
Article content
Lekkerimaki had a goal and an assist in two games playing for the Tre Kronor, in what was a warm-up tournament for the upcoming World Juniors in late December.
This past week in league play, Lekkerimaki went without a point in two games, both losses for Djurgardens. He was on the ice in overtime in Friday's 3-2 loss to Almtuna, using his wheels to probe for an opening in the offensive zone, only for a teammate to fumble the puck at the blue line and the opposition taking it down the ice for the winner.
Lekkerimaki finished the game with two shots on net and a minus-2 rating.
The ice time isn't great for a player trying to snap himself out of a skid. Lekkerimaki is averaging around 12 minutes a night playing in the bottom-six. He continues to line up with first-rounder's Ohgren (4G, 2A) and Noah Ostlund (2G, 9A), who aren't exactly lighting it up either for Sweden's most storied hockey franchise.
Article content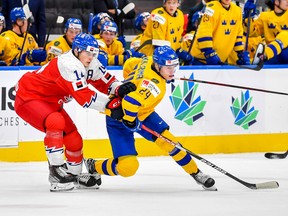 Established way back in 1922, Djurgardens has 16 hockey championships to its name and is trying to make its way back into the SHL after being relegated for the first time in nearly a decade. There are two spots open for promotion at the end of the season, and the team is in second place with a 9-3-3-3 record.
Suffice to say, development of prospects isn't the top priority for the club.
Still, it's on Lekkerimaki and the Kid Line to man up and learn to play with the big boys.
Based on their pedigree, a breakthrough should come — hopefully sooner than later.
---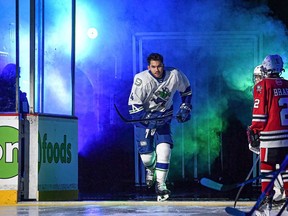 Jett Woo
And the hits just keep on coming.
Hard-nosed defenceman Jett Woo continued to crush the opposition this past week, with some hits cleaner than others.
The 2018 second-round pick lined up Laval Rocket forward Xavier Simoneau midway through the third period on Wednesday, knocking him out of the game. The hit happened in the neutral zone, with Woo rocking Simoneau as he received a pass.
Article content
The Laval media didn't like it, calling it a "blindside headshot."
Article content
The refs, however, didn't see it that way, as Woo went unpenalized on the play.
The 6-foot, 205-pound right-shot D-man still had to answer the bell, with Rocket forward Joel Teasdale (5-foot-11, 215-pounds) dropping the gloves with Woo.
The fight was a heavyweight tilt, with both combatants landing a flurry of early uppercuts, then swinging for the fences before the refs got involved.
Article content
The Canucks went on to lose the game 4-2, with Woo going even with no points and five penalty minutes.
Forwards Tristen Nielsen and Lane Pederson scored the Canucks' goals.
The Winnipeg product wasn't done there, however, rightfully earning the ire of the Toronto Marlies after a cheap shot in a 5-3 loss on Saturday.
The questionable play came midway through the third period, after the Canucks had battled back from a 3-0 deficit to tie the game at three. Marlies forward Alex Steeves had dumped the puck into the Canucks zone near the bench and Woo shoved him from behind, sending Steeves headfirst into the boards.
Woo was given a five-minute major penalty, a 10-minute misconduct and was sent to the showers.
Article content
Woo wasn't having a good defensive game to begin with, getting victimized in the first period on the penalty kill, as he and partner Brady Keeper left a man open in front to score a rebound goal. There was another play in the first period where Woo left his man to provide some support, with the puck almost ending up in the Canucks' net as a result.
Article content
Woo was also on the ice for the second goal against, though he was dutifully taking his man in front. And on the third Marlies goal, Woo was close to breaking up the play, but his outstretched stick couldn't interrupt a shot from the high slot that beat Arturs Silovs in net.
Woo finished the game with an even rating, one shot on net and 15 minutes in penalties.
For a player who prides himself on improving his defensive ability, the miscues won't be lost on Woo.
"For me it's taking care of the D-zone, moving pucks up, being a reliable defenceman," Woo told Postmedia earlier this month.
The Canucks snapped their three-game losing streak on Sunday, beating the Marlies 3-2. Woo had a quietly effective game, however he took a penalty with a couple minutes left in the third after a Toronto forward deked around him in the high slot for a dangerous chance on goaltender Collin Delia, who made a big save.
Article content
The Marlies were unable to score on the man-advantage.
Pederson, who was acquired from the Carolina Hurricanes alongside Ethan Bear in late October, scored two more goals to give him six in eight games for Abbotsford.
Meanwhile, 2021 second-round pick Danila Klimovich, 19, was given a twirl on the top line during Wednesday's loss and had five shots on net, although he didn't register a point.
The 6-foot-1, 201-pound right-shot forward had another three shots in Saturday's loss — playing in the bottom six — and was a healthy scratch on Sunday.
The Canucks want their prospects to earn their ice time, and the talented teenager needs to continue to develop his 200-foot game. The scratch was his third of the season.
The Canucks are 6-6-0-1 and are in eighth place in the AHL's 10-team Pacific Division.
Article content
---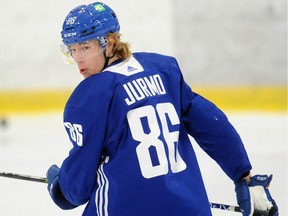 Joni Jurmo
Things have gone quiet for Joni Jurmo of late — but that's not necessarily a bad thing.
The big, fast defenceman continues to skate on the second pairing for Mikkelin Jukurit of Finland's top-flight Liiga, logging consistent minutes and keeping his assignments in check.
Jurmo, 20, played in two games this past week, getting four shots on goal and going even while averaging around 15 minutes of ice time.
Article content
The 6-foot-4, 198-pound left-shot D-man had been playing the right side of the blue-line in recent weeks, but was shifted back to the left side with Jukurit's blue-line fully healthy.
Jurmo has one goal, three assists and a plus-1 rating in 18 games this season.
---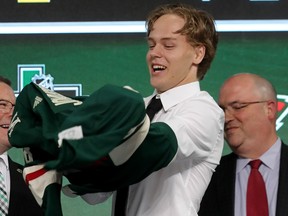 Filip Johansson
Filip Johansson, the Canucks' most NHL-ready defensive prospect playing in Europe, notched another assist on Saturday in a 2-1 win at Leksands in SHL play.
The former 2018 first round pick of the Minnesota Wild is on a three-game points streak for Frolunda, playing on the right side of the second defensive pairing.
Johansson, 22, has a goal and two assists during that stretch. The 6-foot-1, 176-pound right-shot blueliner continues to eat up big minutes, playing for nearly 20 minutes on Saturday.
Johansson has two goals, nine assists and an even rating in 18 games this season.
Elsewhere: Power forward Aidan McDonough notched another goal for No. 18-ranked Northeastern on Saturday, but is falling off the pace in the NCAA's goalscoring race. McDonough, 23, has eight goals this season — four behind Denver's Carter Mazur. McDonough (2019, Rd. 7) has 18 points in 13 games.

reference: theprovince.com