The Canucks are closing in on the team they planned to have for the 2021-22 season.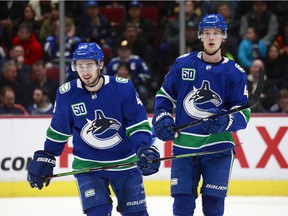 Article content
At long last, the Vancouver Canucks have their two best young players back in the fold.
Article content
After a series of reports Thursday afternoon, it appears that Elias Pettersson and Quinn Hughes are set to sign new contracts with the NHL team.
Pettersson's contract will reportedly be about $ 7.7 million a year for three years, while Hughes's will pay him an average of $ 7.75 million a year for the next six seasons.
Both numbers are wins for general manager Jim Benning, as both players clearly expected to sign for more. With the expectation of Micheal Ferland being placed on long-term injured reserve, almost announcing his retirement this summer due to post-concussion issues, the Canucks had about $ 16.5 million in salary cap space to work. .
That means the Canucks could still spend about $ 1 million on another player, perhaps Alex Chiasson, who has been in training camp so far on a pro test contract.
Article content
Of course, the question of Travis Hamonic's status remains, but getting the top two players on the team to sign was critical.
The duo have been skating on their own in Michigan, but will surely resume practice with their teammates as soon as possible, probably this weekend.
After playing Friday night in Calgary, the Canucks have four more preseason games on Sunday, Tuesday, Thursday and next Saturday, October 9, before the regular season begins on October 13 in Edmonton.
Pettersson and Hughes could play in at least two, maybe three of those games, depending on their fitness and preparation needs.
More to come …
Reference-theprovince.com