There were 10 Swedish players on the ice this week at Vancouver Canucks development camp — plus three coaches.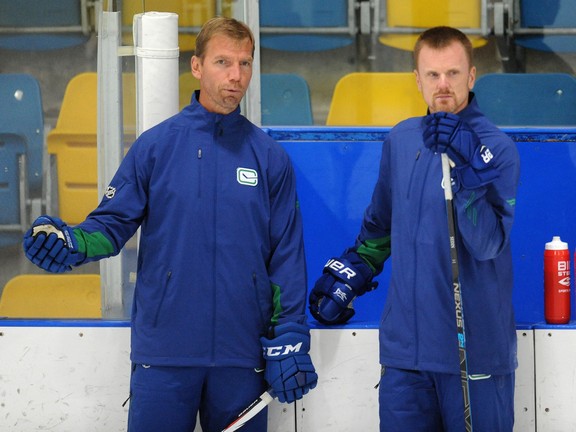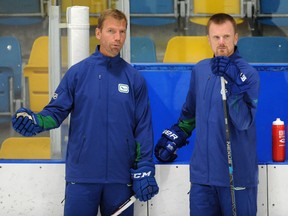 Article content
For a development staff to do its role fully, it has to be around your team's prospects as much as possible.
Article content
For much of the past six years, the Vancouver Canucks' development department has been a one- or two-man show. Ryan Johnson was always there. For a long while he did have an assistant, first Scott Walker, then Chris Higgins.
In recent years Johnson had a lot of his time tied up in running the Canucks' AHL affiliate, leaving "development," such as it was, to Walker, then Higgins.
That meant time spent with the Canucks' youngest prospects, the ones fresh out of the draft, wasn't maximized.
But with the Canucks setting up a fully-staffed player development department this spring, reassigning the Sedin twins to player development, hiring Mikael Samuelsson and Mike Komisarek and putting them all under the leadership of assistant general manager Cammi Granato, another newcomer to the organization, the emphasis is clear that working closely with prospects is a priority again.
Article content
"Building that trust and relationship with players, it has to come in-person," Johnson, said on Thursday. "I'm really confident in where we're heading."
He organized this week's summer development camp and will still have a hand in the team's development department, even if he's mostly focused on the Abbotsford Canucks and managing the NHL salary cap in his role as assistant to the GM and GM of the Abbotsford Canucks.
The last two years, where most contact with players was only possible through remote connections, over the phone or on Zoom, really highlighted for him what was missing.
There was just no replacing being able to talk with a player right after a game, or to meet up with them the next day to further reflect on how their game went, he said.
Article content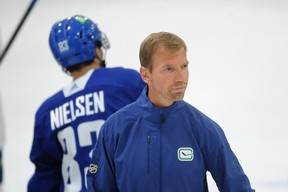 And that's why the team hired not just a North American staff, but they also added Samuelsson, who played for the Canucks from 2009 to 2012, to be a Stockholm-based staffer.
With 10 Swedes on the Canucks' books, it makes sense to have someone in-country.
"I live like 20 minutes from him," Samuelsson said of Jonathan Lekkerimaki, the Canucks' most recent first-rounder, as an example.
For Samuelsson, 45, returning to player development is a return home. He served as general manager of Sodertalje in the Swedish Allsvenskan for about two years, but that wasn't for him.
"I love developing. I see the other side too. I tried to work as a GM. I see that part too. But in my mind, it fits my life, right? That's what I want to do. If I gotta be selfish about it. I like to call them, mentor them or try to help them. That's the best thing for me," Samuelsson said.
Article content
Before trying out the GM life, he was a development coach for the Chicago Blackhawks for a couple seasons, beginning in 2017. He retired as a player in 2015.
Returning to Vancouver was exciting because it was a chance to work with people he knew well from his playing days, the Sedins of course, but also Johnson, whose last season playing for Vancouver, 2009-10, was Samuelsson's first.
"It means a lot," he said of having those three as colleagues again.
"It means the way they carry themselves, the way they think the game, I'm right there and I want to work like that. And they are humble enough to actually get everybody's opinion. And then it's up to Cammi (Granato) and Patrik (Allvin) and the guys to decide but at least you get your voice heard. And I like that part."
Article content
Nils Aman is one of the Swedes in camp. At 22, he knows the professional life, having played two seasons in the Swedish Hockey League with Leksands and then representing Sweden at the World Championships this past spring, but having a guy like Samulesson around — or the Sedins — has been a big help in transitioning to Canadian hockey, he said.
"I was a little nervous at the beginning," Aman admitted. "It's really fun to have a lot of Swedes to talk to. My English is not that good, so it's nice to have some guys to talk with."
The Canucks' long-standing connections with Sweden didn't play a factor for Samuelsson in making his return. He just wanted to be in a place he wanted to work.
"At this time in my life, I don't care if they like Swedes or Finns as long as they are competitive and good players," Samuelsson said.
Article content
That said, the long list of Swedes on the Canucks' radar does give him an obvious role in a week like this, especially for players like Åman and Filip Johansson, who will, at the very least, skate in Abbotsford next season.
"The guys who've been over here, we take it for granted. Like 'OK, we know this, you know this game.' But it's a lot to this week. It's a lot of new things to this week because they haven't been in, for example Vancouver, before.
"It's so many more impressions not only on the ice. As the week goes along, like we start chit chatting with them, they can like get the shoulders down a little bit, they get into a little bit of a groove.