Follow Ben Kuzma's coverage of another clash between the Pacific Division rivals, who brought their A-teams to the Fraser Valley.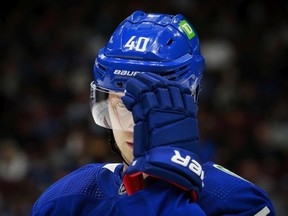 Article content
ABBOTSFORD — Welcome to Stars On Ice.
Article content
That star-studded skating slogan would have been applicable Wednesday, but it wasn't on the marquee outside the Abbotsford Centre. It should have been. It could be a night to remember as the pre-season winds down and the pace ramps up.
Article content
The Edmonton Oilers, who went fishing and golfing in the area Tuesday, brought their A-team and the Canucks have done likewise with the regular season opener a week away when the Pacific Division rivals clash again at Rogers Place.
Here's an early look at line combinations and pairing at respective morning game-day skates.
Oilers rookie winger Dylan Holloway, who was the best player at the Young Stars Classic tournament in Penticton, and had a natural hat-trick Monday against the Canucks — is making a serious bid to start the season on the big club.
Article content
What's the deal with DiPietro?
When Collin Delia cleared waivers Wednesday morning so the veteran stopper could be designated for assignment to the American Hockey League affiliate in Abbotsford, it cleared the way for some level of clarity on what to make of Michael DiPietro's trade request.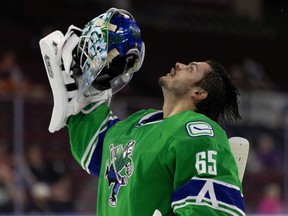 The Canucks weren't going to move DiPietro with the chance that somebody might claim Delia. There has been movement on that front already this fall with Arizona adding Joan Johansson from Colorado and Ottawa claiming Magnus Hellberg from Seattle.
So, now what? Is there a market for the franchise's No.5 goaltender?
To his credit, DiPietro's his pride and professionalism have always been the measure of the dutiful and determined stopper He could have gone off about the way the previous regime managed his development and playing time,, but he didn't. 
Article content
DiPietro had a 15-13-4 record, 2.95 goals-against average and .901 saves percentage in 34 games with Abbotsford last season. There was an encouraging six-game win streak in April, but a pair of 7-1 and 6-0 shellings to close out his regular season seemed to suggest a change in direction in the crease.
"A lot of players wouldn't even be able to endure the lack of attention that maybe the organization had given to him," DiPietro's agent, Darren Ferris, told Postmedia in the offseason. "There are occasions where they've dropped the ball on his development. The truth of the matter is that the bulk is more on the organization that it is on the player in this instance. Hopefully, we can get him in the right position."
Canucks still missing Travis Dermott as defence corps take shape

More Canucks camp cuts: Collin Delia put on waivers, Danny DeKeyser's tryout ends

reference: theprovince.com