Ilya Mikheyev and Andrei Kuzmenko are proving to be the perfect pair to line up with Canucks centre.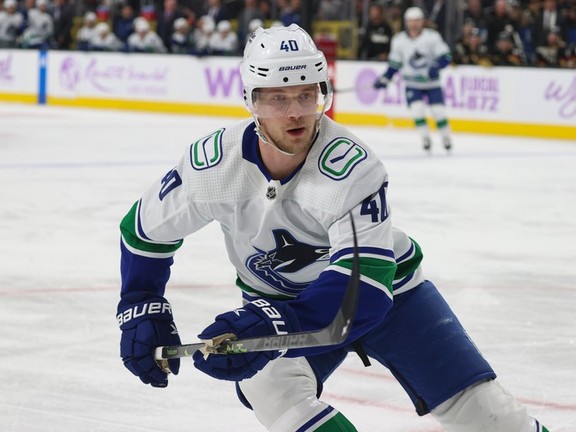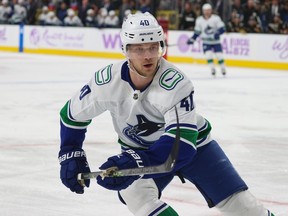 Article content
LAS VEGAS — Early in a 4-1 win over the Los Angeles Kings earlier this month, Elias Pettersson collected a loose puck in his defensive zone and Ilya Mikheyev took off down the ice, like a football wide receiver running a post pattern, hoping that his centre would somehow get him the puck.
Article content
Pettersson did. Without even looking up ice, the Canucks centre fired the puck hard up the boards, perfectly weighted for Mikheyev to skate on to.
Article content
Mikheyev got a half-breakaway off the wing. He didn't score, but the play had everyone talking.
For much of Pettersson's time in the NHL, there's been a lot of discussion as to who would be his "other" winger, because it was assumed his right-winger would be Brock Boeser. But 21 games into the 2022-23 NHL season, it's becoming clear that assumption was wrong.
Mikheyev and Andrei Kuzmenko are proving to be the perfect duo to line up with Pettersson, who has taken his game to a new level this season. Pettersson leads the Canucks in scoring with 11 goals and 25 points, Kuzmenko has nine goals and 18 points and Mikheyev has five goals and 11 points.
Article content
Pettersson is an exacting player, but both wingers have said that now they understand what he's after, he's easy to play with.
"He's our brain," Mikheyev said. "I can feel now what he's thinking, whether it's pass or shoot."
---
NEXT GAME
Tuesday
Washington Capitals vs. Vancouver Canucks
7 p.m., Rogers Arena. TV: Sportsnet. Radio: AM650
---
Kuzmenko, whose English has come far in just a few months, said the trio is always talking about how to play, so they're prepared.
"Every day is talk. It's all situations. What's going to play in the offensive zone. How we play in the middle zone. In different zones. All moments is about talk. Talk is a very important," Kuzmenko said. "So when I have puck, Petey understands what I do in a future moment.
Article content
"Petey is one of the great centres in the world. It's a simple game with him."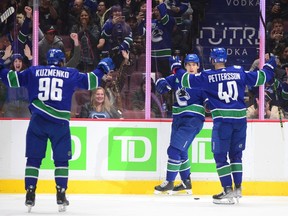 Pettersson's two-way play has his head coach gushing. Bruce Boudreau has coached some of the game's best players and Pettersson's drive stands out.
"It's right up there with Nick Backstrom's," Boudreau said, comparing Pettersson with his old No. 1 centre in Washington.
"It's funny you asked that because I was trying to compare in my head, the effort that Petey is playing with and that's the guy that I came up with talking to my wife yesterday about it. He wants to win. He wants to compete. He wants to do it all. And he does it in a quiet manner, but it's a very positive manner."
Interesting that it was another Swede Boudreau thought of as a comparison point.
Article content
"I asked Patrick (Allvin) that the other day. I mean they don't play as much games (in Sweden) when they're growing up as North Americans do. We think the games are it. They do a lot more practices, so they learn a lot more about the game when they come over here. They know the positioning and because it's a lot less goalscoring over in Europe than there is here, I would think that they learn the defensive aspect of the game a lot easier than we do."
It certainly helps that young Swedes get to play professionally against men when they're 18, as opposed to most Canadians of the same age, who aren't allowed to take the intermediate step from major junior to the AHL until they're 20.
"I think that really helps a lot too," Boudreau said.
Article content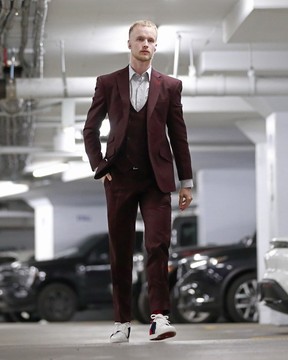 Pettersson should be in the conversation for consideration as one of the NHL's best defensive forwards, he added: "If our penalty killing statistics were any better, I would say he that he would be right up there in the first quarter for the Selke."
Pettersson went into the off-season on a mission.
"He told me he wanted to get stronger," Bo Horvat said. "It's definitely shown out there on the ice, just in winning battles."
And it's not just that his line is dominating offensively, it's the dominance they've shown in their defensive zone. Horvat has spent a lot of time killing penalties with Pettersson this season and while the PK was struggling in the early going, it seems to be rounding into form.
"He's taken a lot of pride in his defensive game too. And I think that's just taking him to the next level," Horvat said.
Article content
Pettersson's ferocity stands out most nights and his ability to impose himself physically is the best it's ever been.
"I feel in the best shape I've ever been. I'm always trying to get better every game," he said.
Oliver Ekman-Larsson has seen many great Swedish players in his time. He considers Pettersson one of them.
"The way he takes care of the puck," the defenceman said of what stands out most about the centre's game.
"You can tell Petey takes a lot of pride in the d-zone coverage and all over the ice. Just being around a guy like that every single day, you get a read for a guy. He just wants to get better every single day."
---
More news, fewer ads: Our in-depth journalism is possible thanks to the support of our subscribers. For just $3.50 per week, you can get unlimited, ad-lite access to The Vancouver Sun, The Province, National Post and 13 other Canadian news sites. Support us by subscribing today: The Vancouver Sun | The Province.
Canucks 5, Golden Knights 1: Another solid road win for Vancouver

Canucks: The numbers don't lie, long-term success is still a reach

Canucks: Thatcher Demko in no danger of losing his status as No. 1 goaltender

reference: theprovince.com