Travis Hamonic has yet to be at Canucks training camp. The team has not disclosed why he has been absent.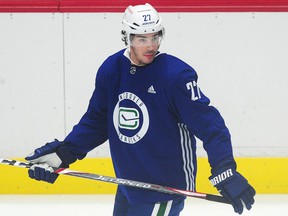 Article content
If Travis Hamonic is really contemplating taking himself off this season for reasons related to COVID-19 or vaccine requirements, today is the day he will have to make his final decision.
Article content
The Vancouver Canucks blueliner signed a two-year, $ 6 million deal this summer, but has been absent from the ice at Abbotsford and Vancouver so far this preseason.
If Hamonic opted out of this season, the Canucks would have the option of letting the entire contract slip for a year or simply burning the first year of the deal. Hamonic would not receive any salary this season if the team chose the latter option.
A week ago, the team said they were dealing with a personal matter, but one of the league's worst-kept secrets is that their absence is related to the NHL's COVID-19 vaccination protocol, which places heavy restrictions on players. not vaccinated, even allowing players. be suspended without pay if they are unable to go to the track to work due to things like travel quarantine, local health rules requiring full vaccination for anyone entering an arena, as is the case in New York City, or get COVID-19 while you are not vaccinated.
Article content
Additionally, unvaccinated players must be quarantined for a week before joining the team.
To date, neither Hamonic nor Kevin Epp, his agent, have commented on the situation. It is very possible that he received a dose of vaccine, but the NHL has made it clear: fully vaccinated means two doses of a two-dose vaccine and the player must be two weeks before the second dose. The one-dose Johnson and Johnson vaccine, available in the US, approved but never used in Canada, is also an option, with the same two-week rule required for full vaccination status.
Today is the deadline for a player to opt out of the 2021-22 season due to personal health concerns for himself or a family member. Hamonic's daughter was hospitalized as a baby with a respiratory illness and he chose not to participate in the return-to-play portion of the 2019-20 season, citing concerns for her health.
But Hamonic played last season and said before the season that his worries had abated. He was one of the first Canucks players to be confirmed as a positive case for COVID-19 when the new coronavirus overwhelmed the team last spring.
Hamonic was designated as Quinn Hughes' teammate this season, so if he opts out, the Canucks will likely look to add another defender through a trade or waivers.
More to come …
Reference-theprovince.com