"It's a good problem, because we have options," St. Louis said. "You have to handle the puzzle and it takes time."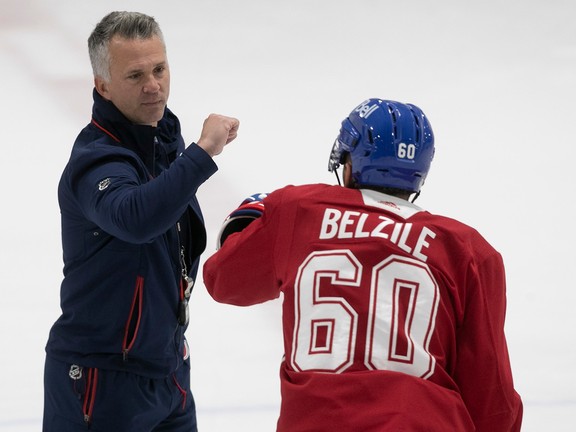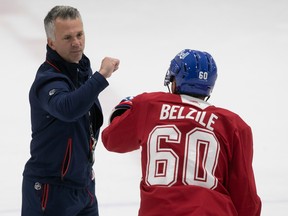 .
Martin St. Louis faces a puzzle with thousands of solutions.
.
When the Canadiens take the ice in Brossard for their first game, St. Louis will begin to work on putting the pieces together.
.
"All teams have their puzzles, we have ours," St. Louis said Thursday. "That's why we have a camp. We are going to try things, that does not mean that it will stay that way, but it will give us an idea. We have depth up front and we will have to make decisions. But it is the boys who will dictate our decisions."
The Canadiens have 15 forwards with significant NHL experience on the roster along with Juraj Slafkovsky, the No. 1 overall pick in this year's NHL entry draft.
"It's tough, but it's also good to have a problem, because we have options," St. Louis said. "You have to manage the puzzle and it takes time."
.
While St. Louis declined to hint at possible line combinations, it did say, "You'll get an idea when you watch practice on Friday."
There are some questions that will not be answered until later in the camp. The team announced Thursday that captain Nick Suzuki will be sidelined for two weeks and that both Paul Byron and Sean Monahan are recovering from hip surgery and will not be included in the lineup.
On the plus side, Brendan Gallagher is the healthiest he's been in years, a fact confirmed by defender Chris Wideman, who said it's the first time he's seen the forward when he wasn't limping.
The Canadiens added centers Monahan and Kirby Dach in the offseason and that means Jake Evans could be forced to stay on the wing.
They also added Russian Evgenii Dadonov, who he said offers the coach some flexibility.
.
"I am the kind of player who can help a club everywhere," said Dadonov. "I can help in attack and also in the defensive zone, and I work hard. That is what I will try to do."
Another newcomer, defenseman Mike Matheson, played with Dadonov in Florida and offered a sneak peek of what to expect.
"He is a very underrated player", MAtheson said. "In Florida, he line skated with (Aleksander) Barkov and (Jonathan) Huberdeau, and he was the overlooked of the three. His value is also underestimated. He does so much around the net to get the puck moving that he is able to create space for his teammates. As for the power play, I think he's one of the best in the league to be in the middle of the game. He is very good at positioning and supporting the play. There are guys like that who have the ability to be close to the puck, to always be in the right place, to read the game well. If you need someone on the power play, he's there."
.
Matheson is a key piece of the defense puzzle, where St. Louis will try to find spots for a collection of young defensemen. There could be as many as three openings if Joel Edmundson can't start the season.
Kaiden Guhle, a first-round pick in the 2020 draft, and right-hander Justin Barron appear to be the favorites, but don't count out balanced Jordan Harris. And while the beefy Arber Xhekaj is probably a year away from the NHL, look for him to turn things around in the preseason.
Canadiens' Nick Suzuki sidelined for two weeks with lower body injury

Stu Cowan: Survival of the fittest as Canadians take to the ice

The Canadians hit with high-intensity exercises on the first day of training camp