Activities such as walking with a friend or going to work have been affected by the COVID-19 pandemic.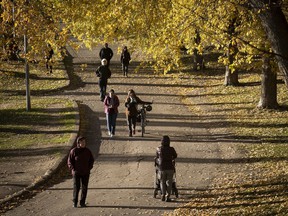 Article content
Rather than use the extra time off created by teleworking and lockdowns to exercise more, most Canadians seem to have decided since the beginning of the COVID-19 pandemic to do as little as possible, a strategy that has served them well. an F in ParticipACTION. Report card for adults on physical activity.
Article content
Nearly nine in 10 Canadians reported being sedentary for more than eight hours a day. Only seven percent of adults used active transportation to work, and 49 percent walked more than 7,500 steps a day.
While trying to stay in good physical shape is not a new challenge for Canadians, it appears that the pandemic has placed new obstacles, real and imagined, between the population and the goal of getting in shape.
"Daily physical activity continues to be a challenge for people," said ParticipACTION President Steeve Ager. "The pandemic has made that challenge more difficult and has even increased the lack of physical activity among adults."
Everyday activities like walking with a friend or going to work have been affected by the pandemic, either through closures or concerns about public health issues.
Article content
If some Canadians took advantage of the pandemic to become more active, most had the opposite reaction, Ager said. "Sedentary behavior has increased over the last year, and that is perhaps the most damaging effect of the pandemic."
The report card examined 18 benchmarks, including the amount of time spent in mild or moderate physical activity and time spent asleep or inactive.
The idea that one should exercise "at least three times a week for 30 minutes at a time" was abandoned when it was deemed daunting because it set the bar too high. A more "inclusive" approach is now favored, one that suggests taking the stairs more frequently or getting off the bus one stop before your destination.
Simply putting exercise breaks into your daily routine or even breaking a long period of physical inactivity by getting up and moving can have beneficial effects, Ager said.
The essential message, Ager said, is that we first need to establish a regular sequence of movement in our daily routine. Those who want to do more can then aim for a goal of 150 minutes a week of moderate physical activity.
"Every action we take can have benefits and gains for our health and brings us closer to physical activity on a daily basis," he said.
Reference-montrealgazette.com