After an earthquake in California, the sky lit up strangely
Inhabitants express concern through videos of the event
However, there is a logical explanation to all this
After the 4.4 magnitude earthquake in Carson, California, the sky lit up in a strange way and this caused concern among the population who uploaded several videos to social networks to demonstrate it as in Instagram.
Related
This earthquake that occurred on the night of Friday, September 17, is preceded by another this week, so added to what the inhabitants saw in the sky, fear seized them and they even uploaded videos of the event.
STRANGE SKY
The tremor was felt in various parts of the city, and even caused slight damage to houses and some businesses that saw product losses, but what attracted the most attention were strange lights in the sky that were not explained.
However, it was not a sign of the end of the world or something of the other world and there is an explanation to all this phenomenon, although the fact that in just one week, the state already suffered two telluric movements is still worrying.
California earthquake: EXPLANATION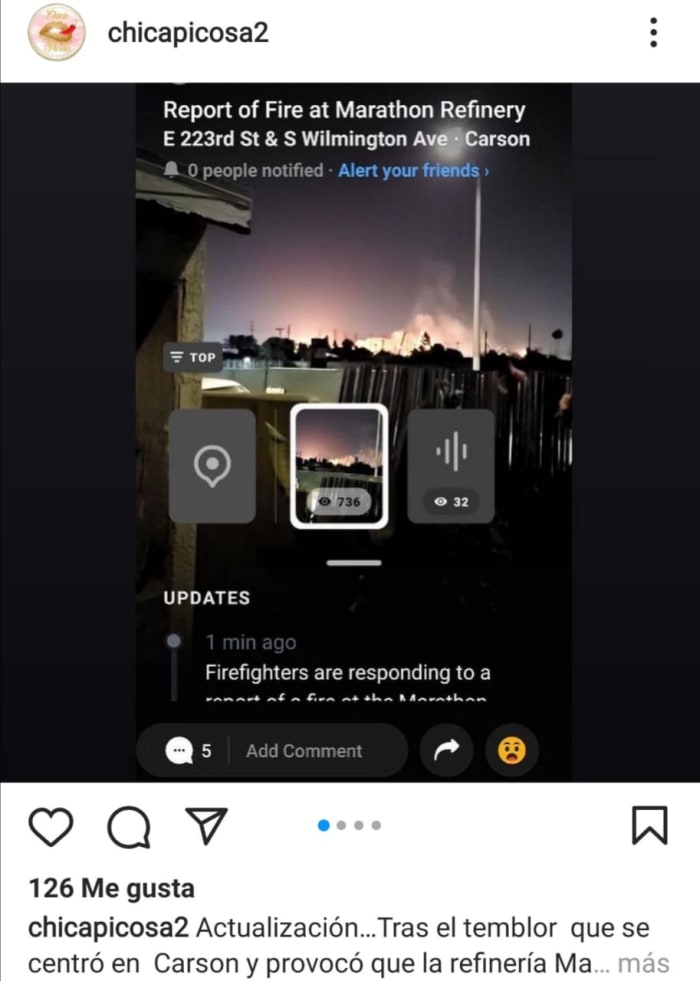 And it is that according to the page of Daily Mail and Chicapicosa, the earthquake caused the Marathon Petroleum refinery at 223rd Street and Wilmington Avenue (Los Angeles County) to lose power and from the images it appears that there was a fire.
However, later, Jamal Kheiry, a spokesman for the company, reported that the refinery began to burn excess gases as a preventive measure, which caused the sky to light up and generated, but this frightened the inhabitants. To see the video click here.
California earthquake: RUN TO SAVE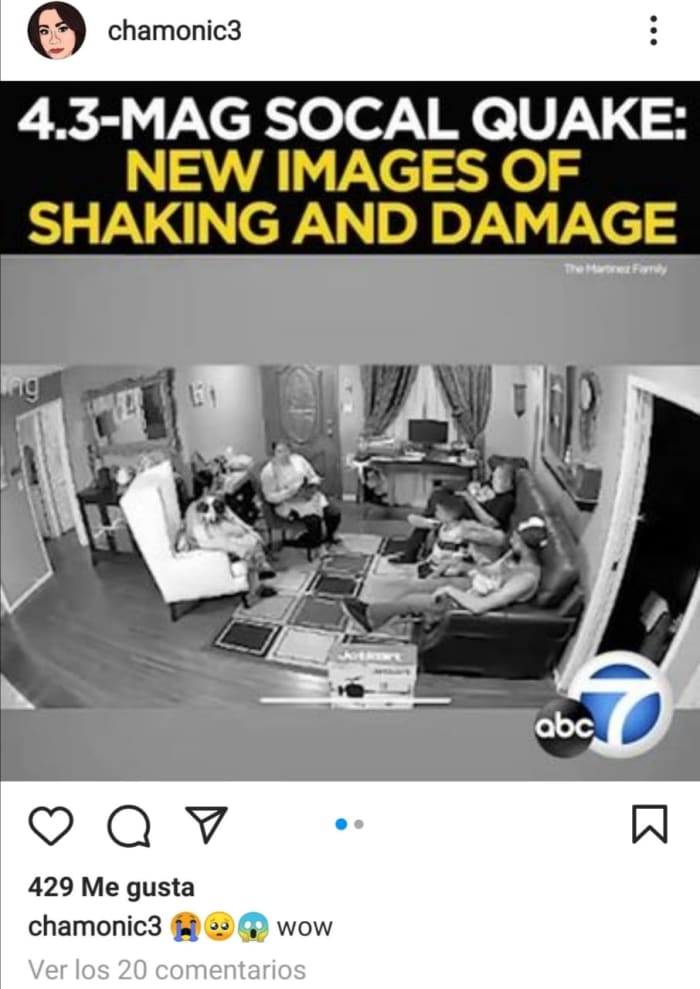 According to the Daily Mail portal, the movement was felt in some areas such as Santa Monica, Torrance and Beverly Hills. The videos show the exact moment when some families were in their homes when suddenly the earth shook.
Everyone ran out of their houses to try to get to safety, and although the earthquake only lasted a few seconds, that time was enough to cause alarm because it was already the second earthquake in just a week. The ABC 7 media publishes a video of how a family lived in the moment. To see the video click here.
California earthquake: PATROL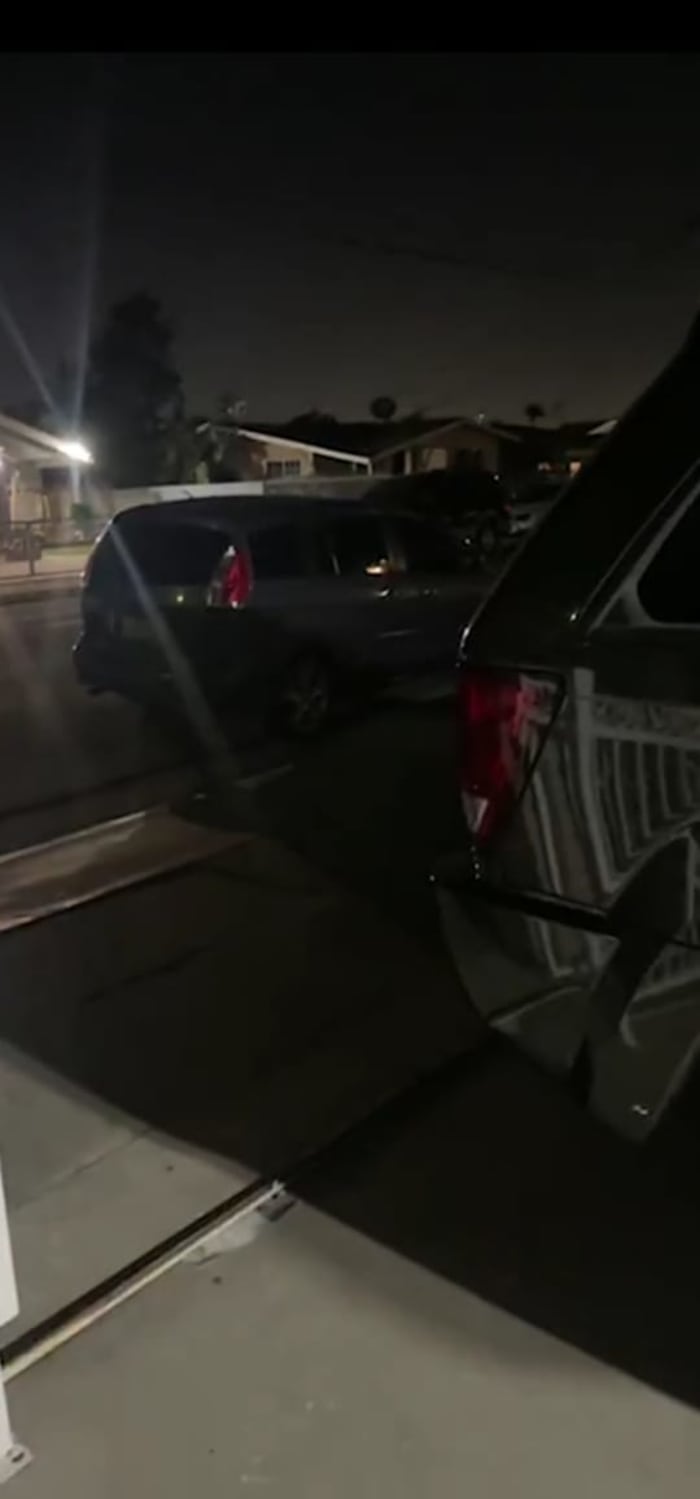 After the earthquake, the Los Angeles Fire Department activated the reaction protocol and immediately toured the entire area that corresponds to it, but in the first report they received no reports of significant damage or injuries.
To do this, they used vehicles and helicopters to patrol their area of ​​470 square miles (1,217 square kilometers), however, everything seemed to be calm, although videos of some slight damage to stores were later revealed. To see the video click here.
Earthquake in California: "IT DOES NOT SEEM ABNORMAL"

After the earthquake, the seismologist Lucy Jones told KCBS-TV that the earthquake "does not seem abnormal at all", this since it was the second that was felt in the state in just a week, which set off alarms in some citizens.
"This size occurs on average somewhere in Southern California every two months. When it happens to be in the middle of the Los Angeles basin, a lot more people feel it and it becomes bigger news, "he said.
FIVE EARTHQUAKES A YEAR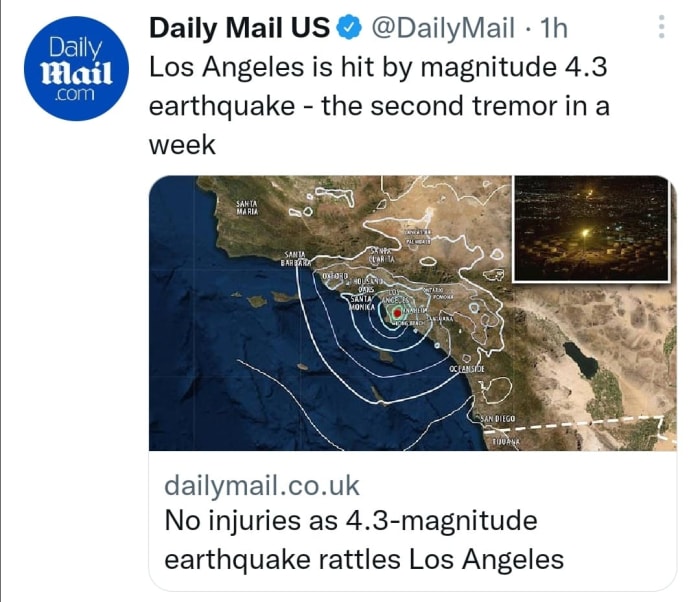 A local post on KTLA's Facebook page called the quake "terrifying." One person said: 'I literally heard it coming. The house was rumbling for a good 10 seconds. " Another netizen said it was stronger than a 4.3, and wrote that "it was much bigger than that."
Just five days earlier, a 3.6 tremor rocked Thousand Oaks on Monday. According to the Daily Mail, Los Angeles suffers from five earthquakes that measure between 3.0 and 4.0 on the Richter scale each year, this on average. Filed Under: California Earthquake
THEY ALWAYS THINK OF THE WORST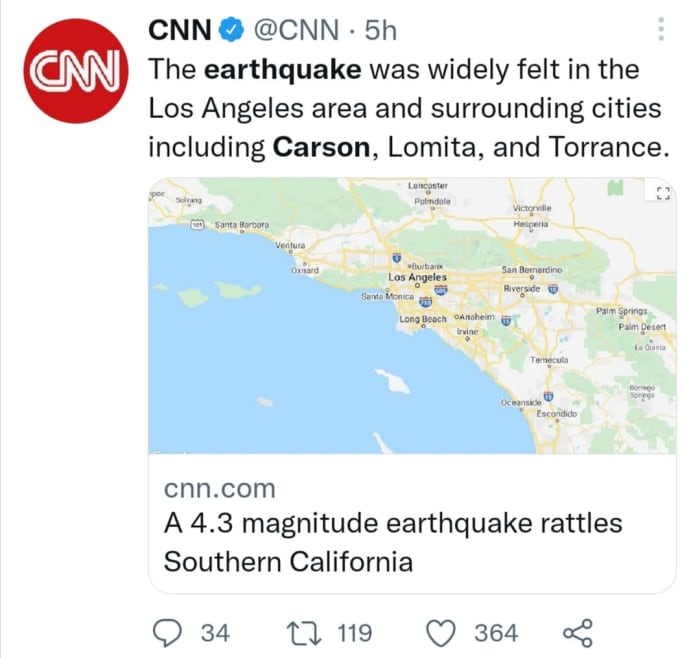 This type of event recalls a warning that for years has been said and that is that they ask the inhabitants of that state that they must be ready for a catastrophe, an earthquake of 7.8 degrees on the Richter scale or higher, which could end their lives. up to 1,800 people.
According to the Daily Mail, an earthquake of this magnitude generally only happens every 45 to 260 years, with the last one occurring 161 years ago, LAist reported, so every time the earth moves, citizens fear the worst. Filed Under: California Earthquake
"GOD HELP US AND PROTECT US"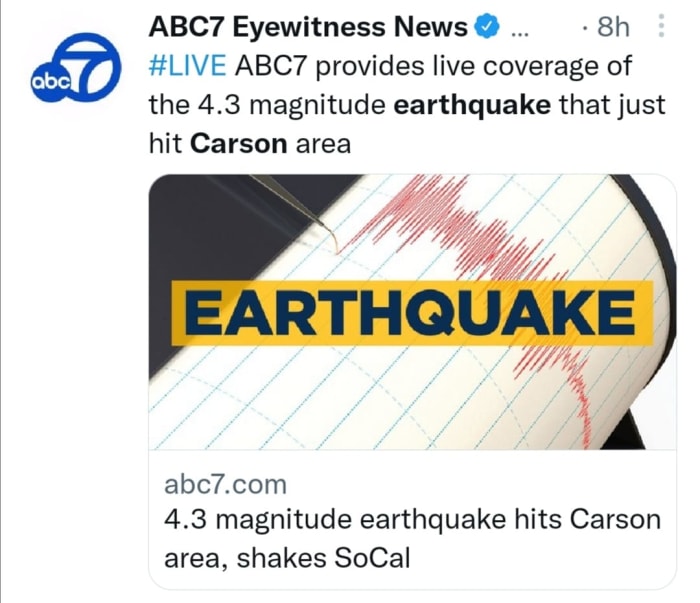 After the movement, several people expressed their fear on social networks about this natural phenomenon that citizens fear so much, due to the great disasters that it normally causes. So far no damage has been reported.
"God does not help and protect, thank God they are fine", "Total fear", "Oh no, my God protects your children", "Oh no that fear, God protect them", "Although strong in Anaheim", "I live in Lancaster and I didn't feel anything if I wasn't already outside like you", "It was 4.4 Carson was the epicenter", "I'm in South Gate, sitting watching TV and I felt that I pull the sofa and it thundered. Strong ", were some comments. Filed Under: California Earthquake
HE FEELED IN THE SOUTH OF THE STATE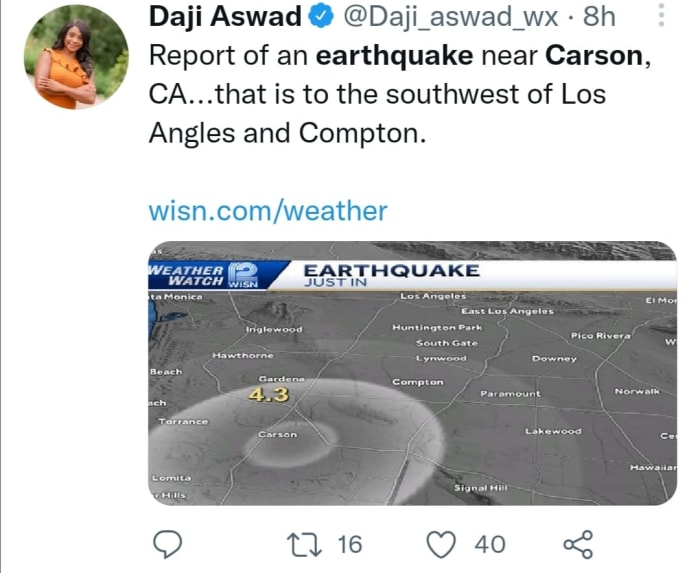 According to the Los Angeles Times, the earthquake was felt throughout southern California, from the San Fernando Valley to Santa Ana. The earthquake occurred less than a mile from West Carson, a mile from Los Angeles, two miles from Torrance and two miles from Long Beach.
It is worth mentioning that in the last 10 days, there have been two earthquakes of magnitude 3.0 or more centered nearby. An average of five earthquakes with magnitudes between 4.0 and 5.0 occur per year in the Los Angeles metropolitan area, based on a recent three-year data sample. The earthquake occurred at a depth of 9.2 miles. Filed Under: California Earthquake
LAST 10 SECONDS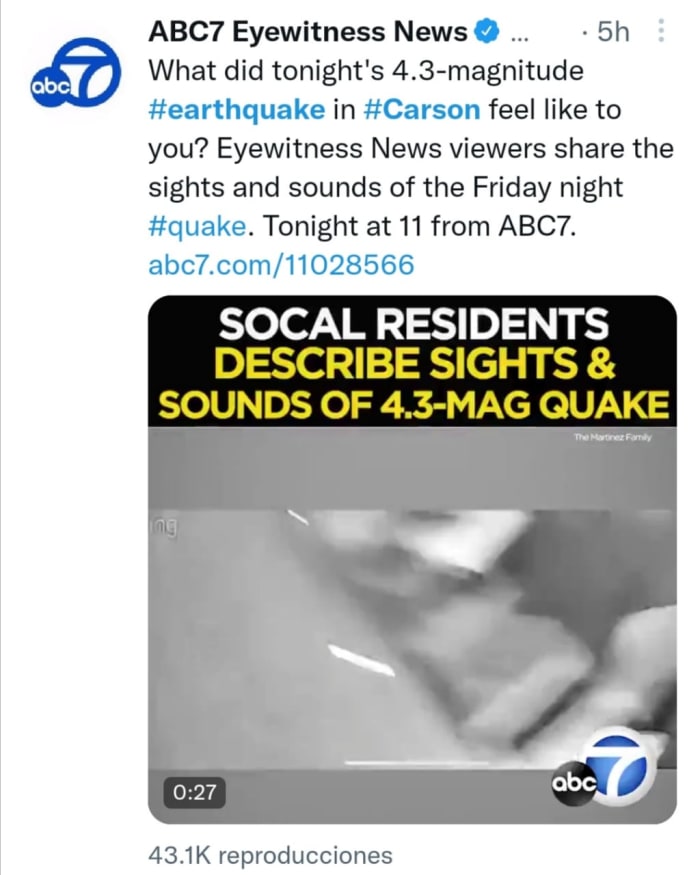 Chamonic's Instagram account reports that the tremor lasted approximately 10 seconds: "Carson epicenter, magnitude 4.3 or 4.6. It lasted 10 seconds. The Carson refinery is being watched because the flame is bigger than normal, take good care and prepare ourselves … Because they say it could be the big earthquake that they have always said, "he wrote in his post.
"We will never know when it is the big one, but oh well we have to try to prepare", "The Latin news is not giving anything but the Anglo-Saxons", "It scares me a lot, I catch myself in the bathroom", "Oh it is not very ugly May God take care of them ", said some Internet users who experienced this scare. Filed Under: California Earthquake


mundohispanico.com