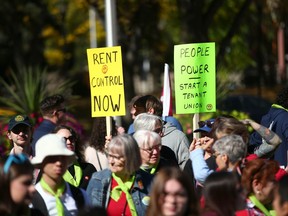 Article content
Division within Calgary's city council largely melted away as lawmakers Saturday night passed a long-awaited housing strategy meant to defuse a deepening affordable housing crisis.
With Sean Chu, Dan McLean and Peter Demong opposed, councillors voted 12-3 in favour of the strategy which seeks to make homes more accessible and affordable through land use, open zoning, investment and leverage with other levels of government.
Article content
Though councillors admitted there are few quick fixes in the strategy which includes more than 70 recommendations, proponents said it sends the city on a positive trajectory to ease a plague of housing availability and ballooning cost.
"This new strategy is finally getting us caught up to where we need to be," said Mayor Jyoti Gondek, following three days of debate and public hearings that witnessed 162 Calgarians pour out often heart-rending stories of struggle over poverty and accommodation.
Some city councillors, who'd harboured profound doubts over the plan's most contentious element — a provision that will extend C-RG zoning to allow a more diverse mix of housing throughout an often solely single detached-home city, joined proponents in approving it.
"I will remain amenable to persuasion," said Ward. 10 Coun. Andre Chabot, who fears the zoning change will "pit neighbour against neighbour."
Earlier, Gondek said opponents such as Ward 1 Coun. Sonya Sharp, who insist they want to reduce the time it takes to build housing, of hypocrisy by employing delaying tactics against the strategy.
Article content
"So stop wasting our time … (current zoning rules) are wrong and they are dated," Gondek told the committee, while noting the federal government last week threatened to withhold affordable housing funds if the recommendations are rejected.
"Federally, they have asked for an end to exclusionary zoning not just in our city. Do we actually have equitable policies in all areas of the city?"
Sharp insisted opponents are in favour of solving the crisis, but fear blanket zoning would reduce public input into crucial decisions affecting their neighbourhoods.
"They are not opposed to density, affordable housing or the strategy — they are in favour of a democratic process," she said.
"We can't cut the public out of the process."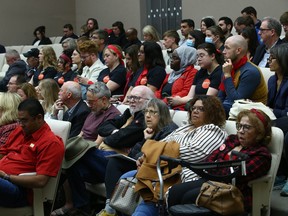 Critics of the strategy say the blanket R-CG zoning will negatively impact property values, neighbourhood character and lead to a building free-for-all.
Sharp said she found the federal government's funding ultimatum offensive.
"It's really unfortunate the federal government would withhold a significant amount of funds … I was elected to represent Calgarians," she said.
Article content
Even so, Sharp voted to advance the strategy which will take firmer shape next year.
"I hope to see the support of other levels of government. I hope they're listening," she said.
Ward 8 Coun. Courtney Walcott noted the R-CG provision would still be subject to a public hearing next year before it's implemented and argued Calgarians want the process to get moving.
"We had overwhelming support to have this discussion to further this process," he said.
"Housing is a right and this (opposition) goes against housing as a right."
'Missing a gap of information'
The hearings, which moved from the Community Development Committee meeting to a council gathering Saturday evening, became heated at times with Gondek insisting Ward 2 Coun. Jennifer Wyness had accused blanket zoning proponents of lacking transparency, saying she "won't stand for it."
Wyness said her comments were taken out of context and refused to apologize.
And Wyness expressed doubts about the Housing and Affordability Task Force's conclusions on why blanket zoning will improve affordability, partly by not sufficiently including home builders in their process.
Article content
"We're missing a gap of information," said the councillor, who nonetheless opted to support the overall measure.
Members of the task force insisted their research, including examples from other cities that have adopted C-RG-type zoning, show affordability there was enhanced.
None of the councillors denied Calgary's experiencing a housing crisis.
And they unanimously supported Gondek's amendment for dedicating two pieces of Calgary land to host modular housing as emergency lodging for the homeless that includes 242 houseless families.
Last week, the city released its Housing Needs Assessment Report, which found that in 2021, one in five Calgary households couldn't afford their housing, or 84,600 of them, a number it says is almost certainly larger now.
"Based on Calgary's forecasted population growth and historical rate of housing need, the number of households in need of affordable housing is expected to reach close to 100,000 households by 2026," the report states, adding the median cost of a detached home has increased by 37 per cent in the past three years while rent has gone up by 40 per cent.
Article content
It also said the median household income required to purchase a median home in Calgary is now $156,000, far more than the current median income of $98,000.
Mitigating those challenges is the responsibility of the provincial and federal governments, said Chabot and Demong.
"They're simply downloading a lot of this for us to deal with," said Demong, adding the incoming zoning bylaw is deeply unpopular in his deep south Calgary constituency of Ward 14.
Though she said there's some truth in Demong's words, that argument doesn't wash, said Ward 11 Coun. Kourtney Penner, who said the zoning provision would bring greater equity and diversity throughout the city.
"There are things other people can do, it doesn't mean we shouldn't do anything," said Penner.
While she endorsed the blueprint, Ward. 3 Coun. Jasmine Mian said it doesn't go nearly far enough in meeting the staggering, unmet housing demands that see a shortage of at least 50,000 homes.
She noted city administrator told council the zoning move would create 1,500 new homes within two years.
"We spent the entire morning arguing over drops," said Mian.
"Let's stop failing so badly."
Twitter: BillKaufmannjrn