The driver of the other bus is traumatized, says Balbir Mann, president of Unifor Local 111. She says they are offering her and some of the other Vancouver drivers advice.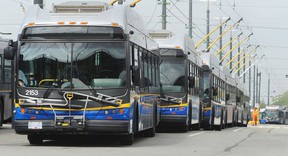 Article content
A Vancouver bus driver is fighting for his life in hospital after he was trapped between two transit buses in downtown Vancouver on Monday.
Article content
Unifor Local 111 President Balbir Mann said early Tuesday that, as far as he knew, he was still in the hospital and his condition had not changed.
Mann said the union is trying to find out more about his condition from the man's family. Vancouver Police Spokesperson Const. Tania Visintin also said early Tuesday that she did not have an update on her condition.
BC Emergency Health Services responded to a report of a patient trapped between buses on West Cordova Street near Cambie Street around 8:20 a.m.
Several units of paramedics responded. One patient was taken to hospital in serious condition, according to emergency services.
Mann said they still don't know exactly what happened, but said the bus driver may have gotten off the bus to fix a problem.
Article content
He may have been lowering the poles to let the other bus pass, Mann said.
"We don't know what happened, or if there was a problem with the bus. All of this is still under investigation, "he said.
The driver of the other bus is traumatized, he said.
Mann said he will take time off from work and has been offered counseling. He said help will also be offered to other Vancouver depot members who were on the scene.
"It is very emotional," he said.
Vancouver Police and WorkSafe BC are investigating.
TransLink spokeswoman Jill Drews also did not receive an update Tuesday morning on the driver's condition, instead emailing a short statement confirming "a very serious incident" involving two Coast Mountain Bus buses. Company happened on Monday in Vancouver.
"We can confirm that an employee of the Coast Mountain Bus Company has been seriously injured. Details are limited, but we can confirm that no passengers or pedestrians were injured, "Drews said.
"This is very difficult news for all of us at the TransLink company. Our hearts go out to everyone involved and their families. "
-with Scott Brown files
Reference-vancouversun.com