Opinion: Several of Sidhu & Sons Nursery Ltd.'s varieties have become the cultivars of choice for many nurseries in North America, and even in Europe.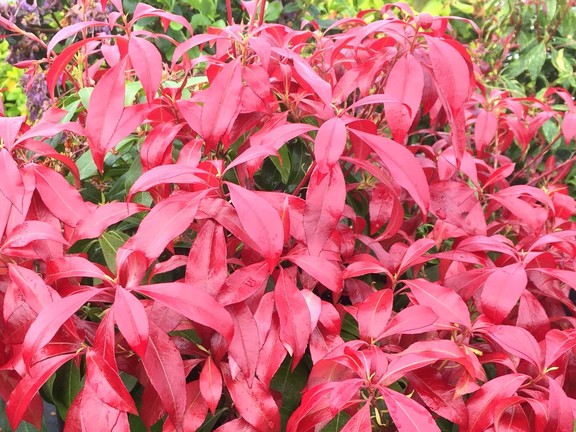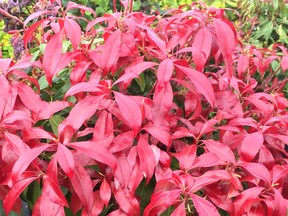 Reviews and recommendations are unbiased and products are independently selected. Postmedia may earn an affiliate commission for purchases made through links on this page.
.
We see many wonderful new plants being introduced each year from around the world, but it's exciting to learn that a significant number of these gems originate right here in BC.
.
Some of the most creative new plant introductions come from a nursery located just outside Mission. Sidhu & Sons Nursery Ltd. was founded in 1975 by Gurdev Sidhu. Starting out as a hobby farm, this nursery has now grown to over 600 acres. They propagate and grow both starter plants for other nurseries to grow and beautifully finished nursery stock that they ship throughout North America.
Strictly a wholesale nursery, Sidhu & Sons grows a wide selection of plants, from broadleaves such as rhododendrons and azaleas, and grafted and cut conifers to hardy deciduous and ornamental shrubs, grasses and small fruits. Your selection is truly amazing.
What is interesting from a gardener's point of view is the number of unique plants that have been introduced in recent years; several varieties have become the cultivars of choice for many North American nurseries and even some nurseries in Europe.
.
The most recent introduction is a new Pieris japonica called Glowing Hearts. Like most Pieris japonicas, it will grow about five feet tall for 10 years, is tolerant of full sun or partial shade, and is hardy to zone 6. In late February and March, the rich pink flowers will cascade over this plant, but what makes it so exceptional is its burst of scarlet new growth that simply glows. Each leaf has a chartreuse stripe down the center, which only adds to the drama of this unique plant.
Glowing Hearts is at home in any garden, and is also a wonderful potted plant that will certainly demand attention every time it repeats its burst of new growth.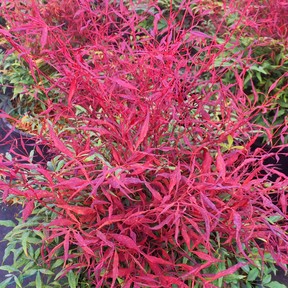 I am a big fan of nandinas for their elegant beauty throughout the year and their red tones in winter. I also like their grass-like nature, especially when used in containers where, even in the slightest breeze, they provide subtle movement and sometimes even a soft whisper of sound.
.
Sidhu de Bonfire's first introduction is an exciting addition to the great Nandina family. A compact variety, growing about three to four feet tall, it displays distinctively swirled leaves that sprout in vibrant red-orange new growth. Hardy to zone 6, it is sun loving but fairly tolerant of some shade. As with most nandinas, once established it is very drought tolerant, making it an important choice for gardens today.
Most people love the rich burgundy red foliage of smoke bushes, but heirloom varieties, like Royal Purple, are too large for today's smaller space gardens. The Sidhu family has introduced a much more compact variety called Cotinus coggygria Velveteeny. Growing just four feet by four feet, it is just the right size for containers and its foliage is a deep, rich purple, much like Royal Purple. Velveteeny is hardy to zone 4.
.
One of Sidhu's earlier introductions is now a reference strain. Today, Himalayan sweet box is becoming one of the best shade plants, not only for its hardiness (zone 4) and compact nature, but also for its powerful sweet scent in late winter. The Sidhu family has introduced two varieties that are far superior to the old ones. Sarcococca Fragrant Valley is a very low growing 'humilis' type with rich dark green leaves making it an ideal groundcover. In addition to its pleasing growth habit, its strong scent adds fragrance to any conservatory.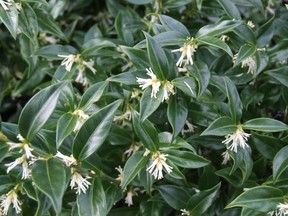 Sarcococca Fragrant Mountain is a larger growing variety, reaching up to about two feet, and again has rich dark foliage that is similar to skimmia. This plant is nicely shaped, great in any shady spot, and has that same rich scent when you need it most during the gloomiest time of year.
.
A new, more compact emerald cedar has really taken off for a couple of different reasons. Thuja Smaragd, the standard hedge cedar, is valued for its rich dark green foliage, compact habit, and hardiness to zone 3. Sidhus Introduction of Thuja Smaragd Emerald Petite is a miniature version of its parent. Maturing at just six feet tall with a maximum spread of two feet, it is an ideal specimen for small spaces or a large container plant, especially where a little screening is needed.
Emerald Petite is also great for Christmas decorations. Indoors or out, from small four-inch pots to larger five-foot specimens, it can be used as a tabletop decoration or as a small Christmas tree on the patio that is lit and decorated. Unlike most smaller Christmas trees, it can be used throughout the year in our gardens.
.
The Sidhu family has developed and introduced other exciting plants, such as a new native salal called Gaultheria Shalon Cascade Sunrise, which has edible berries and red-orange new growth; a compact cultivar of Viburnum davidii called Pin Cushion, which attracts songbirds and butterflies; a tough white potentilla called Frosty; a very hardy rhododendron hybrid called PJM Elite Star and another nandina called Goldstream, which puts out new yellow and gold growth and matures to a rich golden amber color.
We are lucky to have this great family and their nursery in our province, and we are grateful for all these wonderful novelties that we can now enjoy in our gardens.
Brian Minter: Let's water wisely to protect our plants

Brian Minter: We need to reevaluate our homes and gardens in terms of being more fire safe

Brian Minter: Big, Bold, Easy-Care Tropical Plants Can Transform Your Outdoor Living Room
---
More news, less ads, faster loading time: Get unlimited, ad-lite access to the Vancouver Sun, Province, National Post and 13 other Canadian news sites for just $14/month or $140/year. Subscribe now through vancouver sun either The province.