"I think we're all impressed by how easy and fluid it is," said ringleader James Di Salvio of the Montreal collective picking up where it left off.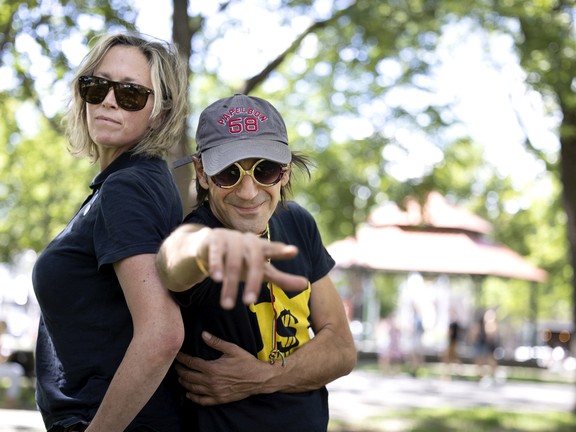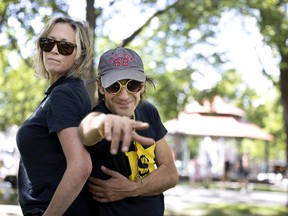 Postmedia may earn an affiliate commission from purchases made through our links on this page.
article content
It was just like old times outside a Pointe St-Charles rehearsal space last Friday afternoon, as Sara Johnston and James Di Salvio finished each other's sentences, laughed at each other's jokes and tried to explain the continuing appeal. of the legendary party band from Montreal, Bran Van 3000. , 25 years on.
article content
The team gathers for a free outdoor show Friday night on the main TD stage at Place des Festivals as part of the Montreal International Jazz Festival.
Johnston had just arrived from Nova Scotia, where he now lives; frontman Di Salvio had flown weeks earlier from Los Angeles, the inspirational setting for the band's biggest success, where he has been based for some time. The rest of the group arrived bit by bit from Montreal, Ottawa and Toronto.
"It's actually been really, really fun," Johnston said. "There have been so many times where it hasn't been fun. You know, many personalities. I guess it feels like it's about something else now. It no longer has anything to do with anyone. We are olders.
"I think it was more youth (than ego)," Di Salvio added. "Everything was so unknown when we started. We didn't even intend to make a band. Everyone was finding out who they were and who they were as musicians. Sometimes when you establish a dynamic, it's hard to change it, like a family, a musical family. But there is a lot of love there."
As the BV3 origin story tells, in the mid-'90s, Di Salvio took a video directing paycheck for his friend Jean Leloup and spent it on musical equipment in New York. He proceeded to invite a ragtag crew, including Bran Van co-vocalists Stéphane Moraille, Jayne Hill and rapper Stephen (Liquid) Hawley, to stop by his fledgling home studio and lay down tracks.
The end result, after a painstaking editing process, was the band's debut, Glee, an exciting and chaotic excursion by the committee through hip-hop, folk, pop, alternative rock, trip-hop and all of that, anchored in a successful single called Drinking in LA
article content
Di Salvio compared the anything-goes approach to the first time he attended Coachella.
"I thought, 'This is what I was trying to do with the band: There's Iggy Pop over there, bluegrass over there, (DJ) A-Trak over there. That's what Glee was about. We were in Johnny Cash, Fela Kuti, Liz Phair, Curtis (Mayfield), it never ends.
"Back then, everything was much more formatted. There was this reverence for the US. We had to break the reverence for hip-hop from New York and Los Angeles as well, which had serious rules. We thought, 'Why don't we put on a heavy beat, talk about Thunder Bay and make it country?' "
Bran Van was a big deal even before his first show, which took place in 1997 at Montreal's packed Foufounes Électriques punk bar as part of the jazz festival.
article content
"Geffen and all the record labels in the United States were there, thanks to Moby," Di Salvio noted. "I gave him a white label tape (from Glee) in New York. He gave it to a guy in Geffen and word spread."
Di Salvio got a call from a Geffen A&R rep, who loved the music but wondered if the sprawling sounds could be played live—that is, if there was a real band, which there wasn't. Even.
"We said, 'Give us six weeks,'" Di Salvio recalled.
The show was as messy and exuberant as the album, like a runaway house party. The impromptu ensemble handed out bottles of Jack Daniel's and threw money into the crowd, while he sang and rhymed with his heart overflowing.
And then things really got crazy: "three months of total madness," Di Salvio said.
article content
Bran Van found himself in the middle of a major label bidding war, culminating in a party hosted by Madonna after the MTV Video Music Awards, where the bigwigs and stars surrounded the band on the eve of their big decision.
They signed with Capitol Records, home to "the Beatles, Sinatra, (Pink) Floyd," Di Salvio said. "The label that broke Radiohead and Beastie Boys".
After a few years of constant touring, Bran Van's second album, Discosis, was released in 2001 on Capitol's subsidiary Grand Royal (owned by the Beastie Boys), which quickly went bankrupt.
"Wow-woonh!" Johnston said, imitating the sound effect of something fading away.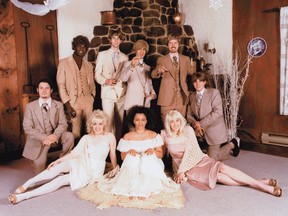 Two decades later, she and Di Salvio are philosophical about Bran Van's brush with world domination, which coincided with the beginning of the end of the old music industry and the rise of peer-to-peer music-sharing software, and preceded the arrival of a new iconic band from Montreal called Arcade Fire.
article content
"It definitely went bad fast," Di Salvio said. "We thought it would be like this forever: bidding wars. As Sara says, we were the last wave of punks. Maybe we went too far, overproducing (Discosis). We could have been more Puffy in the boardroom, more Dre in the decision making. But here we are now. We didn't become Mariah pop stars, but that wasn't our plan."
"I think part of it is I feel like we don't really care about that part," Johnston said.
The band reconvened in 2007 for a third album, Rosé (and an overcrowded jazz festival in 2008). A fourth, The Garden, arrived in 2010 (followed by an appearance by Osheaga).
There is talk of a new album and a world tour in the fall. But for now, there is a homecoming. There have been a few shows in Quebec in recent weeks, with fans singing along to every song.
article content
"It entered my body," Johnston said. "I have chills".
"I think we're all blown away by how easy and smooth it is," Di Salvio said of picking up where they left off.
"I was a little skeptical coming to rehearsal," Johnston added. "But everyone is so open-minded and open-hearted. It's like that jacket you loved and lost that suits you so well. You're like, 'Why did I put it in the closet?' "
TAKE A LOOK
Saved Van 3000 performs a free show on Friday, July 8 at 9:30 p.m. on the Place des Festivals TD stage as part of the Montreal International Jazz Festival. Visit montrealjazzfest.com for more information.
Montreal's Clay and Friends Pack the Party Vibes for a Free Jazz Festival Show

'Concerts feed our souls': Nathaniel Rateliff fans wet and wild at Montreal jazz festival

Tash Sultana lights up the Montreal Jazz Festival opening air blast