The judge took a punch, and that may hurt Alberta's chances when the 'no more pipes bill' goes before the Supreme Court.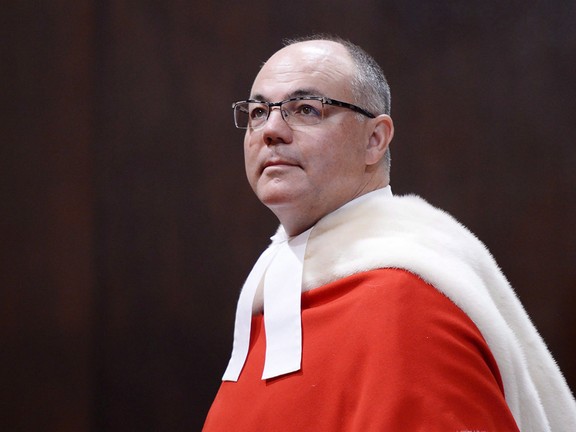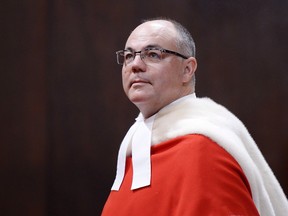 Article content
Premier Danielle Smith's office is "very concerned at the moment" of the forced leave of a Supreme Court justice.
Article content
That's from a major source in Smith's circle.
Article content
They are not claiming impropriety, just bad luck. Judge Russell Brown is the Court's most trusted defender of provincial rights.
He is also the only one who was punched in the face during an altercation in the US and is now out of court pending an investigation.
Obviously, Brown will not be involved next week when the court hears Ottawa's challenge to a ruling on the Impact Assessment Act, often referred to as the 'no more pipeline law'.
It started as federal bill C-69 and was highly controversial two years ago.
The Alberta Court of Appeals, in a 4-1 ruling, said Bill C-69 is unconstitutional.
Ottawa insists it is valid even though eight out of 10 provinces back Alberta's position. Only Nova Scotia and PEI remain neutral in Supreme Court proceedings.
Article content
Brown's only Western colleague on the court is Judge Sheilah Martin. Both have deep connections to Alberta and Calgary.
She was named for Prime Minister Justin Trudeau; Brown was elevated to the court by former Prime Minister Stephen Harper.
By law, the court has three judges from Quebec. Tradition also dictates that three are from Ontario, one from Atlantic Canada, and only two from four western provinces.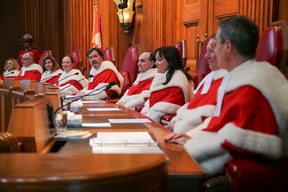 In this, the Supreme Court reliably mirrors both the House of Commons and the Senate.
First, Alberta's rejection of the Impact Assessment Act had limited chances of survival. Without Brown's voice and vote in court, he is even more likely to fail.
Brown got into an altercation during a recent conference in Arizona. It involved punches thrown at him and accusations of drunkenness.
Article content
A former Marine named Jon Crump said that Brown was harassing his group. He admitted to hitting Brown.
Brown himself said: "Outside the room, Mr. Crump objected to my joining the group and suddenly, without warning or provocation, he struck me several times over the head.
"Caught by surprise, I couldn't defend myself."
Those are not the usual words of a bar judge. They are surely the most notable quote from a Supreme Court of Canada judge.
Due to his absence, next week's case will be heard by eight judges, risking a tie vote, or possibly seven if the court circumvents potential deadlock by excluding another judge.
One case doesn't necessarily predict the next, but we can get a good idea of ​​how this might go from the 2021 rejection of Alberta's claim that Ottawa's carbon tax was unconstitutional.
Article content
Most Supreme Court justices concurred with the view that the national interest, in the form of climate change, outweighed provincial jurisdiction.
Supreme Court Justice Russell Brown denies Arizona altercation allegations

Alberta high court declares federal environmental impact law unconstitutional
The present case seems to depend on the same presumption; that a resource project whose impact goes beyond the borders of a province (ie, emissions) falls under federal authority.
In the prosecution ruling, Brown fiercely opposed this expansion of federal power.
The law "cannot be endorsed by any source of federal authority and is therefore a fully ultra vires parliament," he wrote.
"The object of the Law falls directly within the provincial jurisdiction." The fact that the provinces have the same tax authority, Brown added, "is fatal to the constitutionality of the (tax) Law."
Article content
He argued that with the fiscal decision, the Supreme Court itself "congests federal power."
The Alberta legal team surely counted on that attitude in the current case.
Smith's people are obviously disappointed that Brown dealt himself, but they probably won't say much more.
The case is unlikely to become a hot-button issue for the Alberta campaign because the court's decision won't be released until the fall at the earliest.
And it's even possible, according to a response from the Supreme Court office on Friday afternoon, for a judge who missed oral testimony to later participate in the discussions and vote.
That's usually meant to accommodate illness, but it could, in theory at least, apply to Judge Brown as well.
Don Braid's column appears regularly in the Herald.
Twitter: @DonBraid