It's a delicious debate for B.C. baseball fans, as Canada's big-league team and the Pacific Northwest's major league team are in the playoffs. Read our 5 reasons to cheer for each team — then tell us who you'll be supporting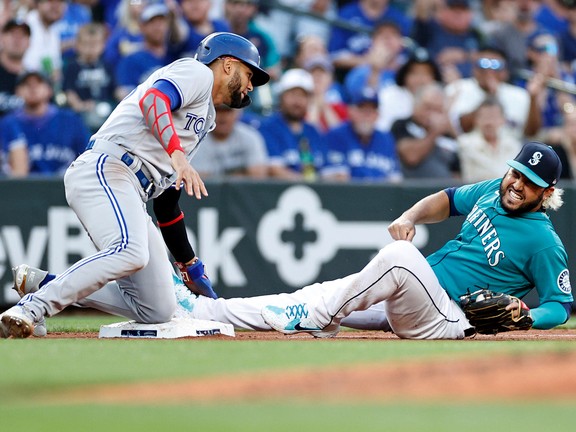 Article content
Toronto Blue Jays. Seattle Mariners. Who's your pick?
Article content
That's a delicious debate for baseball fans around B.C. to have over the next few days, as Canada's big-league team and the Pacific Northwest's entry in the majors have advanced to the playoffs in the same season for the first time since they started out together as expansion cousins in 1977.
Article content
There's a good chance, depending on how the final days of the regular season shake out, that Toronto and Seattle could be going head-to-head in a best-of-three wild-card series starting Friday in Toronto.
We aim to aid you in deciding where your loyalties lie. Here are five reasons each to root for either the Mariners or the Blue Jays. Then, scroll to the bottom and let us know who you'll be cheering for.
Seattle Mariners
1. Got back to the big dance again finally
Article content
The Mariners qualifying for the post-season ended a 20-year run without playoffs, which had been the longest active stretch in any of the four main North American professional sports. The NBA's Sacramento Kings (16 years), NFL's New York Jets (11 years) and NHL's Buffalo Sabres (11 years) are the new top three in current playoff appearance futility.
That Seattle team in 2001 that wound up losing to the New York Yankees in the American League Championship Series featured Lou Piniella as manager and was sparked offensively by a 27-year-old rookie outfielder named Ichiro Suzuki, who had come over from Japan prior to that season.
In line with being the underdog story, the Mariners are 21st in the 30-team MLB in payroll this season, sitting at $126.7 million according to spotrac.com (all figures are in U.S. dollars). Nine of the other 11 playoff-bound teams are above them, led by the top-spending New York Mets ($281.5 million), Los Angeles Dodgers ($274.8 million) and New York Yankees ($264.9 million).
Article content
The Blue Jays ($186.1 million) are No. 11 on the payroll chart.
The only teams in the playoffs with lower payrolls than Seattle are the Cleveland Guardians ($82 million), who are 28th, and the Tampa Bay Rays ($99.5 million), who are 25th.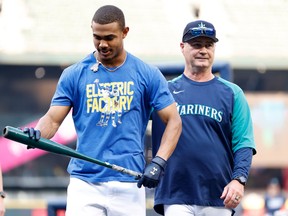 2. Midseason turnaround
The Mariners were 29-39 when they fell 4-0 to the Los Angeles Angels on June 19, and manager Scott Servais was topping betting websites as the next bench boss likely to be fired.
He's been with Seattle since October 2015, so the powers that be with the Mariners could have reasoned that things had run their course and easily let him go.
The Mariners sat at 87-71 to start play on Monday, meaning that they had gone 58-32 since that aforementioned defeat to the Angels. And there's been headlines for a few weeks now about how Servais merits manager of the year consideration.
Article content
3. Wayne Norton's contributions 
Norton, a Port Moody man, scouted for the Mariners for 17 years and played a role in the club signing B.C. products Tyler O'Neill, James Paxton, Michael Saunders and Tyson Gillies.
Norton was named the Mariners' international scout of the year in 2007 and Canadian scout of the year by the Canadian Baseball Network in 1998 and 2013. He was elected to the Canadian Baseball Hall of Fame in 2016.
Norton continued scouting with the Mariners after he was diagnosed with the amyotrophic lateral sclerosis — Lou Gehrig's Disease — in June 2015 with help from his wife Trudy.
Norton died in January 2018. He was 75.
He was a minor league outfielder for 10 seasons, including three with the triple-A Vancouver Mounties. He started up the National Baseball Institute Blues, a team based out of Whalley with players going to various Lower Mainland post-secondary schools that played a schedule against U.S. colleges and universities. 
Article content
4. Good eats
Seattle's a three-hour car ride compared to a five-hour plane trip, making it much easier for B.C. folk to get to a Mariners' game compared to a Blue Jays' one.
Those who have been to Seattle's T-Mobile Park know to make sure it's on a cheat day on the diet. The website thrillist.com ranked every stadium in the bigs by its menu back in April and T-Mobile came out on top. 
Best item at the ballpark merited two words: Almost everything.
Rogers Centre in Toronto came in at No. 25 overall with funnel cake poutine taking best item honours.
5. They're not from Toronto
Blue Jays games have historical drawn well in Seattle in the past. That's true. Also true is the fact there can frequently be a pushback against anything Toronto in the B.C. market, with some folks frustrated with the power and influence that the region can wield.
Article content
Could it happen again here? B.C. fans were on board for the Toronto Raptors' championship run, but the NBA didn't offer up a viable alternative for fans like the Mariners do.
Article content
Toronto Blue Jays
1. Farm team setting the table
There are two fully affiliated pro baseball teams in all of Canada. One is the Blue Jays. The other is the Vancouver Canadians, who have been a Toronto farm club since 2011. Prior to the 2021 season, the minor leagues were revamped and Vancouver was promoted two rungs up the development ladder, going from a short-season, single-A team playing a 76-game schedule and starting up in June to a high-A team that with a 132-game schedule that starts in April.
With the extended schedule and the more advanced players, it'll be interesting to see if there's an even greater connection to guys coming through Vancouver who wind up with the Blue Jays.
2. Alek Manoah doing Alek Manoah things
Article content
Manoah, 24, is winding up his first full season in the bigs and might be Toronto's best pitcher right now. He was in Vancouver in 2019 and still stays in contact with Usha Tkachyk, who billeted him at her family's home, which is a five-minute walk from Nat Bailey Stadium.
Tkachyk's son Tyler had died in January 2018, the result of a scooter accident while visiting Thailand. He was 28. 
Tkachyk talked in a 2021 Postmedia story about how Manoah had helped provide a "positive distraction," when she needed it. 
"Alek was like an angel sent to me," Tkachyk said then.
Manoah, too, was the one who publicly defended Toronto catcher Alejandro Kirk recently when a Montreal radio personality mocked Kirk on Twitter.
Article content
3. John Schneider always pumping up C's
Schneider, now the interim manager for the Blue Jays, did two-and-a-half seasons as Vancouver's skipper on his way up the ranks and routinely talks up his time based out of the Nat.
"I've forever said that Vancouver as my jumping-off point as a manager has been very important for me," Schneider said in January 2020, just before his stint as a guest speaker at the C's annual Hot Stove Luncheon. "You're dealing with first-class owners, you're dealing with big crowds, you're learning how to win in a place where there's an expectation of winning.
"It's an important spot for our players and their development. That's where they first learn that, with the Blue Jays, you're not just playing for a city but for an entire country. You see the people at The Nat and how much it means to them."
Article content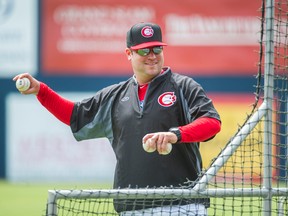 4. Celebrating the Expos
There's a more seasoned generation of baseball fan in B.C. who was accustomed to debating whether they were all in on the Blue Jays or the Montreal Expos back in the day. That became null and void when the Expos left for Washington, D.C., after the 2004 season.
Toronto's slugging first baseman Vladimir Guerrero Jr., 23,  can synch up Blue Jay and Expos fans on some level, though, since his namesake father was a star outfielder with Montreal for the first eight seasons of his 16-year Hall-of-Fame career. Vladdy Jr. was even born in Montreal.
5. Blue Jays build baseball in the country
The Blue Jays have been proponents of baseball in Canada. Among their projects is the Canadian Futures Showcase, a tournament for draft- and college-eligible players looking to get seen by either MLB scouts or college recruiters.
Article content
According to the Blue Jays, 110 Canadian Futures Showcase participants have been drafted by MLB clubs since 2013 and more than 500 have received college scholarships.
Article content
Leaders young and old have Blue Jays cruising to post season

Simmons Says: For better or worse, anything is possible for the Jays in the playoffs

Julio Rodriguez makes history in Mariners' win over Padres

Julio Rodriguez's blockbuster contract with Mariners is fittingly unique
---
More news, fewer ads, faster load time: Get unlimited, ad-lite access to the Vancouver Sun, the Province, National Post and 13 other Canadian news sites for just $14/month or $140/year. Subscribe now through the Vancouver Sun or The Province.

reference: theprovince.com