The prime minister reiterated his personal disagreement with Bill 21 after a Quebec teacher was kicked out of her classroom for wearing a hijab.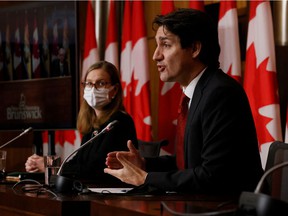 Article content
However, Trudeau said he refused to do more than voice his personal criticism so as not to give the Legault government "the excuse of a fight between Ottawa and Quebec."
The prime minister made his remarks during a press conference in Ottawa where he announced a childcare financing agreement reached between the federal government and the province of New Brunswick. Trudeau was asked about Fatemeh Anvari, the elementary school teacher from Chelsea, Que., Who was reassigned to other duties because Bill 21 prohibits certain public officials from wearing religious symbols at work.
Since Bill 21 was introduced, Trudeau has expressed his personal disagreement with the law, but has preferred that Quebecers present any legal recourse to the courts of the province. He previously said that it is premature for Ottawa to become involved in the issue as long as those challenges remain before the Quebec courts.
Bill 21 includes a waiver clause that allows teachers who were hired before the law was passed in 2019 to continue to wear religious symbols while on duty. However, this exception does not apply to new hires like Anvari, who had been working as a substitute teacher for the local school board since March and was only hired as a full-time teacher in October.
Editorial: Bill 21 Undermines Quebec's Efforts to Be Inclusive

The removal of a teacher for wearing a hijab generates mixed reactions in Quebec City
Reference-montrealgazette.com
The Canadian News
Canada's largets news curation site with over 20+ agency partners