Singh said that "after what we saw in Chelsea," Ottawa should support those who oppose Bill 21 if their cases are heard by the Supreme Court.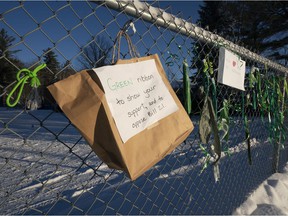 Article content
Speaking to reporters, the federal leader of the New Democratic Party, Jagmeet Singh, said that "it is time to talk" about Quebec's Bill 21, which prohibits some officials, including teachers, from wearing religious symbols at work. . And the controversial reassignment of a hijab-clad third-grade teacher in Chelsea appeared to have prompted the NDP leader to toughen his position on the issue on Tuesday.
Singh, who wears a turban and therefore will not be able to teach in Quebec, said he would be ready for the NDP to seek auditor status in legal challenges to Bill 21 in the province.
So far, Singh made it clear that he was personally opposed to the law, but said he recognized Quebec's right to legislate on the issue of secularism.
"It is clear that I have always been against this law," he said. "And I have always said that it was a discriminatory law."
But Singh added that "after what we saw in Chelsea," the federal government should support those who oppose Bill 21 if their cases are finally heard by the Supreme Court.
Meanwhile, the Bloc Québécois criticized Bob Rae, Canada's ambassador to the United Nations, for tweeting on Sunday that Bill 21 had a "profound and discriminatory meaning."
Article content
The bloc's leader, Yves-François Blanchet, called for Rae to return to Canada and face a parliamentary committee to explain his criticism of a law "democratically voted by a sovereign parliament."
Such a development is unlikely, since impeachment would require the support of liberals, conservatives and NDP parliamentarians who are part of the permanent foreign affairs committee.
Blanchet said such a refusal would be helpful. "Once again in Quebec we would see how the federalist parties are unanimously against Quebec on the issue of secularism."
Blanchet said Prime Minister Justin Trudeau's comment this week that he did not want the debate on Bill 21 to become the pretext for a political dispute between Ottawa and Quebec was just a political calculation.
"He is announcing, for all practical purposes, that he better hold out strong after the Quebec elections (in October 2022), (because) federal resources will be deployed against Bill 21."
Voted into law in 2019, Bill 21 has an inherited clause that allows public officials who wore religious symbols before the law took effect to continue to do so. The Chelsea teacher was hired after the enactment of Bill 21.
Hanes: Bill 21's decision is full of contradictions and makes no sense

Hanes: Even kids can see that Bill 21 is wrong, why can't our leaders?
Reference-montrealgazette.com
The Canadian News
Canada's largets news curation site with over 20+ agency partners