Is he coming off a win in the same game as Johnny Gaudreau reaching the 100-point mark? Poetic in terms of plot. Actually, the Calgary Flames got run over by the Kraken in the second period: some bad rebounding, but also some bad turnovers. The puck battles were lost almost every time and Seattle had most of the puck possession. Entering the third period, Seattle's 3-1 lead was justified. Calgary used special teams and a big Mangiapane goal to go through and win the third period and the game.
CF% – 47.06%, SCF% – 33.77%, HDCF% – 32.7%, xGF% – 38.94%
It's a team game All of the full rundown numbers lean toward Seattle because they really controlled 2/3 of the game. If we isolate only the third period from Calgary's perspective, we get CF% – 54.66%, SCF% – 52.24%, HDCF% – 29.3%, xGF% – 58.67%. The third term was on the Calgary side, and yet the overall ratios are much lower. That speaks to how bad the flames were in the first two frames. They bounced back in the third period and are on the verge of officially clinching a playoff spot on Thursday.
King Corsi- Elias Lindholm (61.43 CF%) easily had the most corsi events for Flames players over 16. The defenseman had mixed results with some D pairs having significantly different ratios than his teammates. Rasmus Andersson (53.63%) and Connor Mackey (52.47%) are two of these players at the top end of their peers.
Clown Corsi – Milan Lucic (28.95%) saw more attempts against him in 7:37 of 5v5 play than Blake Coleman (41.54%) in over 13 minutes of action caught my eye. Perhaps he was one of the better players on this last road trip in terms of play, but tonight he apparently wasn't on the same level. Noah Hanifin (44.93%) and Chris Tanev (50.74%) were the bottom half of the D pairs from the previous section.
Taken by chance – This is not going to be a flattering stat for two Flames players. Mikael Backlund (20.34 SCF% // 0 HDCF%) and Nikita Zadorov (13.32% // 0%) each allowed more than 4 high-danger chances but didn't create any for themselves. The Flames didn't have much success getting to the net at 5v5, but Elias Lindholm (57.41% // 67.43%) found success where others struggled.
xGF% – Overall Quality Opportunity Ratio: Only three skaters finished above 50%. Lindholm (60.31%), Gaudreau (56.99%) and Mackey (55.41%) were those. Mikael Backlund (8.36%) had the worst performance of the season and struggled to get the puck into the offensive zone. Other players in the pits are Toffoli (24.55%) and Jarnkrok (25.62%).
Game Flow –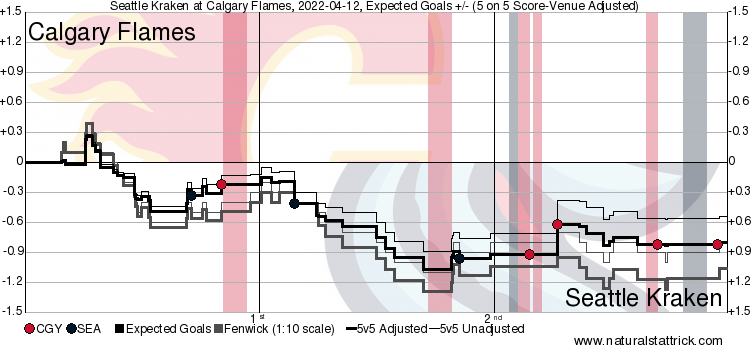 The first two periods saw Seattle take 1.2 full standard deviations in momentum, one of the worst up to 40 for the Flames this year. The 0.3 drop was all they needed to come back and tie the game, helped greatly by the teams power play.
Game Score – Mr. Tkachuk (3.28 game // 1.81 average) and his 3 goals propel him to the top position with Johnny 100 (2.49 // 1.87) right behind him. Matty Beniers (2.01 // 2.01) had an impressive debut for the Kraken. That extra year of development seems to have made him stronger than the usual fresh out of the draft as a rookie. Not every player needs to be brought into the NHL just because they were high drafted – patience can pay off if you let it.
Shot Heat Map –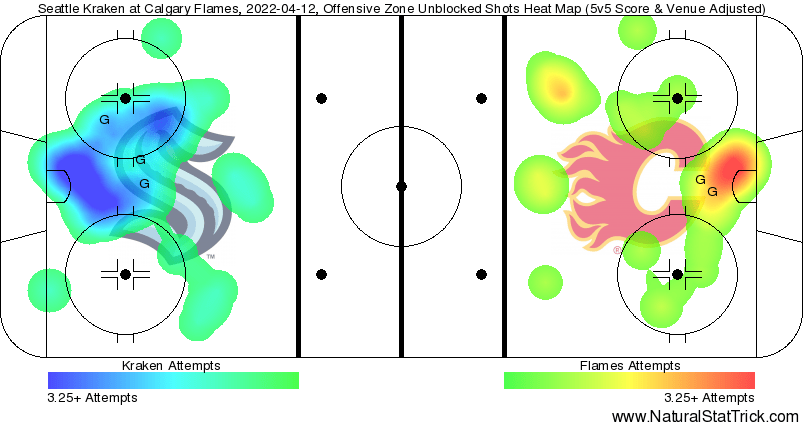 Usually, Calgary's map looks like the Kraken's – a big volume in front of the goalkeeper. Thanks to the Kraken, they have actually been one of the better teams this year in limiting defensive possibilities, but their goalkeeping has largely let them down when they needed it. Their record is near the bottom of the league standings, but I wouldn't be surprised to see them bounce back to a playoff run next season.
in the fold – It's not very often we get the janitor jerk here in Calgary, let alone a janitor jerk where the replacement guy gets a W. That should be maybe once a year territory, however this is the second time this season for Vladar, who was excellent. . Markstrom allowed two mid-danger goals and probably wants to get Adam Larsson's goal back. 1.82 expected goals against through Markstrom's 40th and just 0.27 expected goals against Vladar in the third. Flames steeled himself defensively and snapped out of his mood, making it easy for Vladar to make the necessary stops.
Today's Deals – Two power play goals are the reason for the comeback: Seattle got into penalty trouble early in the third and Calgary used that to add to their urgency and get the goal 3-2. Mangiapane at the front of the net in 5v5 later was the big target. Noah Hanifin kept his hot streak going with a bang, which is a nice reward, especially considering his defensive play of late.
Featured Player – Mikael Backlund – Calgary will need Mikael Backlund to be at the top of his game every night if they want to make any noise. Lindholm and the top lane usually show up and win their matchups 85% of the time, but Backlund has over 55%. As the second-tier center for teams entering the playoffs, he's going to have to find a way to be more impactful every night. If he's not scoring, his defense should at least be at the highest level, like Phillip Danault was last year.
The 3 stars of Flashalytic –
1) Matthew Tkachuk
2) Johnny Gaudreau
3) Noah Hanifin
The Flames continue their season on Thursday against the Vegas Golden Knights.
(Stats compiled from Naturalstattrick.com // Game Score from Hockeystatcards.com)

Looking to up your fantasy hockey game? DailyFaceoff has the tools you need for daily and seasonal fantasy leagues, including a lineup optimizer, daily projections, and much more. Sign up here for DailyFaceoff tools.


Reference-flamesnation.ca