After more than eight years of a grueling work schedule, Patrice Pâtissier will close on Saturday because his owners wanted his life back.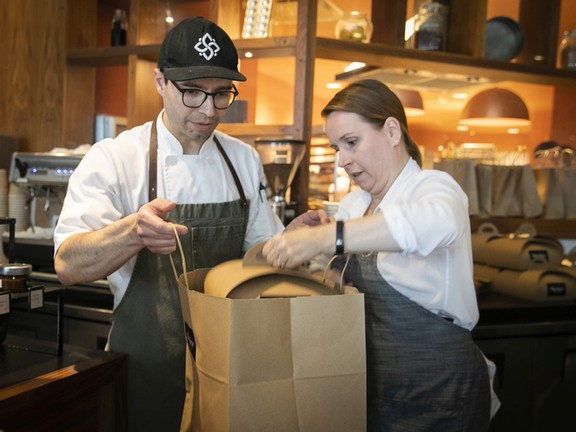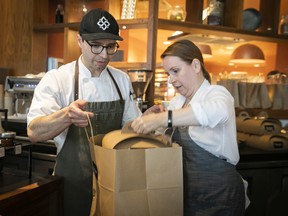 .
Joshua Fazio-Mariani drove from Laval on Thursday to pick up the Patrice Pâtissier order he had placed online. He's been a fan of Little Burgundy patisserie ever since he tried one of his treats five years ago and "fell in love."
.
"'Oh my God,'" he remembers saying. " 'This is the best I've ever tasted.' "
Julien Bouchard also drove from Laval for his order. Jennifer Chan came from Toronto.
Patrice Patissier, one of the city's best—and most beloved—patisseries, will have its last kouign amann, canelés, and lemon tartlets picked up on Saturday as it closes its doors to customers for the last time.
It is not that the closure is news: Its owners, pastry chef Patrice Demers and Marie-Josée Beaudoin, his work and life partner, announced in March on social networks that they would close their Notre Dame St. W. bakery at the end of the summer. Not that the business was bad: in fact, it was really good. But after more than eight years of a grueling work schedule and the myriad demands of running a business, they wanted their life back. They wanted to relax, have a little fun.
.
As the closing date approached, Patrice Pâtissier became increasingly busy. The store has a loyal base of repeat customers "and we've had a lot of first-time customers here," Demers, 42, told the Montreal Gazette this week.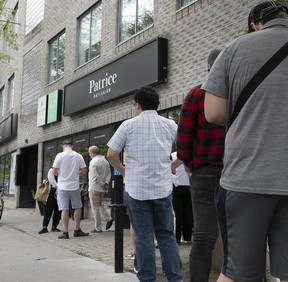 "Last week, the lineup was starting earlier and earlier. We open at 10:30, and the first customers arrived before 9am. , everything had been sold."
In four days last week, 5,000 desserts were sold: That's more than they sell during the traditionally busy Christmas period. On Saturday they sold out in two hours.
Demers and Beaudoin decided that the best solution was to place all orders online for the last three days. Beginning at midnight on Sunday, August 14, customers can order from online store — and pick up your orders at the store from August 18 to 20.
.
About 4,000 desserts were available for sale at midnight last Sunday. Within minutes, everyone was spoken for.
"I stayed up," said Bouchard, who managed to score a few desserts. "I thought I was buying tickets for a concert."
Mitra Thompson was able to order a breakfast box containing a few types of pastries and cakes, though like Bouchard, the Little Burgundy resident said trying to order online felt like "getting tickets to a rock concert." .
Not all clients had the same luck. A fan of chocolate chip cookies set out to order two dozen cookies for pickup the following Thursday, but when she provided her credit card and other relevant information, "the order form had narrowed the number down to 16, then at nine and finally told me the cookies were gone. I moved on to the next available day, and each time I missed the cookies. At 00:09, all the chocolate chip cookies were gone."
.
Chan, who visits Montreal frequently from Toronto, discovered Demers and his incredibly creative and inventive desserts when he was a pastry chef at the now-closed Les 400 Coups restaurant in Old Montreal. Bouchard as well.
"I'm sad," Chan said of the closure while enjoying one of the store's signature desserts on a bench in Notre Dame: le Vert, a layered frozen dessert whose ingredients include green apple, olive oil, coriander, green apple and pistachio.
"But I know that Patrice will do something else, and it will be amazing."
The treats in her brown cardboard box included a dozen kouign-amann: They freeze well, she said from experience, as do canelés.
Jackson Leung, who drove from the East End to place his order, said he's sad to see the store closed because "it produces great quality desserts – my kids and wife love it."
.
Since the couple announced the closure, many have asked why they are closing, Demers said. But most of his friends are chefs, sommeliers (Beaudoin was a sommelier at Les 400 Coups when the couple met) and waiters, and they understand "how work can be exhausting and how we want a break."
Since the store opened, the couple have had three Saturdays off, one for their wedding. They're taking a month-long vacation to Italy this fall, and beyond that they have no firm plans.
"For next year, we want to have fun, do collaborations with chefs and pastry chefs," Demers said. "We love to travel and with the store it was something we couldn't do.
"I have been in the business for 22 years. I want to enjoy life and be motivated. The entrepreneurial part of running a business means you can lose the passion," he said. Having to call the plumber and find staff is part of running a business, she said, a reality that people forget.
Demers was in his early 20s in 2003 when he became part owner of Les Chèvres, a fine Outremont restaurant with an emphasis on vegetables before they were a buzzword. Although it was a critical success, it was "financially catastrophic," he said. "For a long time, I didn't want to have another business."
But with Patrice Pâtissier, "we have had a good deal and it will end on a positive note. I'm very proud of what we've done."
Patrice Pâtissier opens in Little Burgundy

Lesley Chesterman: Setting the table for 2017