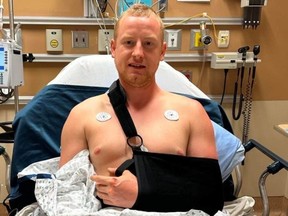 Article content
Vancouver lost another round with those big, bad bruins.
Article content
No, we're not talking about the bitter NHL rivals, who battled to the death in an epic seven-game Stanley Cup final series in 2011. This time it was a North Vancouver cyclist who took a beating, which was much worse than one the Canucks' Daniel Sedin was subjected to by Boston's Brad Marchand on the ice.
Article content
Kevin Milner, 30, was going for a spin on May 16, when he made the ill-fated decision to try to pass a black bear that was wandering along the paved Seymour Valley Trail. It did not end well.
"The second I made that decision, he decided to run and he ran right across the road right in front of me and I smashed into him right behind his shoulder blade," he told the North Shore News, noting he didn't want to stop in front of a startled bear. "I did a flip over him. I pretty much kissed the bear and then I guess I flew through the air."
Article content
The collision resulted in a fractured scapula, cardiac contusion, bruised ribs, road rash and numbness, he told the news outlet.
"It feels like the whole left side of my torso went to the dentist," he said after being treated at the nearby Lions Gate Hospital in North Vancouver.
Bear gives West Virginia principal a roaring wake-up call

Bear destroyed after killing dog in Jasper National Park
As for the bear, it seemed no worse for wear. It ended up meandering back to the scene of the crash, Milner said, while he waited for first responders.
"Man, those bears are built like a truck," he said. "I thought I was going to die.
"He was kind of looking at me, really curious, kind of like, 'What's up with you? Then the bear just started eating grass. He pretty much just carried on with his day."
RECOMMENDED VIDEO