The NDP's first two-term premier will stay on as party leader until a new leader is selected.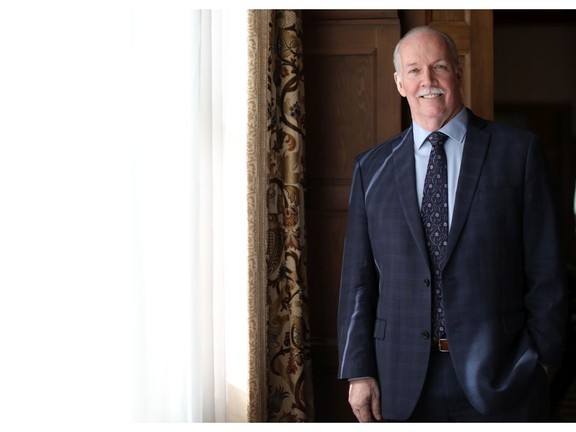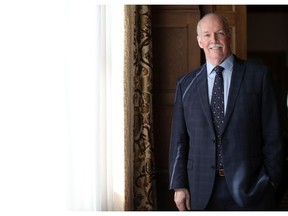 Article content
BC Premier John Horgan has announced he's stepping down as NDP leader, sparking a leadership race two years before the 2024 provincial election.
Article content
Horgan, 62, said while he's cancer-free following radiation for throat cancer late last year, his energy is flagging which is why it's the right time to retire.
Horgan made the decision 10 days ago while he and his wife Ellie watched otters frolic in the water off Otter Point on the West Coast of Vancouver Island. As they watched the otters play off shore, he told his wife that "doing a little more playing and a little less working probably isn't a bad idea."
"We came to the conclusion that I'm not able to make another six year commitment to this job," Horgan told reporters from the Pinnacle Hotel Harbourfront in Vancouver after a two-day cabinet retreat yesterday and today.
"My spouse and I just felt that it was time that I pass things on to another generation," he said.
Article content
Horgan said he's making the announcement now to "put the speculation to rest about my future and get back to talking about British Columbians and their needs."
Horgan will stay on as party leader until a new leader is selected. He has asked BC NDP president Aaron Sumexheltza to set a date in the fall for the NDP leadership race and he will stay on as leader until then.
Article content
The strategy allows Horgan to bow out of politics while he's still riding high in opinion polls — he's ranked as the third most popular premier in Canada — and gives a new leader plenty of time to build political capital before facing BC Liberal leader Kevin Falcon in the November 2024 election.
The news comes two weeks before Horgan is set to welcome the country's provincial and territorial leaders to Victoria at the Council of the Federation annual meeting.
Horgan, who has chaired the federation since September, said his decision to step down will not impact his ability to push the federal government for more federal cash to shore up the crumbling health system.
Horgan has fueled that he won't seek a third term after last week taking full responsibility for the now-cancelled plan to replace the Royal BC Museum for $789-million.
Article content
"I made the wrong call," he told reporters on June 22, 40 days after the controversial announcement which sparked criticism that the New Democrats were out of touch in promoting the plan at a time when British Columbians are struggling with rising costs of living and a health care crisis that has left one million without a family doctor.
Article content
Horgan was diagnosed with throat cancer in November and took a step back from some of his duties while he completed 35 radiation sessions.
He continued to participate in cabinet meetings virtually over the course of his treatment. Solicitor General Mike Farnworth took on the role of deputy premier and attended in-person events on the premier's behalf.
Horgan had surgery and treatment to fight bladder cancer in 2008 when he was in his 40s.
Cresting on 70 per cent approval ratings in the summer of 2020, Horgan called a snap election for October 2020, a gamble which angered some but ultimately paid off with a 57-seat majority, the largest NDP victory in BC history. Horgan is the first NDP leader to serve two terms as premier.
Article content
There were signs Horgan was becoming exhausted with political life as he increasingly spoke off the cuff and deviated from prepared talking notes.
On April 25, he dropped the F-bomb in the legislature during a heated exchange with Liberal health critic Shirley Bond. He immediately apologized, saying if his mother of him were still alive she'd wash his mouth out of her with Irish Spring soap.
Horgan has represented Langford-Juan de Fuca since 2005 and has been NDP leader since 2014.
BC election 2017: Helping hands gave John Horgan a drive to give back

Vaughn Palmer: John Horgan has many reasons to continue as leader of the BC NDP

Vaughn Palmer: Hosting World Cup for the fun of hosting it, is the only part of John Horgan's rationale you can take to the bank

Premier stops controversial Royal BC Museum project: 'I made the wrong call'
---
More news, fewer ads: Our in-depth journalism is possible thanks to the support of our subscribers. For just $3.50 per week, you can get unlimited, ad-lite access to The Vancouver Sun, The Province, National Post and 13 other Canadian news sites. Support us by subscribing today: The Vancouver Sun | The Province.