News of layoffs and the economic slowdown interrupted months of unrelenting job growth in July, according to Statistics Canada's labor force survey.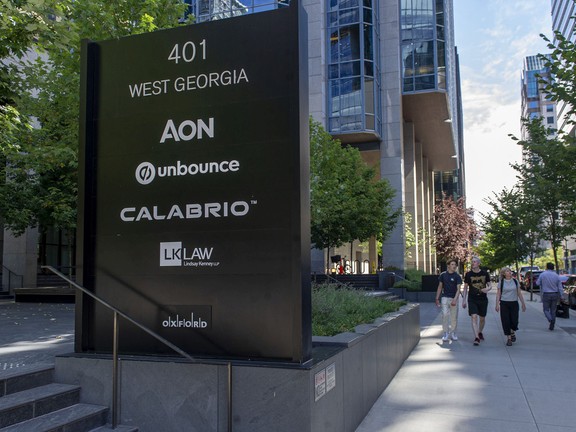 .
Unemployment in BC hovered near record lows at 4.7 percent in July, though news of layoffs and a slowing economy have seeped into the bigger picture.
.
The figure is almost unchanged from June's 4.6 percent, with some positive signs such as an increase in full-time employment and rising wages, said Bryan Yu, chief economist at Central 1 Credit Union.
"The headline is that it's still a very tight job market," Yu said. "(But) in the broader economy, I think there are going to be a lot of headwinds coming up."
Headwinds such as baby boomer retirement outpacing new workers entering the workforce, especially in the public sector, as well as higher interest rates and inflation taking the breath away from consumer sales.
For example, online marketing company Unbounce said this week that it will cut 47 jobs, 20 percent of its workforce, and online retailer Article Furniture, that it will cut 216 positions nationwide, 17 percent. of your payroll, are examples of what is to come.
.
"That's the challenge for Shopify," Yu said, referring to the Canadian online retail giant that announced 1,000 layoffs last month because it's betting the pandemic boom in online shopping will continue.
Instead, consumers have turned to physical stores again, and "there are probably more (layoffs) to come," Yu added.
"Given what we're seeing more broadly, this kind of cascading effect of different companies announcing almost what seems like every other day now," Yu said. "We're probably not done yet."
He also expects job losses to rise as home sales slow down as higher interest rates put pressure on homebuyers.
Metro Vancouver saw home sales drop 43 percent in July from the same month a year earlier, with some of the changes in employment occurring in sectors that correspond to home purchases.
.
Overall, BC's goods-producing sector, the manufacturing, construction and natural resources industries, lost some steam, shedding 2,000 jobs to drop employment to 500,000 in July.
However, the much larger service sector added some 2,500 jobs, lifting employment to 2.45 million in July, despite some pockets of weakness.
The wholesale and retail trade sector lost 1,500 jobs, according to Statistics Canada, bringing employment down to 427,600 in July. And transportation and warehousing were almost unchanged with 141,000 jobs in the sector, down just 200 jobs from June.
"Overall, I think we're probably going to start to see a little bit of erosion in the overall employment numbers," Yu said. "But again, there is that tradeoff in certain service sectors that are still climbing," like tourism.
.
The health care and social assistance sector saw employment fall by 9,300 jobs in July, falling to 375,000, but Yu said that likely represents a loss of people due to retirement and other factors.
"That could be a permanent loss of supply (in the workforce)," Yu said. "And as they retire, they drop both the employment numbers and the workforce numbers."
Nationally, Yu said Statistics Canada counted a declining number of older women in the workforce. Those numbers aren't as clear cut in provincial numbers, but the number of women over 25 in BC's workforce dropped by 3,200.
And the number of employed women in that group also fell by 3,500 to just under 1.4 million.
"The piece about this that I think makes it the most frustrating is that this was predicted," said Adriane Gear, vice president of the BC Nurses Union, which has some 4,300 nursing vacancies in the province.
She added that it's not just nurses retiring faster than they can be replaced, but overstressed mid-career nurses who are also quitting because BC's tight job market gives them options to try something else.
"It's not a complicated formula," Gear said. "What has been missing is a health and human resources strategy and an investment in nursing."