"I can't have more pressure, I think," argues Koeman, in need of a triumph that calms him down.
A little classic classic. Nothing classic. It is not very classic to doubt if the Camp Nou, an old stadium that its faithful do not attend as before, will be filled to receive Madrid this afternoon, and at a time designed and destined for the Asian market.
It is not very classic to see Barça without Messi, something that has not happened for more than three decades. And even less classic is that when it did not arrive at the end of October the future of Koeman was put under suspicion. "I can not have more pressure, I think," argued the coach between jokes and, at the same time, certainties about its continuity.
"It is not necessary for the president to be saying every day or every week that 'Koeman continues, Koeman & mldr; continues'", argued the Dutchman, who recalled that the two most powerful people in the club "have made things clear, but so do I. I know it all depends on the results. "
It is a classic that sells more for what it was than for what it is with both teams in the process of rebuilding, unable to compete in Europe and dominated even in the League by Atlético de Simeone, current owner of the crown.
Looking for heirs
It has been more than three years since Cristiano Ronaldo left for Juventus. Now he is scoring goals as always at Manchester United. Just a couple of months ago, Messi, much to his regret, left the Camp Nou house to fly to Paris where he still feels like a stranger. And it is normal.
It is not, no matter how hasty journalistic etiquette they may have, a duel even of heirs. Nor for Benzema, the current star of the championship, to be nominated as a great candidate for the Ballon d'Or, without considering that his Madrid, Karim's Madrid, did not win anything last season. Nothing is nothing. The Barça still of Messi took, at least, a Glass of the King. Little thing for a Barça that now lives in misery.
Koeman is running out of time if he does not straighten Barça's level and Ancelotti has not yet hit the key to make Madrid solid
It is all so new and, at the same time, so different that Ansu Fati (18 years, zero cost) and Vinicius (18, 45 million paid Madrid to Flamengo in 2018), are converted into heirs of Messi and Cristiano.
As accelerated as it is unreal process because neither the Argentine nor the Portuguese endured at those ages the football and emotional burden that can now plague Barça and Madrid talent.
They hint at great things Ansu and Vinicius, but they are at the beginning of their promising careers, unable, therefore, to fill gaps that are almost infinite.
Koeman, as he well knows, is running out of time. He has obtained an extra ball this week with his two triumphs (Valencia and Dinamo) but he needs to knock down Madrid to prolong that tranquility, however fictitious it may seem.
Ancelotti, despite the recent 0-5 to Shakthar, continues without hitting the key, managing the heritage of 'zidanismo', sustained by the magic of Benzema, whose talent has flown only after the departure of CR7. The white coach has grown in the center of the field (the legs of Modric, duckweed y housemiro note, of course, the passing of the years), while the defense, in year one without Sergio Ramos, is endured by the strength that radiates Courteous With his hands.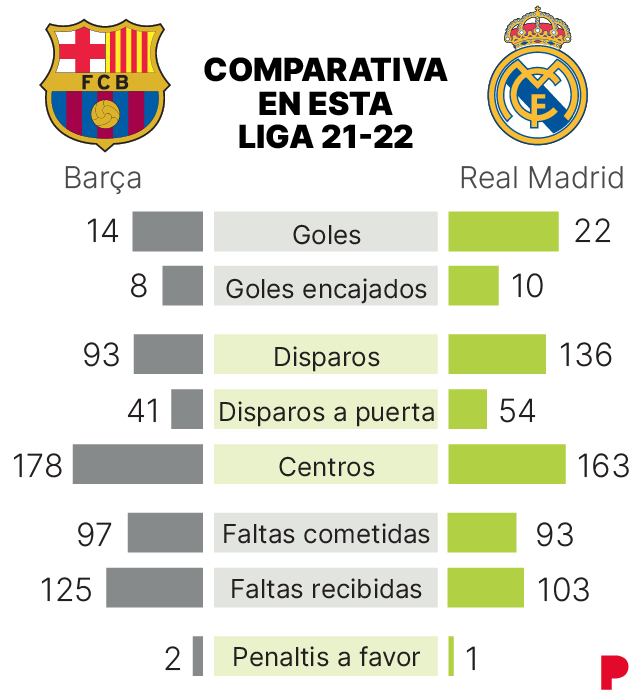 Premiere with public
At the Camp Nou, Koeman will attend an unusual event this afternoon. "It is my first classic as coach of Barça with an audience," he confessed, appealing to the strength of the culé world, which lives in contradiction, assuming the harsh reality of a club that was financially ruined, where that team that dominated in Europe (2015) is full of dust.
In two summers, he has seen Suarez, Messi and Griezmann. Has the childrenAnsu embodies the flag of the future and, at the same time, of the present, in addition to Pedri, who will lose the classic due to injury), but that is not enough for the day to day, installed as the team is on a dangerous ledge in Europe, located outside the Champions zone in the League.
Related news
And to Koeman, who has survived a harrowing week, crossing the border of the classic with a victory would allow him to conquer time, the greatest treasure in a club trapped by the past since its present is not exciting at all. "You have to play without fear, I don't have it," he proclaimed, demanding courage from Barça so that the faithful classics return to the Barça temple.
Barça's strengths and weaknesses
1.- The left wing. Jordi Alba has recovered in time to play on the left side and thus associate himself with Memphis, becoming one of the centers of greatest danger for Barça.
2.- 'Threat Ansu'. He is the most poisonous player, as he already demonstrated in the defeat of the classic last year (1-3) when he scored a goal being the 'false 9'.
3.- No efficacy. The lack of forcefulness that he has shown in this League, where he only achieved 14 goals. And seven in two games: four to Real Sociedad and three to Valencia.
4.- Defensive weakness. The imbalance that has made you vulnerable behind. Koeman asks for cohesion to cover the damaging counterattack from Madrid.
Reference-www.elperiodico.com