And no less than 33 of the dancers from Les Grands Ballets tackle Vivaldi in Mauro Bigonzetti's The Four Seasons.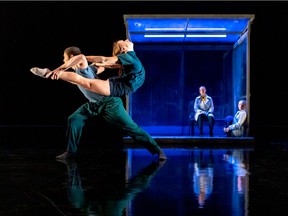 Reviews and recommendations are unbiased and products are independently selected. Postmedia can earn an affiliate commission for purchases made through the links on this page.
Article content
As we move into fall, the changing of the seasons takes center stage in this month's dance offerings.
Commercial
This ad has not been uploaded yet, but your article continues below.
Article content
Les Grands Ballets are revisiting Mauro Bigonzetti's choreographic treatment of Vivaldi's The Four Seasons as part of a triple program, while Alan Lake Factori (e) from Quebec City will invoke Persephone, the Greek goddess of the arrival of spring, in his next show Danse Danse.
It remains to be seen if Patrick Watson's characteristically melancholic song Summer Sleeps will be among his 20 recordings to appear on. Melodies disappearing (November 2-6, Théâtre Maisonneuve de la Place des Arts), the latest from Ballets Jazz Montréal, which turns 50. The dance-theater hybrid promises to be a highlight of Danse Danse's 2021-22 season.
BJM's last big show was Dance Me, a celebratory show featuring the music of Leonard Cohen. Not surprisingly, the success of that show prompted the company to turn to another Montreal troubadour marinated by the mood in Watson.
Commercial
This ad has not been uploaded yet, but your article continues below.
Article content
BJM's new artistic director Alexandra Damiani, who was born in France and previously based in New York, who replaced Louis Robitaille in June, has been keeping a close eye on the rehearsals. But the heart of the choreography is shared between Anne Plamondon, co-artistic director of the hip-hop and classical dance company RUBBERBANDance, and the up-and-coming Brazilian-born Juliano Nunes.
As Damiani points out to the Montreal Gazette after a day of rehearsal, Vanishing Mélodies is a theater as well as a dance piece. Hence the general directing duties of the former head of the Théâtre de Quat'Sous (and now Les 2 Mondes) Eric Jean, who also supervised Dance Me.
For the first time, the dance company presents an actor in a show. Brigitte Saint-Aubin plays a woman who, standing alone at a bus stop one night, finds memories of her life, as well as her dreams and fantasies, all evoked by the 14 dancers of the company. Damiani explains that this 50-something-year-old character has just been diagnosed with Alzheimer's.
Commercial
This ad has not been uploaded yet, but your article continues below.
Article content
"The subject is quite heavy," admits Damiani, "and I'm sure that many people who come to the show will have loved ones who are dealing with (the disease), or even dealing with it themselves." But, as she suggests, the mood of the piece is one of autumnal longing rather than winter blues.
"At one point, the woman says, 'I love everything in life.' I think that, in the context of so much isolation and confinement due to COVID, there is such a desire to hug a little harder, to run a little faster, just to be more in love with life. We hope audiences see that (the show) is more about wanting to live than anything else. "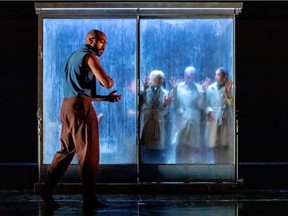 Before BJM in the Danse Danse season there is a new piece by Alan Lake Factori (e). The crumbling of the parades (October 19-23, Cinquième Salle de Place des Arts) is an emotionally resonant combination of dance, live installation, and sculpture. Like the company's previous Danse Danse show, Le Cri des Meduses, it offers a contemporary take on the myth, in this case Persephone, the queen of the underworld. Although it is performed live and in person, it can also be experienced via live broadcast on October 22 and 23.
Commercial
This ad has not been uploaded yet, but your article continues below.
Article content
There is still time to watch two other Danse Danse shows. Ebnflōh, the company run by Montreal hip-hop sensation Alexandra (Spicey) Landé, performs The probability of nothing until October 9 at Théâtre Maisonneuve, while Deborah Colker's Dance Company Featherless dog continues online until October 11.
For all Danse Danse shows, call 514-842-2112 or visit placedesarts.com or dansedanse.ca.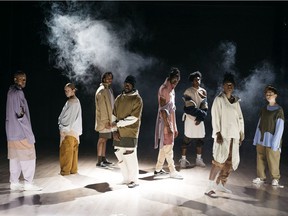 ***
The Great Ballets They seem to have been casting their net beyond the more traditionally danceable classical composers of late. Last month they revived their impressive show Dancing Beethoven, while in May their Echoes compilation show featured a tantalizing preview of Andrew Skeels 'epic version of Brahms' Requiem.
Commercial
This ad has not been uploaded yet, but your article continues below.
Article content
This month, no less than 33 of the Les Grands Ballets dancers tackle Vivaldi at Mauro Bigonzetti's The four Seasons (October 14-23, Salle Wilfrid-Pelletier de Place des Arts). The 40-minute piece by renowned Italian choreographer and former director of Milan's La Scala Ballet was premiered by Les Grands Ballets in 2007 and revived in 2013.
Fans of Les Grands Ballets will be delighted to hear that the company's orchestra will once again perform to perform Vivaldi's iconic sheet music live and in person.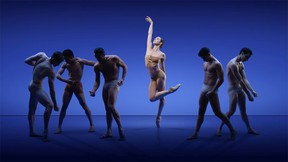 Also playing with The Four Seasons is Creation, by legendary La La La Human Steps founder Édouard Lock. This choreographic reflection on the pandemic, created for the principal dancer Rachele Buriassi, will be made together with a short film Lock made in collaboration with the Phi Center.
Commercial
This ad has not been uploaded yet, but your article continues below.
Article content
The triple bill is rounded off by Rule 26½ by emerging Montreal choreographer Gaby Baars, whose short duo Dans ma main was a memorable part of the Echoes program last spring. The enigmatically titled Rule 26½ aims to unearth elements of love and desire from beneath the repetitions of everyday life.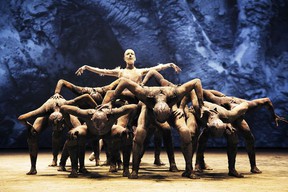 ***
The fall season of Agora de la danse continues with La Goddam Voie Lactée, a new work by Mélanie Demers, running until October 9 at the Wilder Building, 1435 Bleury St. The season ends with Morphs, by Lina Cruz, at the Wilder Building from Oct. 27-30. Call 514-525-1500 or visit agoradanse.com.
In just a few years, Cree, métis and Dutch choreographer Daina Ashbee have earned a reputation enough to have their own retrospective at Usine C, 1345 Lalonde Ave. The pieces performed are Pour (October 19 and 20), a taboo . break menstruation scan; When the ice melts, will we drink the water? (October 21 and 22), which addresses the climate change crisis; and Unrelated (October 23-24), a grim duet about the situation of indigenous women in Canada. Call 514-521-4493 or visit usine-c.com.
Commercial
This ad has not been uploaded yet, but your article continues below.
Article content
Finally, there is the intriguing-looking dance and theater piece Whip, which runs from November 3-6 at the MAI Center, 3680 Jeanne-Mance St. Created by the Vancouver company FakeKnot, it features two dancers interacting with each other. while wearing, five foot long leather hoods. While obscuring the performers' view, the strange accessories add dramatic emphasis to the head whip movement often used in contemporary dance. Call 514-982-1812 or visit mai.qc.ca.
Hope arises when Montreal cinemas return to normal

Geordie Theater's new artistic director, Jimmy Blais, eyes diverse communities

Quincy Armorer, Artistic Director of Black Theater Workshop, resigns
Reference-montrealgazette.com