WATER. The water distribution company (WSSC) has several ways to help you pay the bill. | PHOTO: WSSC
By Olga Imbaquingo – Special for El Tiempo Latino

There is no service or need as essential as water, turning on the sink or shower and finding that not a drop comes out is one of the most stressful experiences. Do not let this happen to you, especially when there are ways to enroll in a payment plan and even get financial help, in case you are behind with payments.
One of the consequences of the health crisis, caused by the pandemic, is that some 92,000 residents of Montgomery and Prince George's counties stopped billing for this service. The company that distributes the water, Washington Suburban Sanitary Commission (WSSC), postponed these charges, but once the emergency measures are coming to an end, the collection will resume. If you haven't paid for the service in a few months and don't join a plan soon, your service will be cut off.
Some $ 66 million are accumulated for overdue fees and as of September 13, for the first time since the pandemic began, water service began to be disconnected in the aforementioned counties.
To that must be added some $ 36 million that accumulated in arrears before the pandemic. In Washington DC, back charges for water began on September 1 and in Fairfax County (Virginia) on September 7.
Help plan
The good news is that there is an assistance plan to help those who owe money for the service, there is even the possibility that, depending on the case, they will forgive all or most of the debt. The important thing is that you find out if you can be a beneficiary. WSSC Water authorities ensure that those who have not paid and do not sign up for a payment plan will have their service canceled.
The Water Fund can cover you up to $ 500 per year. The administrator of these grants is The Salvation Army and to apply for this aid you can enter: salvationarmynca.org/gethelp, O www.wsscwater.com/waterfund (Read the box for more information).
Since the pandemic began, more than 1,407 Marylad residents have received help of about $ 627,000 to pay for water, through the Salvation Army. The good thing is that multiple requests can be made.
The call of the WSSC authorities is to enroll in a payment plan to achieve a forgiveness or relief of the fees that were deferred during the months that the health crisis measures were in force.
Call (301) 206-4001, Monday through Friday between 7:30 a.m. and 7 p.m. You can also send an e-mail to: [email protected].com. The important thing is that you manage to negotiate a payment plan to keep the service without interruption.
Those who are eligible could negotiate a plan of 36 and up to 48 months of deferred payments.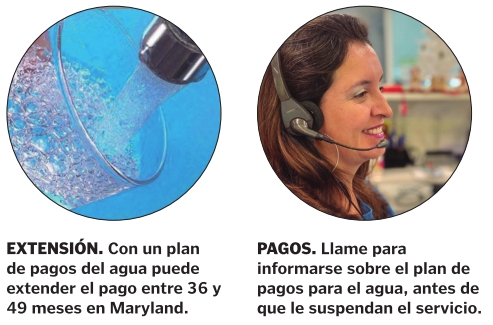 Renters also have the ability to apply, but need a homeowner's approval before entering into a payment plan. When you call, ask them to send you by e-mail the form that the owner of the property must fill out.
"We are happy to offer assistance to help pay for your water service fees and we will do our best to find alternatives to keep the bills from being so burdensome," said WSSC CEO and President Carla A. Reid.
She, however, insisted that: "It is a priority to stop the loss of income and it is no longer financially possible to continue offering the service without payment. We have a responsibility towards public health and this is to have the necessary resources to invest and improve the infrastructure of this service ".
Reid, through a press release, stressed that "the pandemic forced many of our clients to make difficult financial decisions, but we are here to help them. If you are with pending dues, call us and we will take care of maintaining the service in businesses and homes in Montgomery and Prince George's counties ".
WSSC Water commissioners voted to offer effective assistance beginning September 1. Among other measures, there is the reduction of the service activation fee from $ 135 to $ 67.
The drinking water company that provides service in Montgomery and Prince George's counties stopped billing about $ 20 million in 2020 and projects that, until the end of this year, about $ 59.5 million will stop entering its coffers.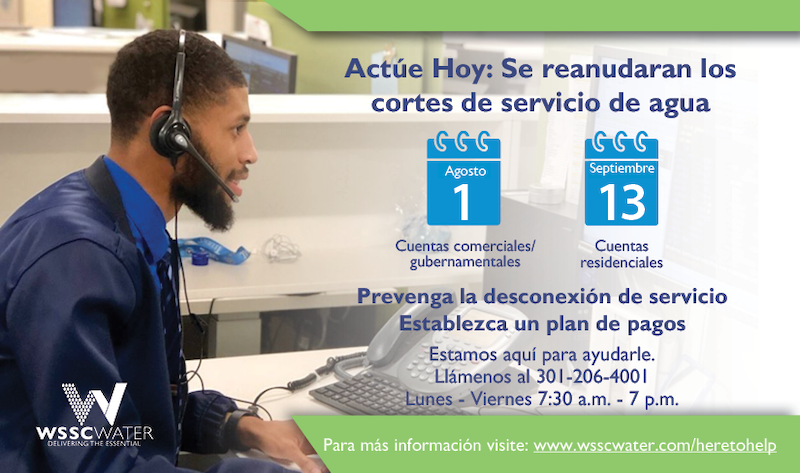 ---
FOR YOUR INFORMATION
Help. Salvation Army Water Payment Assistance Applications are available in Spanish. Call (301) 515-5354 in Montgomery County and (301) 277-6103 in Prince George's. You can apply online by visiting: salvationarmynca.org/gethelp. Please have the following available: a copy of the water bill; driver's license (a Maryland ID or passport); proof of annual household income; the first page of the rental agreement; a copy if you receive food stamps; and, birth certificates of the minors who live with you. You can find more information at: wsscwater.com/waterfund.
Attendance. To obtain more information about the aid, the payments, and the assistance plan, go to the page: wsscwater.com/assistance. If you would like to know how to save water and check your home for leaks, visit: wsscwater.com/heretohelp.
Credit. To enroll in the Customer Assistance Program (CAP), customers must apply for the Energy Assistance Credit through the Maryland Office of Home Energy Programs (OHEP). This office will enroll them automatically.
For more information go to: wsscwater.com/cap.
Counties. If you prefer to call by phone to enroll in the water payment plan or obtain more information about financial assistance for water service, in Montgomery and Prince George's counties, call these numbers: (301) 206-4001, ( 301) 206-8345 or 1 (800) 634-8400 and have your account number handy. You may have to wait and insist because there are not enough staff to take so many calls.


eltiempolatino.com